This is where I would tell you how close to San Diego Comic-Con we are but lets just take a moment to truly appreciate how close we are. Imagine the feeling of the cool San Diego breeze on your face, the sights and sounds of the exhibit hall, the smell of the otherworldly Auntie Anne's pretzels. Now snap back to reality because we have quite a bit of SDCC news from Super7, The Con Rangers, BOOM! Studios, MetaZoo, and more.
Here's a look at what you might have missed:
One of our favorites, Super7, has tweeted out some super teases. The teases include a possible Godzilla figure, possible Godzilla art, and a Wing Kong vinyl. No additional information on these just yet but could we see these pop up for preview at SDCC? Just tell us Super7, please??
Ride sharing is boring. Take the train! #ComingSoon pic.twitter.com/uBkkDXimxO

— Super7 (@super7store) July 5, 2023
When the sun goes down… they return. #ComingSoon pic.twitter.com/mGlTL2jxzi

— Super7 (@super7store) July 5, 2023
The name strikes fear… #ComingSoon pic.twitter.com/iVtXwV2Tdx

— Super7 (@super7store) July 5, 2023
Massive-Verse is coming to Comic-Con with both a panel and signing! The panel will be held Friday, July 21 at 2:30P in room 5AB. The signing, which will be taking place at the Image Comics booth, will also be on Friday at 4PM and will feature the following talent: Kyle Higgins, Melissa Flores, Brian Buccellato, and Meghan Camarena.
#SDCC is going to be MASSIVE as @KyleDHiggins, @misty_flores, @BrianBooch, and @Strawburry17 host a Massive-Verse panel, signing, and share some big surprises and announcements!
Prepare to enter the Massive-Verse! pic.twitter.com/Ftxgb4QV9m

— Black Market Narrative (@BlackMarketNAR) July 5, 2023
BRZRKR from BOOM! Studios and Keanu Reeves has fans excited for whats to come with the project. Well, just what is to come looks to be revealed at SDCC with the BOOM! Studios Twitter account recently mentioning that more BRZRKR news will be announced at the con later this month.
The #RoadToSDCC begins, as our deluxe art-focused PEN AND INK program gets immortal! BRZRKR #1: PEN & INK by Keanu Reeves, @mattkindt, and @RonGarney will be available in October!

More exciting #BRZRKR news will be revealed at @Comic_Con later this month! https://t.co/DPmAHEn1gn pic.twitter.com/nRFCBczBbQ

— BOOM! Studios (@boomstudios) July 5, 2023
Rory Ross, actor who has roles in The Mandalorian Season 3, The Book of Boba Fett, and Obi Wan Kenobi, announced on Twitter that they will be participating in a signing during SDCC at the "We Can Be Heroes Comics" booth. Also a mention of some exclusive items to come!
I'm pleased to announce that I will be at SDCC signing at the @wecanbeheroescomics booth! Also there will be EXCLUSIVE ONLY items that I will announce in the coming days!

THIS IS THE WAY!!!#SDCC #StarWars #SDCC2023 pic.twitter.com/p0nq9WKXWM

— Rory Ross – Mando S3 /Book Of Boba Fett/KENOBI (@TheRoryRoss) July 5, 2023
You're gonna walk (no running!) to The Con Rangers booth (#1336) during Comic-Con as they are retiring 5 of their badges. This will be your last chance to get your hands on the following: Overcrowded a Hotel Room, Met a Celebrity in an Elevator, Survived the Hotel Lottery, Wore Heels All Day, and Didn't Get into Hall H.
As is tradition, this year we're ✨ retiring ✨ 5 badges, so this #SDCC is your *last chance* to get the following in person!

🏨👨‍👨‍👧‍👦 Overcrowded a Hotel Room
🤩🛗 Met a Celebrity in an Elevator
🧳🛎️ Survived the Hotel Lottery
👠💥 Wore Heels All Day
🚫🇭 Didn't Get into Hall H pic.twitter.com/P1JwSWLXum

— The Con Rangers 🔜 SDCC #1336 (@theconrangers) July 5, 2023
Unknown Comic Books will be not only selling comics during SDCC at booth #4901 but they will also be featuring comic artist David Nakayama. David will be at the booth all days of the con so stop by say hi and maybe get a signature.
#SANDIEGOCOMICCON GUEST ARTIST!

Come meet @DavidNakayama at booth 4901 from July 19 – 23!!#davidnakayama #SDCC2023 #SDCC #unknowncomicbooks #marvel #comics #SANDIEGOCOMICCON2023 pic.twitter.com/rxQTTYCZ03

— Unknown Comic Books (@Unknown_Comics) July 5, 2023
Artist Alvaro Martínez Bueno recently revealed an exclusive variant cover of SIKTC for Scotts Collectables in the UK. In a follow up tweet, Alvaro mentioned that the variant featuring Erica will be a special release at SDCC and signing alongside James and Werther at booth #4601
This will be a SDCC special release and I'll be signing it alongside James and Werther at Scott's booth (4601)!

— Alvaro Martínez Bueno 🔜 Chicago (@AMartinezBueno) July 5, 2023
Actress Shelby Young will be at Comic-Con this year with more details to come. If you're needing an extra person for your event or panel, Shelby wants to hear from you!
Hi I'm gonna do #SDCC again this year 😊 Have some events and stuff but if there are any panels looking for extra guests/moderators/planted heckling crowd-members lmk! Wanna make the most of my time in SD ❤️ #comiccon #SDCC2023

— Shelby Young 💖💜💙 (@shelby_young) July 5, 2023
We've mentioned some of the SDCC plans 2000 AD has previously but now lets talk freebies! In a recent post on their site, 2000 AD will have "free poster tubes, free tote bags, and free digital comics available when you hit the booth". You can find these at the Rebellion booth #2121.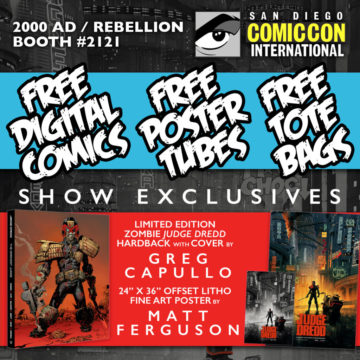 Author Silvia Moreno-Garcia is going on tour in promotion of their new book titled "Silver Nitrate". The tour does include a stop at SDCC which according to Silvia's site, includes "several panels".
New book in less than 2 weeks, here's where I'll be:
July 18, Seattle. Seattle Public Library
July 19, Portland. Powell's Bookstore, Beaverton
July 20-22, San Diego. San Diego Comic-Con
July 23, Austin. BookPeople pic.twitter.com/YqXpqZIxS2

— Silvia Moreno-Garcia (@silviamg) July 6, 2023
You can get your hands on an exclusive cover of issue 6 of LIQUID KILL according to its writer Aaron Crow. No other details just yet but Aaron does say it's a "wonderful guest artist"! Make sure to follow Aaron on Twitter if you aren't already if you want to see the cover when it is revealed.
Issue 6 of LIQUID KILL is out next Wednesday, and there will be an exclusive cover for SDCC later this month! The cover is by a wonderful guest artist. I can't wait to show you. I'll post the cover soon! 🤘

— Aaron Crow (@acrowyouknow) July 6, 2023
Some "B" grade lenticulars and metal prints will be available at our booth in limited numbers per day! (Minor ball point dot size scratches) perfect grade lenticulars and metal prints are still available here: https://t.co/xsg9RtVNlo @SD_Comic_Con pic.twitter.com/ikW5yQgW7E

— CEO of Wolfgang's Den Art Gallery (@ROBINHOODSKIE) July 6, 2023
MetaZoo Games will be attending Comic-Con and will be bringing along a host of MetaZoo artists: Afton, Jett Yates, PONCHO, Isaac Sky Art, and Kelsey Jachino. No details on days and times just yet but when we know, you'll know!
 

 

View this post on Instagram

 
How much do you love Scott Pilgrim? What about Astro Boy? If you fall into that category, then you'll need this Scott Pilgrim x Astro Boy figure that will be available at SDCC. Say hi to Justin Ishmael at booth #2643 and pick up this great looking figure.
 

 

View this post on Instagram

 
Anything we missed? Let us know by dropping us a line, or tweet us at @SD_Comic_Con.
If you missed our previous Under the Tents 2023 posts, you can find them HERE.