I'm writing this edition of Under The Tents from Arizona where I feel like burnt toast. It's HOT but it is one more reason I am super excited to get to San Diego and have a great week. Today's UTT features news from Patrick Ballesteros, DCD Collects, Now or Never Comics, Amanda Conner & Jimmy Palmiotti, and more.
Here's what you may have missed:
Diana Levin will be at San Diego Comic-Con and will be bringing new art along including this piece. That purple really pops! Diana can be found at table N-08.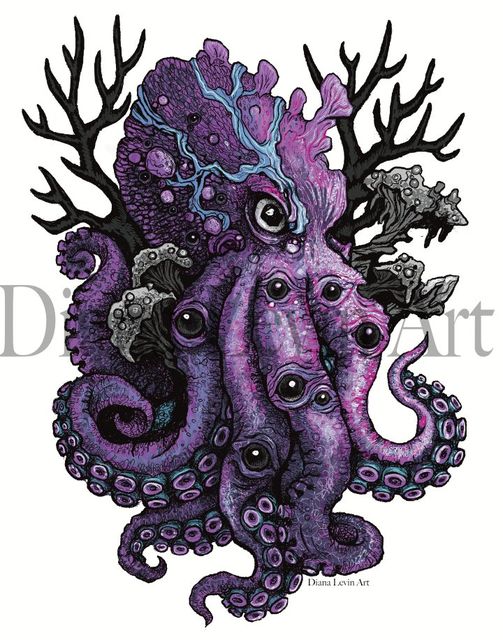 Now or Never Comics in San Diego will be hosting Devin Kraft of Neverender and Silence fame for a signing. The signing will be held on Saturday, July 22, 3P – 6P.
Reminder that I'll be signing at @NowOrNeverComic next weekend – I'm packing this weekend, so if there's anything anyone wants me to bring out specifically, check the shop and let me know! https://t.co/3unq14wfR9 pic.twitter.com/bW2bAcWJlc

— Devin Kraft (Silence / Neverender) @ SDCC (@devinkraft) July 15, 2023
Hero Within will be at San Diego Comic-Con celebrating all things Star Trek with exclusives and a panel. You can find them at booth #1943.
Our Exclusives, where to find us, what we are doing at San Diego Comic-Con. Please help fellow #StarTrek fans find us and see you at #SDCC! https://t.co/IMf2PLpdfB pic.twitter.com/zcYSUpR3C9

— Hero Within @ SDCC 1943 (@HeroWithinInc) July 15, 2023
The dynamic duo of Amanda Conner and Jimmy Palmiotti will be at Comic-Con and will be all over the con! Jimmy recently tweeted out their schedule that includes panel times and signing locations.
#ComicCon pic.twitter.com/oA9CP2uHjE

— Jimmy Palmiotti (@jpalmiotti) July 15, 2023
Okay real talk, how cool would it be to have a smiling Wolverine pin on your lanyard? Josh Cassara is going making that a reality with these pins he is showing off for SDCC.
Also available next week:
Happy Wolverine.

Sold separately. #SDCC. pic.twitter.com/FcJYl0eegG

— JOSH Cassara (@joshuacassara) July 15, 2023
Need more pink art work at Comic-Con? Art By Nan has you covered. What's that? You want art with less pink? Well, Art By Nan also has you covered. The original pieces seen below will be available at table F-11!
I love bright colors like pink and love in using black inks. I got them both! Check out these originals and more at my table next week in F-11. #sdcc2023 #sdcc #originalart #sandiego pic.twitter.com/VOVClqWbD5

— ArtByNan (@nanhockin) July 15, 2023
Do you need to rep your favorite space opera while making some delicious eggs and toast? The California Browncoats have you covered with these Firefly inspired aprons. 
We've been celebrating the bad guys of Firefly. Did we go too far? #sdcc pic.twitter.com/JDKTUCCNMb

— California Browncoats: SDCC A7/A8 (@CABrowncoats) July 15, 2023
One of my favorite SDCC purchases are sketch covers! Johnathan Glapion will have a sketch cover of King Spawn at the Image Comics booth #1915.
Another one ready for SDCC.

Available at the image/spawn booth 1915. #SDCC #spawn #originalart #sketchcover pic.twitter.com/3pWTTPEbr9

— J.Glapion (@jonathanglapion) July 15, 2023
DCD Collects will be bringing all sorts of things worth checking out and picking up! Art demos, art reveals, exclusive prints, and signings. You can find DCD Collects at booth #1605
SDCC 23 is just a few days away. We'll have live art demos, incredible art reveals and exclusive prints, and autographs at our booth. PLUS, our incredible mystery boxes with original art. @AprilDragonlady signs her exclusive print for us. Booth #1605 @SD_Comic_Con @Comic_Con pic.twitter.com/AW7VyVKJz8

— DCDcollects (@DCDCollects) July 15, 2023
Who doesn't love a good mashup? You can find this Rocky Horror Burger Show print, among others, from Frank Forte at booth #1429. Worth noting that Frank's commission list is currently open as well.
#SDCC is almost here! 🍔💋 @FrankForteArt has new Mashup Prints & Commision List open. C'mon down to Booth 1429 & Let's Do the Time Warp! #rockyhorror #rockyhorrorpictureshow #sdcc2023 #bobsburgers pic.twitter.com/OZ8Oni0tKW

— Chris Gomez (@ChrisGomezania) July 15, 2023
Matt Hebb is debuting the first two posters of the Marvel Comic Connecting Poster series. Featuring Fantastic Four and Spider-Man which can be purchased individually as well. Find Matt at EE-23 in artist alley.
Here are the first two pieces in my Marvel Comics connecting poster series! Buy one and it's a standalone FF or Spider-Man poster, buy both and they form a great big picture! Swing by EE-23 in artist alley to check them out or just say hi!#Marvel #SDCC #spiderman #FantasticFour pic.twitter.com/cNlsOeK4Kz

— Matt Hebb (@therealmatthebb) July 15, 2023
The super popular minis that Patrick Ballesteros have to offer will be at Comic-Con, with a recent of update of some Indiana Jones minis that will be available. These will be available at DD-08!
Got about 40 minis done. Aiming for an even 50 for #SDCC. pic.twitter.com/QdpvOrpxJP

— Patrick Ballesteros SDCC DD-08 (@PatrickBallest) July 15, 2023
Top Cow comics will be hosting Simon Birks at their booth during Comic-Con. Along with Simon who is the writer of Antarctica, an exclusive variant of issue 1 will be available at Top Cow booth #2629.
Meet @SBirksWriter at Top Cow Booth #2629 and pick up the #SDCC Exclusive Variant by @AbzJHarding of ANTARCTICA #1:

WED. PREVIEW NIGHT – 6PM-9PM

THURS. – 10:30AM – 1:00PM w/ Abigail Harding

FRI. – 10:30AM – 12:30PM

SAT. – 10:30AM – 11:45 AM

SUN. – 10:30AM -12:30PM pic.twitter.com/eQdo2uLeuY

— Top Cow (@TopCow) July 15, 2023
Monster Matador will be excited to know that there will be two signings with creators involved in the series. The signings will be Friday and Saturday at M-03 in Small Press.
2510 Press (Small Press M-03) #SDCC Friday Signing with Dr. Theresa Rojas (Monster Matador Volume 1) Saturday Signing @ClaysEvilTwin @Schraderopolis
(Monster Matador) of @BloodlineComics (Nightmare Theater and Carmilla Unbound). pic.twitter.com/38hrakt7Lz

— Monster Matador (@MonsterMatador) July 15, 2023
Got some serious opinions about breakfast breads? Let us know by dropping us a line, or tweet us at @SD_Comic_Con.
If you missed our previous Under the Tents 2023 posts, you can find them HERE.