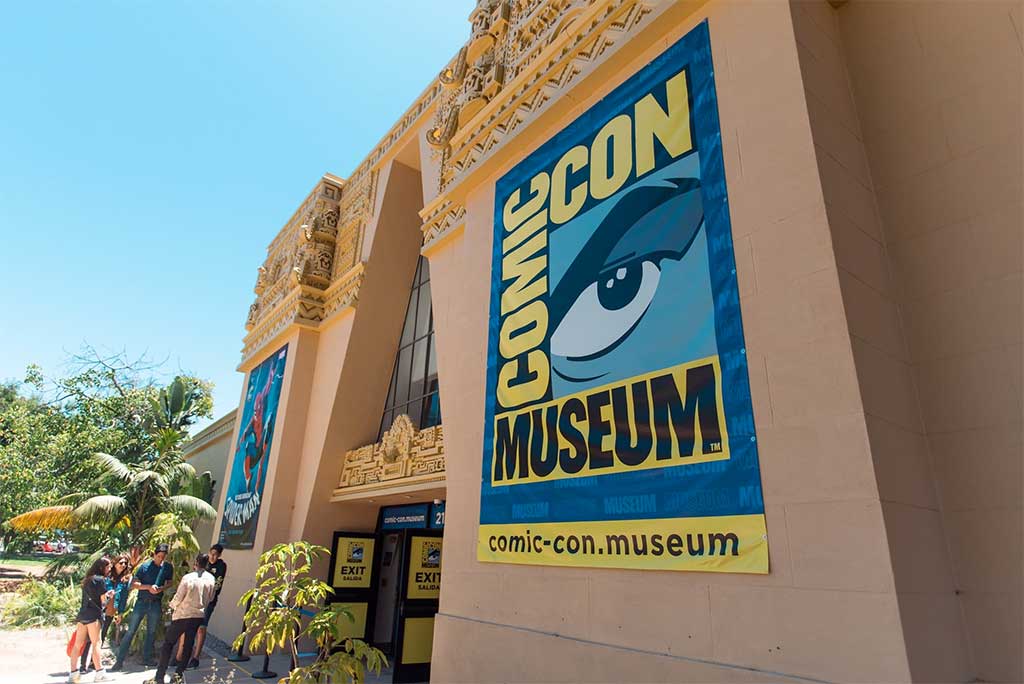 Comic-Con Museum 2023 Events & Exhibits
The Comic-Con Museum has announced several new exhibits as well as several events for the week of San Diego Comic-Con. They will be offering extended hours to accommodate visitors.
First, celebrate the 25th anniversary of the anime classic Cowboy Bebop, with Mondo and Crunchyroll, with a gallery of commissioned art from artists including Tom Whalen, La Boca, Murugiah, JJ Harrison, tomaru, Sachin Teng, and more. This exhibit opens on Tuesday, July 18 at 10am PT.
Kartoon Studios, the controlling partner to the "Stan Lee Universe" IP, will be present "Excelsior! The Life and Legacy of Stan Lee" the first-ever exhibit celebrating his 100 years of comic industry legacy. Featuring rare comic books, paintings and original art, the exhibit will explore several decades of Lee's work. Additionally, the exhibit will include a section devoted to Lee's co-creators of the Marvel Universe: Jack Kirby, Steve Ditko, and others.  This exhibit also opens on Tuesday, July 18 at 10am PT.
Presented in partnership with Crunchyroll, "My Hero Academia Installation" will give guests a glimpse of the statue from the "Historical Battle in Kamino" from "My Hero Academia." The statue showcases the artistry and significance of the My Hero Academia franchise, and provides fans with a distinct visual representation of this iconic moment.
From the catwalk to the museum, the "Comic-Con Masquerade Expansion" exhibit will double the size of the original exhibit and feature new and former winners and entrants' costumes from the Comic-Con Masquerade.
In addition to the new exhibits, attendees of the Comic-Con Museum can enjoy the existing exhibits; "The Animation Academy – from Pencils to Pixels", "Cover Story: Five Decades of Comic-Con", "Rick Geary and the Comic-Con Toucan" and the "PAC-MAN Arcade."
Two family friendly events will also be taking place at the Comic-Con museum. The IF/THEN STEAM® Fair will be on Friday, July 21 through Sunday, July 23 from 10:30 a.m. to 1:30 p.m., Join IF/THEN® Ambassadors, women leaders in science, engineering, technology, and math (STEM) leading in engaging experiments, talks and activities representing everything from earthquake geology and molecular biology to robotics, neuroscience, and conservation ecology.
Cardboard Superheroes workshop, led by founders and brothers Connor and Bauer Lee, will take place on Thursday, July 20. Guests are invited to drop in throughout the day and create cardboard model superheroes, characters, and signature accessories. Participation is free with admission but space is limited.
The Comic-Con Museum is open Tuesday through Sunday from 10 a.m. to 5 p.m., with the last entry at 4 p.m., and the Museum will also be open on Monday, July 24 after Comic-Con.
Admission (adults ages 18+) is $25; children (ages 6-12) are $12; seniors (65+), students (13-17) and military are $18. Children five years of age and below are free.
Tickets for the Comic-Con Museum can be purchased through their website.