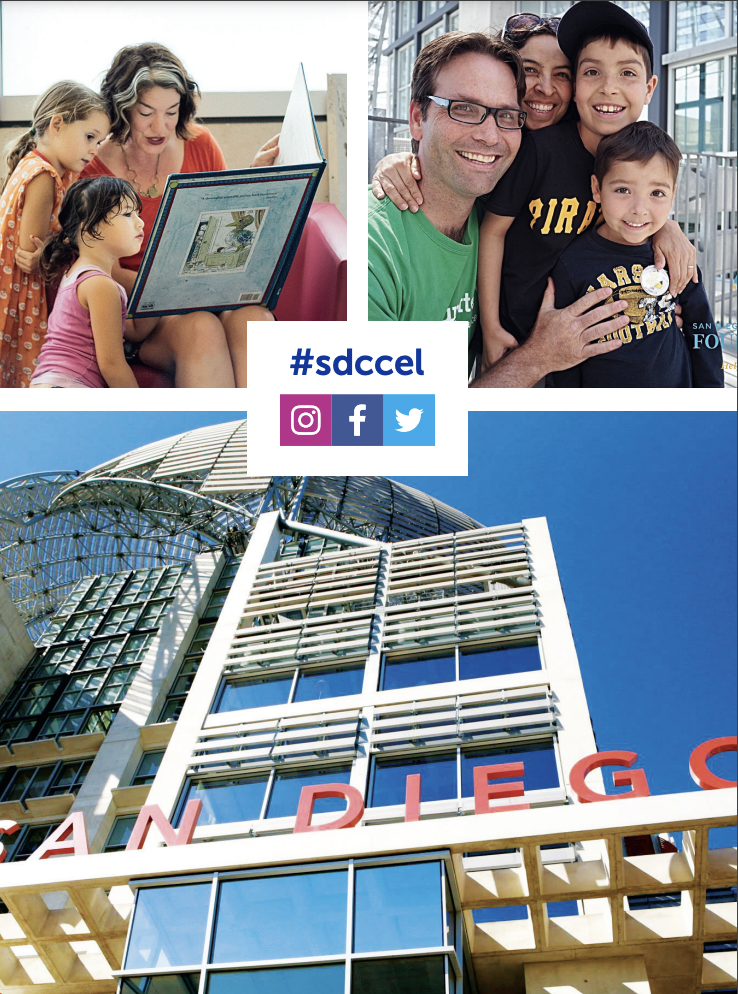 Comic Conference for Educators/Librarians
San Diego Comic-Con is about so much more than just movies and television. The San Diego Public Library and Comic-Con International have come together for the "Comic Conference for Educators and Librarians" (CCEL), a series of panels held at the Shiley Special Events Suite at the San Diego Central Library. Through presentations focused on educators and librarians, Comic-Con hopes to engage the community and promote comics as a medium for learning and as a literary art form.
The CCEL panels span all five days of SDCC and are free to attend and open to the public. Those interested can register now at the SD Public Library website to reserve a seat. Comic-Con badges are not required.
You can register now for:
Day One — Wednesday, July 19, 12pm-7pm (Register here)
4pm-6pm: Teaching and Learning with Comics: An Interactive Workshop: 

This is 

the

 hands-on workshop for anyone looking to use comics in a classroom! 

Peter Carlson

 (Green Dot Public Schools), 

Susan Kirtley

 (Portland State University), and 

Antero Garcia

 (Stanford University) guide educators in curating powerful classroom curriculums, from mini-lessons to complete units, that incorporate the medium of comics. Participants engage in all new activities that model how to develop superhero readers and writers in K-12 classrooms.
Day Two — Thursday, July 20, 9am-7pm (Register here)
10:00–11:00: Libraries and the Challenges They Face in 2023: Think working in a library is easy? The truth is libraries are facing unprecedented upheavals in 2023 including an astronomical rise in challenges to books and programs, threats to staff and patron safety, calls from legislators to pull library funding, and much more, mostly in an effort to prevent libraries from representing marginalized communities. In this conversational panel, moderator Betsy Gomez (Office of Intellectual Freedom) will provide ripped-from-headlines topics for panelists Moni Barrette (president, GNCRT; co-founder, Creators Assemble!), Mychal Threets (supervising librarian, Solano County Library), Xaime Aceves Equihua (associate therapist), and Jack Phoenix (collection development manager, Cuyahoga Falls Library; author, Maximizing the Impact of Comics in Your Library) to discuss what is happening, why, how library workers can protect the freedom to read, and how the public can help.

11:00–12:00: Horror at the Library – Junji Ito: Join Comic-Con special guest and legendary horror master Junji Ito (Uzumaki, Black Paradox) at the San Diego Public Library for a Q&A that's sure to bring your nightmares to life.

12:00–1:00: fREADom Fighters on the Front Lines: Advocating Against Book Bans: Amanda Lorge (SDPL Adult Programming Librarian, primary source literacy instructor), Joel Bakker (SDPL librarian, Educators Unite! Chair), and Helen Schalk (SDPL youth service librarian) provide examples of visual literacy education and Banned Books Week programming to spread awareness about the importance of comics and graphic novels in libraries in the wake of rising bans on comics and graphic materials.

1:00–2:00: Bridging the Digital Gap Between Comics Publishers and Libraries: Led by Barbra Dillon (editor-in-chief, Fanbase Press), this panel – including Matthew Noe (librarian, Harvard Medical School), Tina Lerno (comics librarian), Moni Barrette (director of collection development & publisher relations, Library Pass), Dr. Theresa Rojas (founding director, The Latinx Comic Arts Expo), and Dr. Katlin Marisol Sweeney-Romero (assistant professor, World Cinema and Digital Media Studies) – will feature a thoughtful conversation about the barriers that exist for libraries to access digital comics, and how emerging digital platforms and coordination with comic book publishers can provide greater access for readers across the country, especially in the face of increasing calls for censorship.

2:00–3:00: Connecting with Your Community Through Comics: Explore how comics, manga, graphic novels, and other forms of sequential art address and support various aspects of our communities. From elevating stories of cultural heritage to addressing widely suppressed and underrepresented topics such as grief, eating disorders, chronic/terminal illness, and disability, panelists Betsy Gomez (ALA Office of Intellectual Freedom), Christina Taylor (youth services consultant at Texas State Library and Archives Commission), and Jana Tropper (director of literacy: Reading with Pictures, speech-language pathologist, Animal Rescue Friends) will share title lists and ideas for community-based initiatives and answer questions to help you develop events for your own community.

3:00–4:00: A Crash Course in Media Literacy: Samuel C. Spitale (How to Win the War on Truth: An Illustrated Guide to How Mistruths Are Sold, Why They Stick, and How to Reclaim Reality) uses the comic arts to break down the types of mass communication and debunk common misinformation that clouds the media landscape. The workshop will help educators and students alike become more savvy media consumers, both in and out of the classroom. Followed by a Q&A.

4:00–5:00: Teaching with Comics: Family Edition: Comics serve as powerful tools for student engagement and literacy across all levels and subjects. This session will showcase tested lesson plans that can be used in your classroom during your very next class. Tim Smyth, the author of Teaching with Comics, classroom teacher, and reading specialist of over 20 years, has found great success integrating comics and other forms of pop culture in his classroom. This presentation will include tips on obtaining classroom comic resources, information on online comics teacher communities, and common core connections to help win over parents and administrators to what we already know- that comics open doors to learning! The entire Smyth family will be presenting and sharing their experiences as avid readers of comics – Charlotte age 17, Liam age 15, Teagan age 13, and Joan Smyth, eighth-grade Language Arts educator.

5:00–6:00 Comics Pedagogy: Teaching Outside the Panel: San Diego State University faculty and students from the Center for Comics Studies discuss the ways in which comics pedagogy can intersect with the student experience. Pamela Jackson (comic arts curator; co-director of the Center for Comics Studies) and Dr. Elizabeth Pollard (professor of History; co-director of the Center for Comics Studies) discuss a digital exhibit called the Sound of Comics with Grace deVega (BA in History and Political Science '23) and the creation of a Comic Arts Club with Fawaz Qashat (senior, Biology major). Neil Kendricks (artist/adjunct lecturer) showcases student-created comics for a campus anthology called Word Balloons with Breanna "Nana" Rohde (Multimedia Art '23) and Bradley Medina (senior, Studio Art major).
Day Three — Friday, July 21, 9am-7pm (Register here)
10:00–11:00: Familiar Faces: Beloved characters and renowned creators provide enticing access to the world of graphic novels. Mike Maihack (Spider-Man: Animals Assemble! (A Might Marvel Team-Up)), Comic-Con special Guest Raina Telgemeier (Smile), Gene Luen Yang (The Books of Clash Volume 1: Legendary Legends of Legendarious Achievery), and Dr. Lesley S. J. Farmer (professor of library media, CSULB teacher librarian program coordinator) share insights into using high profile works to introduce readers to books.

11:00–12:00: Fantastic Adventures: STE(A)M teacher Nichole Santangelo, Franco Aureliani (Fae and the Moon), Odunze Oguguo, aka Whyt Manga (Apple Black), Lucas Turnbloom (Steve L. McEvil and the Second Wind), Gabriel Valentin (Digital Lizards of Doom) and F.C. Yee (Chronicles of the Avatar) explore exercising imaginations and engaging passions with graphic novels with Middle School Teacher Lisa Harrison.

12:00–1:00: Growing and Becoming: Protagonists' coming-of-age experiences include grappling with family dynamics, identity and mental health, border community life, tween and teen milestone moments, and body image, offering readers opportunities to see themselves or gain insights into others' experiences. Tina Lerno (digital content librarian and comics specialist, Los Angeles Public Library) and creators Deb JJ Lee (In Limbo), Jose Pimienta (Twin Cities), Dan Santat (A First Time for Everything), and Victoria Ying (Hungry Ghost) share these tales of growing and becoming.

1:00–2:00: Filling the Shelves: Gina Bottini (program specialist-Secondary Professional Development Center), Yukiko Chavez (library media technician, Vista Unified School District), Rich Johnson (VP of Sales and Business Development, Diamond Books), Art Baltazar (YAHGZ: The Craynobi Tales), Comic-Con special guest Jeff Smith (BONE), Jana Tropper (Animal Rescue Friends), and Dr. Lesley S. J. Farmer (professor of library media, CSULB Teacher Librarian Program Coordinator) examine creating and promoting graphic novels for all readers in challenging times.

2:00–3:00: Interactive and In-Person: Hooray! Your school or library has booked a graphic novel creator for an in-person event. What might you expect? Mac Barnett (The First Cat in Space Ate Pizza), Jonathan Case (Little Monarchs), Nidhi Chanani (Shark Princess #2: Shark Party), Mark Fearing (Welcome to Feral (Frights from Feral #1)), and Dan Santat (A First Time for Everything) offer some possibilities, guided by Moni Barrette (president, Graphic Novel & Comics Round Table, American Library Association).

3:00–4:00: All Together Now! Find Your Voice!: Whether it's community stories centered around kindness, friendship, and unity or exploring the way voices have the power to share stories, express individuality, and spark change, graphic novels offer stories to connect and inspire. Christina Taylor (Youth Services Consultant, Texas State Library and Archives Commission) shares how these themes resonate in the works of Samuel Sattin (Buzzing), Sarah Sax (Picture Day), and Comic-Con special guest Steenz (Lost and Found (Book #2 of Heart of the City)) and more.

4:00–5:00: Unstoppable Forces: Graphic novels featuring a Filipino-American take on Depression-era noir featuring mistaken identities, speakeasies, and lost love; finding safe space as a queer teen; the historic struggle for gender equality in high school sports; and a fantastic take on underrepresented history provide inspirational and empathetic stories of overcoming adversity. Matthew Noe (lead collection & knowledge management librarian, Harvard Medical School) in conversation with Rina Ayuyang (The Man in the McIntosh Suit), Kate Glasheen (Constellations), Matt Tavares (Hoops), and Jasmine Walls (Brooms).

5:00–6:00: Centers and Certificates – Comics Go to College: Directors and founders of university-level programs and centers for comics studies discuss the challenges they've encountered and the successes they've achieved in bringing the formal study of comics to universities nationwide. Panelists include Elizabeth Pollard (professor of History; co-director of the Center for Comics Studies), Pamela Jackson (comic arts curator; co-director of the Center for Comics Studies), Susan Kirtley (professor of English, Portland State University), Travis Langley (professor of psychology, Henderson State University) and Kate Kelp-Stebbins (professor of English, University of Oregon).
Day Four — Saturday, July 22, 9am-7pm (Register here)
10:00–11:00: Comics, Cultures, and Classrooms: Chanti Burnette (Ánimo South Los Angeles High School), Timothy Ojetunde (WestEd), and Peter Carlson (Green Dot Public Schools) share theories and practical examples of embedding comics and pop culture into responsive high school curricula in order to build collaboration within the classroom through a collectivist culture of literacy. They share stories of students practicing critical media literacy skills with multimodal text analysis and production while gaining nuanced perceptions of themselves and the world around them. Moderated by Angie Amador (Green Dot Public Schools).

11:00–12:00: Comics Studies at Michigan State University: Ryan Claytor (MSU professor and coordinator of the MSU Comics Minor) outlines the many comics resources available at Michigan State University. An internationally recognized multi-day event, multiple studio courses, triennial host of the Comics Studies Society conference, professional development opportunities for students, and the largest public collection of comic books in the world are just a few of the many perks.

12:00–1:00:  Kapow, Woosh, Zap! Engaging Students with Comics in the Classroom: Hear from a panel of super teachers including Jaime Chavez (intervention counselor, San Diego Unified), Mick Rabin (he/him) (resource counselor, Youth Advocacy Dept., San Diego Unified), Ella "Dizzy" Rogosin (teacher, Sweetwater UHSD), Ed Lim (Teacher, Bonita Vista High School), and Lorran Garrison (school psychologist), moderated by Jewyl Alderson (San Diego County Office of Education). Hear how incorporating comics into the curriculum increases engagement and access for all students while developing a love for learning (and secretly powering up literacy skills), and how the Comic-Con Educator Book Club brings together teachers from across the region in pursuit of great reads, community, and strategies for the classroom. You too can become a super teacher! We will share resources, tips, and tools you can add to your utility belt.

1:00–2:00: Comics on Campus – Academia vs. Fandom (Battle or a Collab?): As the pressure mounts to provide new ideas and new voices, this Academia vs. Fandom panel explores the educational opportunities and nationwide realities nationwide with real-world case studies. College professors Dr. Chris Wildrick (Syracuse University), Dr. Christina Knopf (SUNY Cortland), and Dr. Billy Obenauer (University of Maine) with recent MBA graduate Bailey Day, and as moderator professor Ed Catto (Ithaca College) leads the discussion of leveraging pop culture as learning tools for students in business, literature, filmmaking and more.

2:00–3:00: Science in Middle-Grade Sci-Fi: A fun-filled and educational panel discussion on the role of science in middle-grade science fiction. We will explore the importance of scientific accuracy in these stories and discuss whether it enhances the reading experience or gets in the way of the storytelling process. We will also talk about how accurately portrayed science can serve as a source of inspiration, potentially motivating young readers to become life-long readers of science fiction and even pursue future careers in STEM fields. Authors Greg Van Eekhout (Voyage of the Dogs) and Cecil Castellucci (Flash Facts (Supergirl)). Scientists Lisa Will (resident astronomer, Fleet Science Center) and Ronald Coleman (Ph.D. in regenerative medicine). Moderated by Andrea Decker (scientist engagement manager, Fleet Science Center).

3:00–4:00: Engineering Superhero Technology: Chris Garcia (STEAM professor and middle school administrator) will teach the power of the engineering design process and how it has been used by superheroes like Tony Stark to create groundbreaking technology that saves lives. You'll explore the steps of the design process and see how they apply to real-world scenarios. By the end of the session, you'll have a new appreciation for the critical role engineering plays in creating our modern world and its potential for solving some of our most significant challenges.

4:00–5:00: Comics Change the World: Comics Activism Then to Now: Comics aren't just vehicles for great stories and pictures — they're also powerful tools for changing the world! In this program, Pamela Jackson (history professor and co-director of the Center for Comics Studies at San Diego State University), Elizabeth Pollard (popular culture librarian and co-director of the Center for Comics Studies at San Diego State University), and Betsy Gomez (American Library Association Office for Intellectual Freedom) will lead a discussion of the ways in which comics have been used to address civil rights and social issues since their inception and how they're still being used to address contemporary issues such as censorship, racism, LGBTQ+ rights, and more.

5:00–6:00: Afghan Youth Art and Poetry Exchange: If you could help Anne Frank continue her education would you? With the use of decentralized 21st technology, it is possible not just for one but hundreds if not thousands. Find out how a group of San Diego students created Flowers for the Future to help Afghan girls continue their education and turned it into an international all-volunteer student to student learning platform. If we can do it for Afghanistan, it can be done anywhere! Find out how.
Day Five — Sunday, July 23, 9am-5pm (Register here)
10:00–11:00: Admissions Departments Emitting Geek Vibes – College Course Focused on Pop Culture: It all may have started in the '70s when Michael Uslan (Batman) started teaching a comics course at Indiana University. Since then, colleges nationwide have slowly started to offer Comics & Geek Culture courses to their students. Academics Dr. Chris Wildrick (Syracuse University), Dr. Christina Knopf (SUNY Cortland), Rob Salkowitz (University of Oregon), Dr. Billy Obenauer (University of Maine), and recent MBA graduate Bailey Day explore the "best in class" of comic curses on college campuses today, and what's in store in the fall semester. Moderated by professor Ed Catto (Ithaca College).

11:00–12:00: What Would Aunt May Do? Supporting Heroes – Bystander Intervention on College Campuses: Alfred, Aunt May, and Uncle Ben are rarely the center of the story, yet they play a crucial role in the lives of our favorite characters. Intervening in difficult circumstances is how we can be heroic in the real world, specifically on college campuses. Learn how the lessons in our favorite stories can teach us how to behave and confront potentially dangerous situations in a safe way! Alfred Day (UC Berkeley), Emilie Mitchell (UC Berkeley), JonJon Junpradub (College of the Siskiyous), Dr. Alison Cares (University of Central Florida), Dr. Matthew Atherton (CSU San Marcos), and Dr. Zachary Hays (CSU Bakersfield) hold an intriguing discussion.

12:00–1:00: GeekEd: The Marvels: Recent years have seen an increase in female-led genre properties like Black Panther: Wakanda Forever and Ms. Marvel. Here on Earth-Prime, women are leading the way in a different but related fashion. Come meet a powerhouse crew of College Leadership who are also women of color and see how they have been inspired, frustrated, and driven by the portrayals of power in genre fiction versus the reality of leading their own institutions! Dr. Sunny Lee (UC Berkeley), Dr. Emily Sandoval (University of Southern California), Alex Belisario (UC Santa Cruz), Geralyn Williams (Pace Center), Dr. Martha Enciso (CSU Fullerton), and Dr. Marcelle Hayashida (UC Irvine) will share exciting insights.

1:00–2:00: GeekEd: Caring for the Nerd Mind: Higher education professionals continue to be called upon to respond to a variety of mental health concerns as we create environments that support student well-being. A group of higher education and mental health professionals discuss how they have applied their fandom and lessons learned from superheroes and popular culture to connect with students in crisis and develop best practices to promote resilience and well-being on college campuses. Panelists include Dr. David Surratt (University of Oklahoma), Jada Anderson (University of Maryland), Christine Catipon (Stanford University), Edgar Palmer (USC), and Greedley F. Harris (USC).

2:00–3:00: GeekEd: Lessons from the Snap: Much like Puny Banner merging his intelligence with the Hulk's strength, many Higher Education professionals had to change the way they approached working with students and colleagues as they returned to campus after the pandemic. Listen to a panel of professionals discuss how they found new ways of working and drew inspiration and parallels from their heroes. Featuring Brian MacDonald (UCLA), Alfred Day (UC Berkeley), Peter Limthongviratn (USC), La'Tonya Rease Miles (Higher Ed Consulting), Aysa Cook (Occidental College), and Greedley F. Harris (USC).