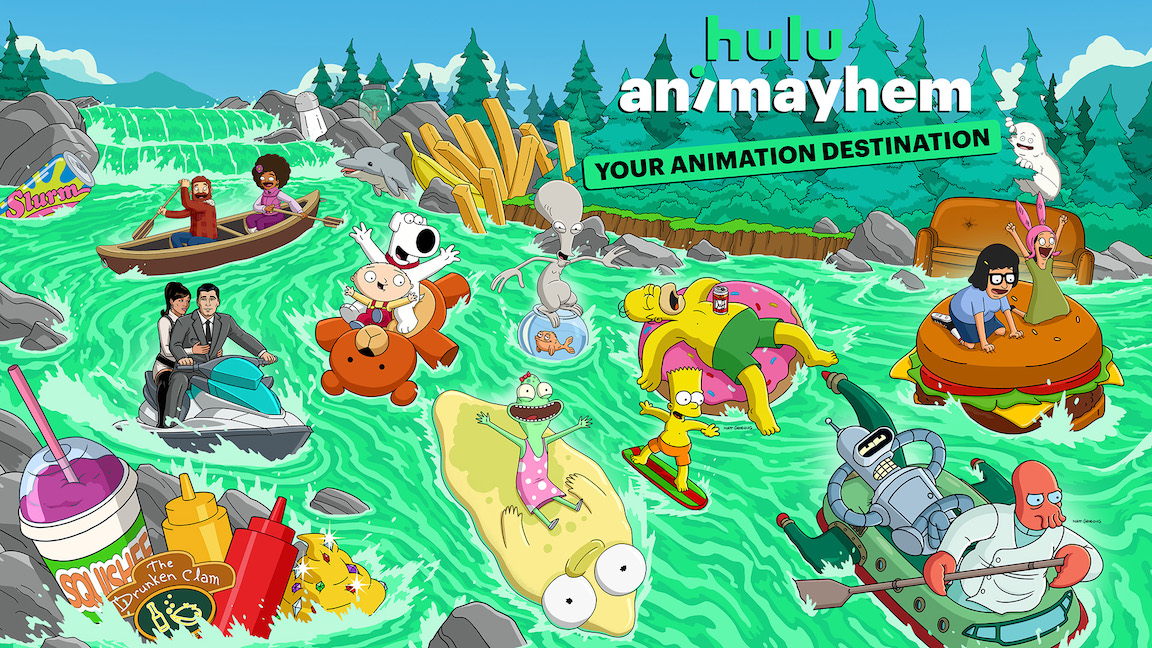 Hulu Animayhem
Hulu is heading to San Diego Comic-Con and ready to cause some mayhem. Some.. Animayhem, that is.
Their newly branded "Hulu Animayhem", a sub-brand focused on Hulu's robust adult animation and anime library, will be  celebrating at San Diego Comic-Con from Thursday, July 20 – Sunday, July 23 when they'll be taking over the Convention Center parking lot behind the convention center.
Fans will be able to put themselves into the worlds of many of their favorite series, including Bob's Burgers, Family Guy, The Simpsons, Futurama, Archer, American Dad, The Great North, and Solar Opposites. The activation will feature 2D drawing styles and optical illusions to create a 3D activation that feels comically flat and delightfully out-of-whack, just like the Hulu Animayhem series they know and love — including an experience for Solar Opposites that shrinks you down, and fun photo ops with The Simpsons couch and the Bob's Burgers counter.
At the activation, you'll find:
"Solar Opposites": INSIDE THE WALL (Hulu Original/20th Television Animation)


ZAP! Yumyulack has done it again. As fans enter the 2nd Dimension, they find themselves shrunken down and tossed into the beloved Wall, in this larger than life experience.

"The Great North": ALANIS BOREALIS (FOX/20th Television Animation)

Fans will step into the expansive Alaskian landscape to join Judy Tobin as she asks for life advice from her imaginary best friend and famed 90's singer/songwriter Alanis Morrisette. A projected Alanis constellation will appear in the sky and fans can witness the fun, playful interactions between the characters (and maybe even pick up some tips themselves!).

"American Dad": HALL OF INFINITE ROGERS (FOX/20th Television Animation)

The CIA's most wanted alien has endless disguises. As fans continue to make their way through the experience, they get a look into just how infinite Roger's collection of disguises really is!

"Family Guy": 360 TIME TRAVEL & LIVING ROOM (FOX/20th Television Animation)

Step on Stewie's infamous Time Travel Pad and take a trip through the 2nd Dimension with this unique photo opp. Guests can also grab a photo on the iconic couch or just sit back and stay awhile as they enjoy the magnitude of Hulu Animayhem content Hulu has to offer.

"Archer": WALL OF AGENCY HEROS (FX)

Playing homage to Archer's opening credits, fans can step in to join the cast in this iconic photo moment.

"The Simpsons": LIVING ROOM (FOX/Disney+/20th Television Animation)

The iconic living room has landed in front of the giant Hulu Animayhem TV. Guests can grab a photo or sit and stay awhile as they enjoy all the content Hulu has to offer.

"Bob's Burgers": GRAND RE-RE-RE OPENING (FOX/20th Television Animation)

Fans of Bob's Burgers won't be able to resist bellying up to the counter and snapping a pic with their favorite animated family – The Belchers.

"Futurama": FUTURAMA HAS LANDED ON HULU (Hulu Original/20th Television Animation)

The last piece of the activation will feature an incredible 55 ft replica of HQ, along with a crash-landed Planet Express ship. Inside HQ, fans will be able to immerse themselves in the beloved series with a variety of photo moments and immersive set builds.
Here are the hours:
Thursday, July 20 – 11:30am-7pm
Friday, July 21 – 9:30am-7pm
Saturday, July 22 – 9:30am-7pm
Sunday, July 23 – 9:30am-5pm