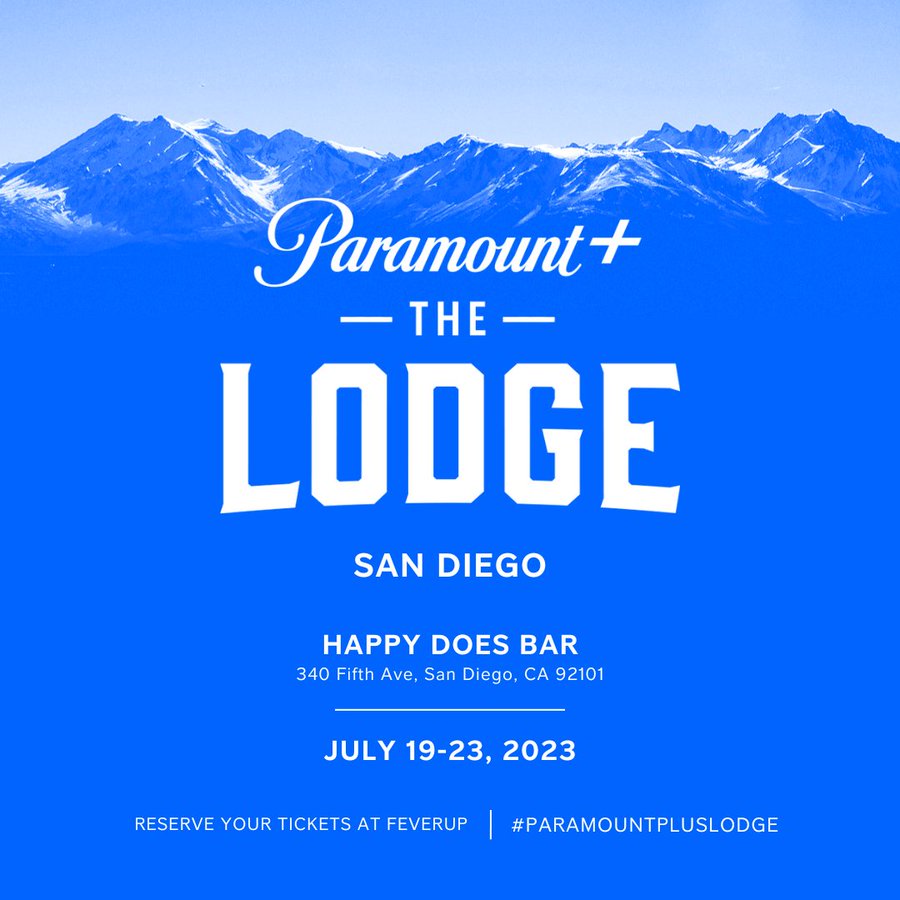 Paramount+'s The Lodge
Paramount+ will be hosting an offsite for The Lodge, featuring activities for 1923, SpongeBob SquarePants, Yellowjackets, Star Trek, and more at the Happy Does Bar.
It will be open Wednesday, July 19 from 6pm-10pm, Thursday, July 20 – Saturday, July 23 from 12pm-10pm, and Sunday, July 23 from 10am-7pm.
Your ticket will grant you a 50 minute experience. 21+ for alcohol, but all ages welcome.
Paramount will also be hosting Paramount's Passport Digital scavenger hunt. Fans can visit eight of Paramount's activations throughout San Diego, located both inside and outside the convention center, and be rewarded with a Paramount Passport prize pack, including themed memorabilia from beloved titles and more.
Fans will get to explore the worlds of many of their favorite series, including:
Transformers: Rise of the Beasts: Visit Energon Station to replenish your energy and unleash your inner beast with some tantalizing PRIMAL BREW (cold brew) and AUTOBOT TEA (iced tea).
Good Burger 2: Munch on delicious tray pass sliders from the classic Good Burger counter.
Yellowjackets: Step inside Lottie's serene compound, where there's more than meets the eye. Guests will explore a path through the activation to the secrets inside, and those lucky enough to reveal the iconic antler queen will leave with their very own bespoke Yellowjackets playing cards.
SpongeBob SquarePants: Take a trip under the sea to Bikini Bottom and visit The Krusty Krab. While at the iconic restaurant, grab a seat at the boat set for an underwater selfie photo moment.
Special Ops: Lioness: Crime awaits in the CIA safe house, where guests will be asked a series of "tests" matching with one of the three female archetypes. Fans will then receive a card with a character-match write-up and tune-in info. For guests passing by, the space features a spycraft wall where consumers can discover secrets.
Star Trek: Returning by popular demand, Star Trek's Caricature Studios welcomes guests to take a seat at one of three rock thrones where artists will sketch visitors as their own Trek character. While at each studio, guests can select from a menu of preset characteristics adding details like uniform weapons, specialty alien-race touches, skin tone, etc.
1923: Discover a hidden speakeasy where you'll find yourself in the Silver Dollar Soda Shop. Step inside and order a glass bottled root beer or a specialty cocktail within the existing nook. With a tasty beverage in hand, guests can then take a seat in the 1923 portrait studio for a vintage-style photo moment.
CBS Sports: Reimagine the iconic CBS Sports desk with a winter twist celebrating all sports, all the time. While walking around, take a peek at the CBS Sports "Hall of Fame" memorabilia wall, including items from NFL, UEFA & NWSL (San Diego Wave FC), and play a friendly game of shuffleboard.
Ink Master: Experience a day in the classic Ink Master banquette booth while flipping through a book of airbrush tattoo options from your favorite Paramount+ shows. Stencil options from beloved Paramount+ shows include Beavis and But-Head, Spongebob, RuPaul's Drag Race All Stars, and more.
Pet Sematary: Modeled after the film's themes, guests will be invited to the Pet Sematary portrait studio for a photo moment where aftereffects will be added to invoke the dead in a beautiful yet dying environment. Post-photo, digital versions will be available for consumers to share on social media.