Who says there isn't anything worth watching on TV?
It's evident the networks haven't abandoned the SDCC crowd, based on the line-up of new shows scheduled for summer and fall. This, on top of the shows returning to the airwaves in 2011, will undoubtedly give our DVRs a workout.
Let's take a look at which returning TV shows might be coming back to SDCC in July, and which panels you won't want to miss.
FOX
With Breaking-In and Human Target both cancelled, Fringe is left as the last man standing on the American Idol network, as far as returning shows go. But what a doozy this show is. With its mix of House-type medical procedural and X-Files sci-fi conspiracy theories, the series created by the unstoppable J. J. Abrams along with Hollywood wonder duo Robert Orci and Alex Kurtzman, has captivated viewers for three seasons and defied the odds of network survival with its fourth-season pick-up.
Last year's Fringe panel was great entertainment and displayed the great chemistry shared by John Nobel (Walter), Joshua Jackson (Peter), Anna Torv (Olivia) and the rest of the cast. Jackson really loves the crowds of SDCC and gave them a great show last year, both from the stage as well as the streets of San Diego. Even if you haven't been watching the show, you owe it to yourself to grab a seat at this surely returning and entertaining panel.
NBC
Again, cancellations such as The Event, which premiered at Comic-Con last year, and the high-profile pass on Wonder Woman, won't hold back from two fan-favorites returning to SDCC this year.
Broadcasters have realized it isn't just sci-fi and fantasy shows that have a place on the SDCC schedule, as last year the Peacock had Chevy Chase, Donald Glover and the cast of Community on hand for a Q&A panel. And judging by the episodes in season 2, ranging from sci-fi spoofs, an homage to The Terminator and even an entire episode focusing on Dungeons & Dragons, they totally know their audience. As the show was picked up for a third season, expect the geek-friendly show to return to the show.
The network also revealed that Chuck was brought back for a final season, and Nerd Herd-gone secret agent Zachary Levi revealed he would be setting up shop for his Nerd Machine product line at the show. Think he might make time for a farewell panel? You betcha.
CBS
Last year, CBS promoted their new action reboot of Hawaii Five-O heavily at the show, and for good reason. Not only did it have Lost's Daniel Dae Kim hot off that series' finale, but also Battlestar Gallactica's Grace Park. Add to that the impressive pedigree of the aforementioned Orci and Kurtzman, and expect fans to turn up for a sneak peak. After an impressive debut season, ranking #28 among all television series for 2010-2011, it's renewal for a second season doesn't necessarily guarantee it a spot on the SDCC panel schedule. Expect show floor presence at the CBS booth, but questionable for a Q&A since it has already built its audience.
One of the most talked-about panels at the con last year was for The Big Bang Theory. Wil Wheaton was a perfect selection as the moderator, and it took a live rendition of the show's theme song by Barenaked Ladies to upstage the hilarious and entertaining banter among the cast. As this show is one of the most popular on television, it's a safe bet that not only will it return for its core audience, but again be one of the hottest panels at this year's show as well.

CW
If there was a network that spoke to the SDCC crowd best, it would be CW. Even with Smallville ending its ten-year run this past May, it still has several crowd-favorites on the schedule for 2011 and surely returning to SDCC to promote.
The only genre that trumps zombies in this post-Twilight world is vampires, and CW has a corner on the hottest ones around with Kevin Williamson's The Vampire Diaries. Last year's panel belonged to Ian Somerhalder, the former Lost boy who turned viciously irresistible as two-hundred year-old Damon Salvatore. The panel resembled more of a Beatles concert at Shea Stadium, with 40% Q&A and 60% screaming from the women in attendance. Even still, it was a must-see for fans of the show to get a sneak peak at where the monstrously creative show was headed with its season two story arc. Not only did season two end on a cliffhanger with regard to the Originals, but it also brought back…well, I won't spoil it for you. Get in line early for this guaranteed frenzy event and find out for yourself!
Also heavily promoted was Nikita, CW's big new show of the 2010-2011 season. Maggie Q, star of Asian cinema and of Hollywood movies such as MI:3 and Die Hard 4, took the lead in this re-imagined serialized take on the 1990 action film which was premiered on Preview Night at last year's con. It was renewed for a second season but struggled to find an audience, so look for the network to try to build buzz by bringing it back again this year.
CW's other big returning show is the one that has gone to hell, heaven and back – literally – Supernatural, which was renewed for a seventh season. Eric Kripke, the show's creator, said the show was only supposed to last five seasons, and survived certain-death by getting sent to a Friday time slot. It's audience went with it, and for good reason. This is consistently one of the more imaginative shows on television. Expect it's audience to follow it to SDCC this year as well.
ABC
Last year, ABC had the sci-fi reboot V as well as the super hero family series No Ordinary Family to promote, but both were cancelled in May. Returning, however, is Nathan Fillion's Castle, which was an early pick-up for a fourth season. It's a sure bet that the show will be back at the con this year, not only because Fillion is the Pied Piper of Comic-Con, but because Marvel is launching a graphic-novel tie-in to the series this fall.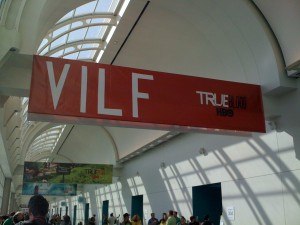 Cable Networks
The most buzz-worthy premiere last year was undoubtedly The Walking Dead. It premiered to big ratings, built upon its audience for each of season one's six episodes. But more importantly, it's based on Image's popular comic. Zombies and comics – how perfect of a mix can you get for  Comic-Con? Expect a huge turnout and a big wait for a much-anticipated season two sneak peak panel.
The other big show of last year's con was HBO's True Blood, and SDCC will take place right smack in the middle of its season four run. Last year's panel was one of the most popular of the con, one that Yours Truly waited for three hours and still didn't get a seat for in Ballroom 20. This vampire juggernaut is only getting more popular, so be prepared to get in early.
Game of Thrones, another HBO show and based on the popular novels by George R. R. Martin, didn't make a panel appearance at last year's con. It's been steadily building an impressive audience since it premiered on the cable channel in April. Look for it to also make an impressive premiere at this year's con.
Showtime showed off its big four original series – Nurse Jackie, Californication, Weeds and Dexter – but Dexter, the channel's highest rated original series, was the only one to also have its own panel. Season five was the highest rated season of the series, so expect it to prep for season six by making another SDCC appearance.
USA brought Psych and White Collar to SDCC last year, but it was Bruce Campbell's appearance at the panel for the network's highest rated show Burn Notice that was the standout. Everyone's favorite S-Mart clerk-turned U.S. Navy Seal could read the phone book and make it entertaining. Bruce was the only lead cast member from the show on the panel, but he and show creator Matt Nix revealed to the audience the Sam Axe prequel movie, which aired in April. Having been renewed not only for a fifth season but a sixth season as well, let's hope the great cast can all make an appearance at this year's con.
Lastly, Syfy always has a huge presence at the con. From its annual comic con party, which is the exclusive event of the show, to its Cafe Diem in San Diego's Gaslamp Quarter, the channel has rightfully embraced the event with open arms. That goes the same for its staple of original series – Eureka, Sanctuary, Being Human, and its highest rated series ever, Warehouse 13 – which should all make panel appearances.
What returning shows are you most excited to see at the con? Let us know in the comments!