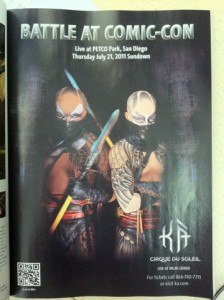 When news hit that Jon Favreau would be staging a big premiere of his upcoming summer blockbuster Cowboys & Aliens at Comic-Con, we reported that a big event was looking at using PETCO Park the Thursday during the con, per a tweet [since deleted] from Latino Review's Elmayimbe.
It was later confirmed that the premiere was going to be held at the San Diego Civic Theater on Saturday, July 23. So what ever happened to that Thursday event at PETCO Park, then?
We now have the answer thanks to one of our readers.
Cirque Du Soleil will be performing a battle scene from their "KA" production, currently playing at the MGM Grand. Live at PETCO Park on Thursday July 21. The event will begin at sundown, and was featured in an advertisement in the July issue of Wired magazine. The best news yet, is that admission will be free and no ticket is required.
We've added this to our Offsite Events 2011 list as well, but thought this was cool enough to get separate mention.