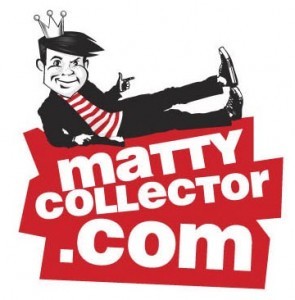 [UPDATE May 25, 2012] MattyCollector has posted the details of its May 30 SDCC voucher pre-sale. Some of the specifics:
There is a purchase limit of six units per person per product, on all products.
Your credit card will be charged upon purchase of the voucher.
A photo ID and printout of email confirming the voucher purchase are both required for pick-up
Pick-up location will again be at the Marriott San Diego Marquis & Marina, on Thursday July 12th, Friday July 13th, or Saturday July 14th from 7 AM – 11 AM or 3 PM – 7 PM, in the Torrey Pines room.
If you only have a Sunday badge, you cannot participate in the voucher pre-sale.
All sales are final and no refunds.
You must be able to pick up your purchase in person. Products purchased during the voucher pre-sale cannot be shipped.
Also, MattyCollector.com has confirmed the SDCC-exclusive merchandise available for purchase during the voucher pre-sale:
Masters of the Universe® Classics Vykron™ (Barbarian)
Bruce Wayne to Batman™ The Dark Knight Rises™ Movie Masters® Figure
DC Universe Tiny Titans
DC Universe DC Comics Vertigo™ Death
DC Universe Polly Pocket® DC Comics Villains Set
Disney • Pixar Cars 2012 Comic-Con Mater
Ghostbusters™ Zuul gatekeeper of Gozer
Hot Wheels® Scooby-Doo!™ THE MYSTERY MACHINE
Hot Wheels® K.I.T.T. Knight Industries Two Thousand
Monster High® Scarah Screams™ Doll
For the complete details, please check out the post on the MattyCollector.com website.
Once again, MattyCollector.com will be holding their annual SDCC voucher pre-sale on May 30, starting at 12PM ET / 9AM PT.
For those who are new to the process, Mattel pre-sells a portion of their SDCC-exclusive merchandise to con attendees through their online outlet, MattyCollector.com. This way you'll be able to pre-order your sweet Ghostbusters Dana as Zuul 6″ or DC Comics Vertigo Death 8″ figures without the mad rush to the booth when the show opens. Us? We'll be going for the Tiny Titans 5-pack or Polly Pocket DC Comics Villains set, but that's what having kids will do to you.
Only select items will be available online, but you can get a preview of their 2012 SDCC offerings on the MattyCollector.com website (Hot Wheels and Monster High preview pictures are not yet posted but forthcoming).
And for those who couldn't score a pass to this year's SDCC? Some merchandise will also be sold through MattyCollector.com after the con (details to be made available at a later date), but products and quantities will be limited.
Last year there were some hiccups with the process, and some folks walked away from the show empty-handed despite completing their pre-sell order online. We suspect the folks at MattyCollector.com have done everything they possibly can to prevent this situation from happening again this year.
Be sure to mark your calendars!
What will you be buying? Let us know in the comments!