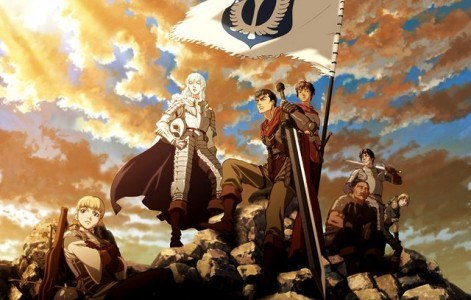 – Anime News Networks posted news that Studio 4°C producer Eiko Tanaka will be attending SDCC by way of Viz Media, and will be promoting the new Berserk animated film.
Tanaka will appear at Viz's booth on July 13 to help promote the North American release of Berserk: The Golden Age Arc – The Egg of the King. Tanaka will then join the Viz Media staff for a Berserk production panel and interview on Friday, July 13 from 5:30 to 6:30 p.m, followed by a sneak preview of Berserk Golden Age Arc II: The Battle for Doldrey.

Viz will wrap up its Berserk promotion with an exclusive early screening of Berserk: The Golden Age Arc – The Egg of the King film from 8:30 to 10:30 p.m. on the same day.
– Fortnite, the new videogame from Gears of War's Epic Games and Cliff Bleszinski, will make its first appearance to the public with a panel Thursday, July 12 from 10:45AM – 11:45AM, per an announcement on the Epic Games site. This is big news for attendees and videogame fans, as Fortnite did not make an appearance at E3 this past June.
Host Jessica Chobot (G4TV's X-Play, Attack of the Show) will join Epic Games as it lifts the veil on its new game Fortnite. Teased late last year, attendees will be the very first people in the world to see Fortnite in action.
– Star Wars: The Old Republic will be returning to SDCC again this year. In a post on the official community forums, Community Coordinator Eric Musco informed forum members of the news, and directed them to the SWTOR events page which confirmed: "Attendees will be able to swing by our location inside the LucasFilm pavilion to get hands-on time with the game and meet with game developers."