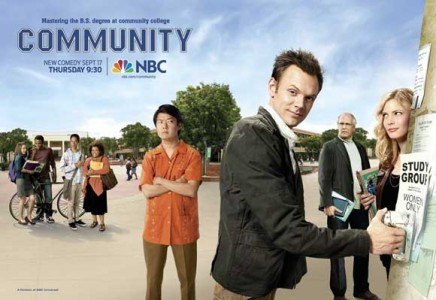 – IGN, via TV Guide's Michael Schneider, reported the details on the much-anticipated Community panel at SDCC. Scheduled for Friday, July 13 at 10AM, Schneider – who will also be moderating – has the scoop on who's in and who's out.
Who's In:  Joel McHale, Alison Brie, Danny Pudi, Yvette Nicole Brown and Gillian Jacobs
Who's Out: Jim Rash,Donald Glover and Ken Jeong
Who's Maybe: Chevy Chase, new showrunners David Guarascio and Moses Port
– CBS announced Elementary and Beauty and the Beast will both be holding panels this year. Based on the timing, it appears this will be a combined panel presenting both shows.
The panel for the upcoming CW series Beauty and the Beast will be Thursday, July 12 from 3:30PM – 4:35PM in Ballroom 20 and will include a screening of the pilot episode. Panel guests will be cast Kristin Kreuk and Jay Ryan along with executive producers Jennifer Levin (Without a Trace), Sherri Cooper (Brothers & Sisters), Brian Peterson (Smallville) and Kelly Souders (Smallville), moderated by Dalton Ross (Assistant Managing Editor, Entertainment Weekly). Following the panel Kreuk, Ryan and the show executive producers will participate in an exclusive autograph signing following the panel at the CW/CBS Booth at 5:00-6:15 PM on the convention floor.
The new CBS series Elementary, a modern retelling of the Sherlock Holmes character, will be directly  following Beauty and the Beast, on Thursday, July 12 from 4:40PM -5:45PM Ballroom 20. As with Beauty, the premiere episode will be screened followed by a panel discussion with cast Jonny Lee Miller and Lucy Liu, with Executive Producers Robert Doherty and Carl Beverly and again moderated by Entertainment Weekly's Dalton Ross.
– Lastly, our favorite vampire series (sorry Twihards) is The Vampire Diaries, and we have some news on who will be appearing as guests on the panel. Zap2It's Carina MacKenzie tweeted stars Michael Trevino and Zach Roerig will be there, in addition to previously-announced Nina Dobrev, Paul Wesley, Ian Somerhalder. The panel will be held on Saturday, July 14 in Ballroom 20.