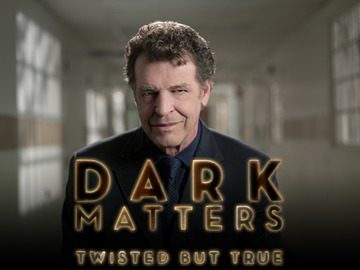 – In case you missed it yesterday, hidden behind all the Firefly hoopla, was some other interesting panel news courtesy of the Science Channel. The Science series Dark Matters: Twisted But True will be holding a panel on Friday, July 13 at 7:15PM in Room 6A with Fringe's John Noble, who serves as series host and executive producer. Attendees will be treated with a preview of the show's upcoming second season, which airs on the cable network the following day. For those who are intimidated by the potential crowds who will undoubtedly line up to see the farewell Fringe panel in Hall H on Sunday, this might be your best chance to get a glimpse of Walter up-close.
Next, popular Science podcast and upcoming series How Stuff Works will hold court on Thursday at 4PM in Room 5AB with hosts Josh Clark and Chuck Bryant joined by celebrity guests for an exclusive preview of the upcoming series, which launches in January.
– G4's Morgan Webb will moderate the Gears of War: Past, Present and Future panel on Friday, July 13, from 2PM – 3PM in Room: 6BCF. Joining Webb will be panel guests Epic Games' Design Director Cliff Bleszinski and Director of Production Rod Fergusson, writers Tom Bissell and Rob Auten, and the voice of Baird, Fred Tatasciore.
– Weta will be giving visitors to their booth a chance to win a trip to New Zealand for a tour of Middle Earth, Weta studios and tickets to the World Premiere of The Hobbit: An Unexpected Journey, courtesy of Tourism New Zealand.
In association with Weta and Air New Zealand, the journey to Middle Earth for the winner and a companion will include:
6 day trip for two to New Zealand
Round-trip flights on Air New Zealand
VIP tour of the Hobbiton Movie Set
Visit the Weta Cave and meet the artists from Weta Workshop
See movie set locations in Queenstown
PLUS – two tickets to the World Premiere of The Hobbit: An Unexpected Journey, in Wellington on November 28, 2012. That's summer in that part of the world, FYI.
The only way to enter is to visit the Weta booth in the San Diego Convention Center exhibit hall during SDCC 2012. Good luck, and remember us when you win!
– CCI released the official exhibition floor map. Generally, the exhibitors are all where they've been in years past, but we'll tell you this: we're dreading just thinking about getting past Hasbro, Mattel, Lucasfilm and LEGO all in the same block! Check it out and start plotting your course now.
– Lastly, Habro announced one more SDCC-exclusive to be sold at their HasbroToyShop booth, the special edition Jem and the Holograms Hollywood Jem doll. Only available at the con, this is what you'll get for a cool $125:
Fully articulated, highly detailed 12" (30.5 cm) fashion doll with cotton candy pink hair and hand applied eyelashes
Screen accurate costume with couture like finish
Miniature Jemstar earings
Miniature Hollywood Star award plaque
Shoes, Bracelets and realistic microphone and stand
Doll stand, instructions, souvenir post card and certificate of authenticity.
Will we be seeing you at the Dark Matters panel? Let us know in the comments!