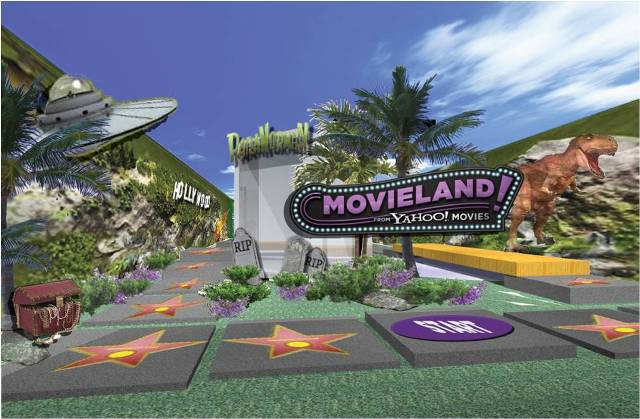 With the full schedule out, the news coming in now is what you'll be filling your time with outside of a daily panel intake, and for that we have three new bits of news.
First off, those looking to relax during the con can thank Comedy Central as they'll be hosting a Workaholics Happy Hour Event (first come, first served) taking place at the Hard Rock Hotel's rooftop bar float from 2:00-5:00 p.m. on Friday, July 13. I'd expect people from the show to be in attendance and it might be the best chance to check out the Hard Rock's supposedly cool rooftop bar if you're not doing anything or miss what you want to see on Friday afternoon.
Next, Yahoo! is transforming a 2000ft space into 'Movieland,' so attendees can "experience a life-size interactive game board with movie-related content (trivia, quizzes, etc.) customized to some of the summer's biggest movies, including ParaNorman, Total Recall and The Expendables 2. Highlights from the experience will include: actual movie props, augmented reality photo booths, special visits from actors throughout the week including Christopher Mintz-Plasse, and chances to win exclusive on-site prizes, including movie tickets. Sean Phillips, head of movies at Yahoo!, will also be onsite to discuss the latest and greatest from the conference and the summer movie phenomenon." Movieland will be across the street from Comic-Con at 520 5th Avenue and completely open to the public; SDCC badges not required. Celebrities will make appearances there on Friday the 13th. Sounds like it may be worth a look.
Finally, here's Dark Horse Comics' signing schedule for their booth. We're still waiting on Marvel's and DC's, but this should have enough to keep comic fans very interested.
Dark Horse Comics Signings (Booth #2615)
Wednesday, July 11
5:30 p.m.—Dragon Age Signing with David Gaider
6:30 p.m.—Orchid Q&A and Signing with Tom Morello and Scott Hepburn *Ticketed by drawing
8:00 p.m.—Mass Effect Signing with John Jackson Miller
Thursday, July 12
11:00 a.m.—Mass Effect Signing with Sylvia Feketekuty, Chris Helper, and John Jackson Miller
1:00 p.m. —Angel & Faith Signing with Christos Gage
2:00 p.m.—Fatima Signing with Gilbert Hernandez
3:00 p.m.—Creator-Owned Signing with Eric Powell (The Goon), Francesco Francavilla (The Black Beetle), Matt Kindt (MIND MGMT), Tony Puryear and Erika Alexander (Concrete Park), and Sanford Greene (Rotten Apple)
4:00 p.m.—Tarzan 100th Anniversary Event with Thomas Yeates, Ron Ely, Joe Jusko, and Edgar Rice Burroughs, Inc. President and Archivist
5:00-7:00 p.m.—Whedonverse Meet-up and Costume Contest with Shawna Trpcic, main costume designer on Joss Whedon's Firefly, Angel, Doctor Horrible's Sing-Along Blog, Dollhouse, and Cabin in the Woods. 
Friday, July 13
10:00 a.m.—Usagi Yojimbo Signing with Stan Sakai
See a preview of the upcoming Usagi Yojimbo: Way of the Ronin game for smartphones, tablets, and desktops.
11:00 a.m.—Star Wars Signing with Mike Richardson (Crimson Empire), Dave Dorman (Crimson Empire, Darth Maul), Randy Stradley and Doug Wheatley (Dark Times), Dave Wilkins (Darth Vader and the Ghost Prison), Dan Parsons (Dawn of the Jedi), John Jackson Miller (Knight Errant), Michael Atiyeh (colorist), Michael Heisler (letterer) and Tom Taylor (Darth Maul)
12:00 pm.—Valve Signing with Bill Fletcher  ("Cave Johnson"), Laura Dubuk ("Caroline"), Andrew Wilson, Wade Schin, and Arsenio Navarro
12:00 p.m.—Axe Cop Signing with Ethan Nicolle
1:00 p.m.—Hellboy, B.P.R.D., and Baltimore Signing with Mike Mignola, Cameron Stewart, and Tyler Crook
1:00 p.m.—Age of Reptiles Signing with Ricardo Delgado
2:00 p.m.—Berserk Signing with Eiko Tanaka (Studio 4C CEO)
2:30 p.m. – Green River Killer Signing with Jeff Jensen
3:00 p.m.– Domo Signing with Domo creator Tsuneo Goda *Ticketed by drawing
3:00 p.m. – Dragon Age Signing with David Gaider
4:00 p.m. – Empowered Signing with Adam Warren
4:00 p.m. – De:Tales Signing with Gabriel Bá and Fábio Moon
5:00 p.m.—Creepy and Eerie Signing with Dan Braun, Angelo Torres, and Christopher A. Taylor
5:00 p.m.—Dark Horse Horror Signing with Steve Niles (Criminal Macabre), Eric Powell (The Goon), and Paul Tobin (Colder)
6:00 p.m. – TNT's Falling Skies Signing with series stars Noah Wyle, Moon Bloodgood, Will Patton, Drew Roy, Connor Jessup, Colin Cunningham, Sarah Carter, executive producer Remi Aubuchon and more! *Ticketed by drawing
Saturday, July 14
10:00 a.m.—Darksiders Signing with David Slagle and Roger Robinson
10:00 a.m.—Aliens Colonial Marines Signing with Josh Williams
11:00 a.m.—Domo Signing with Domo creator Tsuneo Goda *Ticketed by drawing
12:00 p.m.—Joss Whedon Signing *Ticketed by drawing
1:00 p.m.—Whedonverse Signing with Andrew Chambliss, Georges Jeanty, Christos Gage, Jane Espenson, and Drew Greenberg
2:00 p.m – Avatar: The Last Airbender and Legend of Korra Signing with Michael DiMartino and Bryan Konietzko, Joaquim Dos Santos, Ki Hyun Ryu, and Gurihiru Studios artists Chifuyu Sasaki and Naoko Kawano *Ticketed by drawing
3:00 p.m. – Valve Signing with Bill Fletcher  ("Cave Johnson"), Laura Dubuk ("Caroline"), Andrew Wilson, and Wade Schin
3:00 p.m.—Concrete Park Signing with Tony Puryear and Erika Alexander
4:00 p.m.—Dark Matter Signing with Joseph Mallozzi
4:00 p.m.—Exile to Babylon Signing with Domagoj Mazuran, Matt Savelloni, and Helen Darras
5:00 p.m. – Mass Effect Signing with Sylvia Feketekuty, Chris Helper, and John Jackson Miller
6:00 p.m.—The Goon Signing with creator Eric Powell
Sunday, July 15
10:00 a.m.—Beanworld Signing with Larry Marder
11:00 a.m.—Mass Effect Signing with Sylvia Feketekuty, Chris Helper, and John Jackson Miller
12:00 p.m.—The Guild Signing with Felicia Day *Ticketed by drawing
1:00 p.m.—The Strain Signing with Guillermo del Toro *Ticketed by drawing
2:00 p.m.—Emily the Strange Signing with Rob Reger and Jessica Gruner
3:00 p.m.—Doug Sneyd Signing