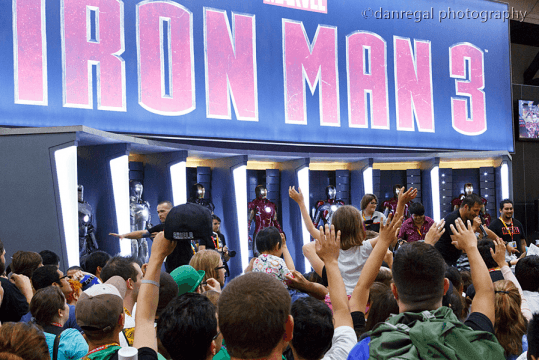 Even though it's not an official day of the convention, Wednesday (otherwise known as Preview Night) might as well be as it now features fan's first glimpse of the massive exhibit hall, WB pilot screenings, and even offsite events. Here's what went down:
Exhibit Hall – A portion of Con attendees got their chance to go through the exhibit hall for hours and many took full advantage, scoring exclusives, free stuff, and just admiring all the awesome stuff around them. FirstShowing has a nice set of some of the coolest stuff, though really if you're not at the convention, the true scope and overwhelming awesomeness of the Hall is hard to understand.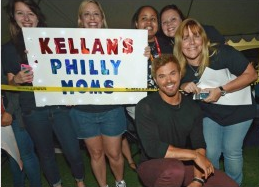 Twilight – Fans in line for the Thursday Twilight panel got a big surprise when Summit brought in 28 actors from Breaking Dawn Part 2, as well as author Stephanie Meyer, to greet fans waiting in line. They signed autographs, took pictures, and likely made the whole waiting experience worth it for all the fans. Deadline has some good photos.
WB Screenings – A handful of pilots for upcoming shows screened in Ballroom 20 last night, here's a quick breakdown.
666 Park Avenue – A scary guilty pleasure (in the American Horror Story vein). Still, could be better.
Arrow – Very good, but not yet great. Smallville-esque. Impressive super heroics for a TV show.
The Following – Dark, depressing, and well made but made many people walk out due to its disturbing content.
Revolution – Really ambitious but doesn't really pull it off. A mess for now but could become interesting. A tough sell though, so we'll see how long it lasts.
Cult – A mostly very positive reaction. A weird premise might turn some off but fascinating and creepy enough to keep most glued to the screen.
Dredd Screening – The first public screening of Dredd took place with star Karl Urban in attendance. The audience was very pleased, giving the film a fair amount of applause and singing its praises on Twitter. Some critics like the guys at FirstShowing were also impressed, but The Playlist was a bit less enthusiastic, giving the movie a B-.