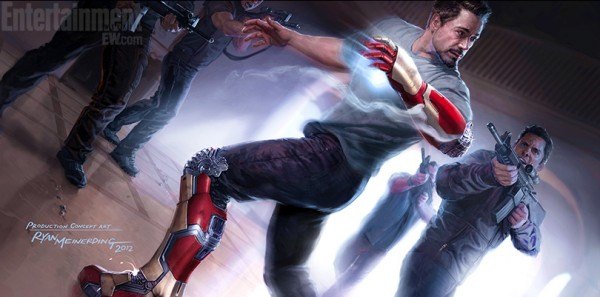 It's the eve of Independence Day in the United States, but that didn't stop the SDCC train from rolling hard into the last few days before the con.
– Entertainment Weekly's annual Comic-Con issue was released today, and revealed was a new Marvel Studios short to be screened for the first time during SDCC. The short, titled Item 47, is in the same vein as previous "One-Shots" which have appeared as bonuses on Marvel Studios Blu-ray and DVD releases. This one stars Lizzy Caplan (Party Down) and Jesse Bradford (Flags of Our Fathers), as a couple who find a Chitauri rifle left behind after The Avengers send the alien foes back to where they came from. It's not mentioned whether this will be screened during the Marvel Studios panel in Hall H or somewhere else during the con, but be on the lookout for this one ahead of The Avengers Blu-ray and DVD release on September 25.
– Another EW exclusive was some Iron Man 3 concept art with Tony Stark surrounded, and what looks to be outgunned, by riflemen. But even though EW has the scoop, even they have to fill in the blanks as to how this may fit into the next Iron Man film:
It's well-known that Iron Man 3 is borrowing some plot points from the 2005-2006 comics series Extremis, by Warren Ellis and Adi Granov, in which a critically wounded Stark is injected with a serum that fuses his body to the armor.

In that story, Stark says he wants "to wire the armor directly into my brain," and the nanotechnology serum allows microscopic machines to live within his body. They form a control sheath so he can drawn the armor to his body at will.

In this image, with both the boot and the glove clamped on — and a seeming look of surprise on the illustrated Robert Downey Jr.'s face — we may be seeing that feature in action for the first time.
The good news for SDCC attendees: Marvel will be handing this concept out as posters, so be sure to have that Marvel Events app on iOS handy or watch events.marvel.com for the best chance at scoring one of these beauties.
– As expected, the Marvel Television Presents panel will show the world premiere first-look at the new Disney XD series Marvel's Avengers Assemble, the replacement series to the popular Avengers: World's Mightiest Heroes show that is ending after it's second season. Fans attending the panel will receive a limited-edition Ultimate Spider-Man button, in addition to a sneak peak of the upcoming Hulk and The Agents of S.M.A.S.H series and a full, unaired episode of Ultimate Spider-Man. The panel will be held on Saturday, July 14 at 10:30AM in Room 6BCF.
Ready to suit up for this year's SDCC? Sound off in the comments!