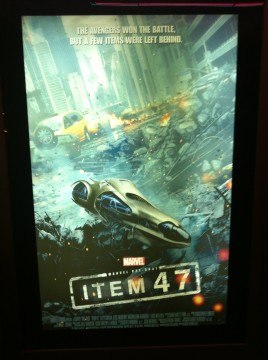 Item 47, the new Marvel One-Shot which will be appearing on the Avengers Blu-ray and DVD, was finally unveiled to the Comic-Con crowd after weeks of speculation.
This morning, the Avengers Second Screen iOS app was activated and alerted people who finished the initial puzzle to head to a secret location and await further orders. Once there, participants found a S.H.I.E.L.D. agent standing guard, and a hole in the wall of a building that looked like it was blown out by a very interesting piece of weaponry…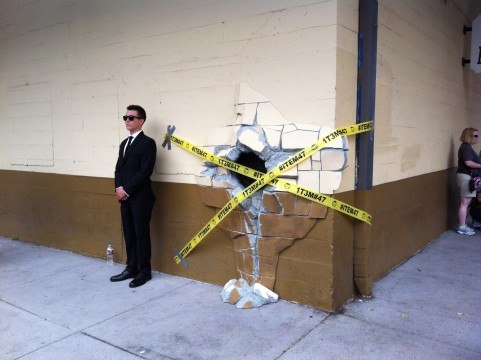 Also at the location was a code. Participants entered the code when prompted in their iOS app, which revealed the next location. At every location, a new puzzle and code. There were four locations in all, and the S.H.I.E.L.D. "agent" we spoke to revealed the first 300 people to complete the hunt would be granted access to the screening of Item 47 at the United Artists Horton Plaza theaters. When successfully completing the hunt, participants received a wristband to get them into the screening.
The screening itself was standard fare. The short, starring Lizzy Caplan and Jesse Bradford, was directed by Marvel Studios co-president Louis D'Esposito and was our favorite of all the One-Shots. The story was about two Bonnie and Clyde-like fugitives who discovered the damaged Chitauri weapon left behind from the Avengers, fixed it, and then went on a crime spree as bank robbers. It was the last-known Chitauri weapon in the field, and S.H.I.E.L.D. was curious to find out how these two got it back in operation. We won't spoil the rest, but it was indicated the outcome may play a part in future Marvel Studios features.
After the screening, Marvel held a panel discussion with the cast and crew. The only other bit of potential news is that Agent Sitwell, who appeared in the One-Shot, may be filling the role that Agent Coulson did in the Phase I Marvel Studios films. And speaking of Phase I, they awarded the person who finished the scavenger hunt first with the ten-disc limited edition Marvel Universe Phase I box set – on paper, of course, since the set isn't available until September.
Check out the One-Shot for yourself when Marvel's The Avengers is released on DVD and Blu-ray September 25.
[amazon_carousel widget_type="Bestsellers" width="600″ height="200″ title="Marvel's The Avengers " market_place="US" shuffle_products="False" show_border="False" browse_node="" search_index="DVD" /]