This is pretty huge. In addition to having a ton of great panels at the con itself, Warner Bros. is also hosting a large offsite festival that it's deemed "Extra" at Comic-Con. This totally free event will have a 60,000-square-foot stage with Q&As, live performances and screenings. Hosted by TV magazine Extra, there will be talent from Fringe, The Vampire Diaries and The Big Bang Theory present, with more TBA.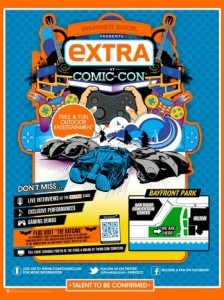 In addition expect a "makeshift Batcave" with all six of the Batmobiles from TV and film. The upcoming Lord of the Rings video game Guardians of Middle-earth will also be available to demo, complimented by Lego street art from Lord of the Rings: 3D.
All of this is going down at Bayfront Park, right next to Hall H and the convention center, and WB promises "evening and night events such as screenings and live comedy and musical performances after the convention floor closes for the day." Sounds like a pretty amazing treat for attendees and I can't wait for the full schedule to be released soon at www.thewb.com/comiccon. We'll update you when it is.