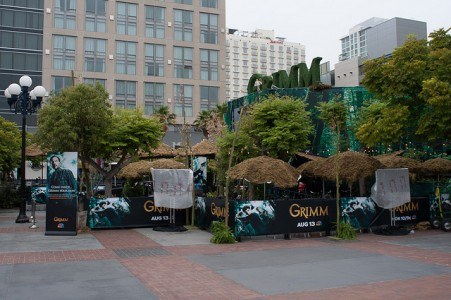 Comic-Con is becoming a year-round affair, judging from the early news we've been covering as of late. This time, it's regarding the upcoming NBC Universal series Dracula, straight from showrunner and head writer Daniel Knauf (Carnivale).
Yesterday, Knauf took to Twitter to unveil the cast of the upcoming fall series, which received a 10-episode order by the network last year. Included were Game of Thrones' Nonso Anozie as Renfield, Merlin's Katie McGrath as Lucy, Arrow's Jessica De Gouw as Mina,  and The Tudors' Jonathan Rhys-Meyers as Dracula himself.
But when asked via Twitter when the series would premiere, Knauf also let loose they have big plans for San Diego Comic-Con this year:
https://twitter.com/Daniel_Knauf/status/296799823665975297
When we see the words "big promo push" and "huge bloody splash", we imagine NBC Universal might showcase Dracula behind the Tinfish as they have in years past with Grimm and Revolution. Walking through a reproduction of the streets of 1890s London, which is where the series will take place, sounds like a bloody good time to us.
Are you excited to see more of Dracula at Comic-Con this year? Let us know in the comments!