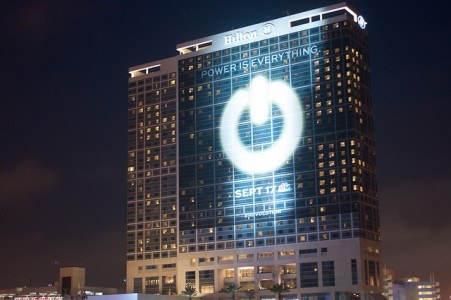 Talk about taking care of business!
Only two days ago, thousands scooped up the remaining badges for this year's San Diego Comic-Con. And in a little more than a week's time, those same folks will be scrambling for the next big derby in the SDCC sweeps – hotels.
From now on, our posts should all come with the disclaimer: "Not for the weak of heart". Phew!
Hotel reservations for the majority of rooms in the Comic-Con block will be held on Tuesday, February 26 at 9AM PT / 12 PM ET. Here's what we know, straight from the official Comic-Con website:
All current badge holders will receive the link to the hotel reservations site at least 72 hours in advance of the hotel reservations sale. We will not repost the link, and we encourage our readers to keep it to themselves! This will give the best chance to those who already have a badge, and will hopefully prevent those who do not have badges to squat rooms in the best locations. Sorry! Hotel reservations will also be accepted via phone.
New this year, each person will be required to enter six hotels in order of preference, no more, no less. In year's prior, most folks would only put one or two hotels tops, in an effort to get their reservation in  first. By requiring six hotels in order of preference, the reservations should be spread out a little more among those requesting rooms.
All reservation requests will be processed in date/time stamp order. Forms received within three seconds of each other are considered to have arrived at the same time and will be processed in a random order within that three-second grouping.
Once you submit your request, you'll receive an email confirmation of your choices within 48 hours. And by February 28th, you'll be notified of where hotel your reservation is.
All hotel reservations will require a deposit of two nights' room and tax for each room booked. If you want to play, you gotta pay, we say!
Deposits are fully refundable until April 30, and a cancellation fee equal to one night's room and tax will be charged for any cancellations received May 1 through June 1. After June 1, all deposits are nonrefundable.
If you're nerves still haven't recovered from badge registration, you can always avoid the online rush and grab a room from the Early Bird Hotel Sale, going on right now.
[UPDATE] Trying to decide which hotels are best for you? Check out our two articles to help you out:
We recommend you check out Comic-Con International's Hotel page for the list of hotels, rates, distances and shuttle availability.
Get those top six hotels ready, and good luck!
Got a hotel recommendation for your fellow readers? Have a question about the best hotel for your buck? Sound off in the comments!