Note: Because of the amount of information we received which was specific to the 2013 Ace Parking SDCC parking pass presale, we decided to compile it into its own post. As a result, we've pulled some of the previously updated information from here and put it into that new post. If you find some information  missing since the last time you looked, check for it in our new post.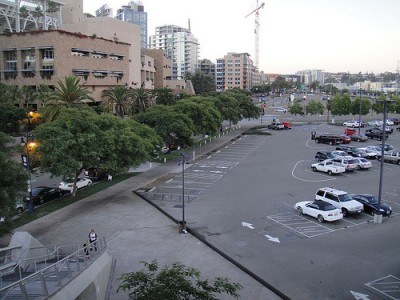 By this time most of you have made your lodging choices or had them made for you in the hotel lottery. Now you need to figure out how to get from your hotel/residence to Comic-Con with as little headache and cost as possible. We're going to highlight those of you who will be arriving in your car, as well as a few public transportation options.
Ace Parking runs the parking garage under the convention center in addition to a variety of parking lots around downtown. Starting a few years ago Ace started only having presales of parking spaces. You will not be able to show up at any Ace Parking lot and pay for parking that day! We're sure this was in response to the complete gridlock of downtown as thousands of people tried to get what little parking was available. Or not available as was usually the case. Once the lots filled you still had hundreds of cars in downtown with more on the way and nowhere for them to go. Presales are definitely the right solution. Ace will most likely be using The Permit Store for presales again this year.
The premium spot is right under the convention center. Not only is it the most convenient, but it is also the cheapest. Last year, each day was $12 plus fees. Thankfully you can now buy all the days you need on one purchase, unlike the first couple of years. Last year five days of parking could be purchased for a total of $67.25. One of the main benefits of parking under the con was mentioned in our "Staying Outside the Gaslamp" article. You have a place to store food, drinks, purchases, freebies and a nice calm place to take a break or nap. If you're driving each day, you want to get a spot here.
All the other spots are either at close hotels, Petco Park, or regular single level parking lots. These range in price but they are almost all either $20 or $25. If the convention center is sold out you'll just need to pick the best one for your needs that is still available. The Hilton Bayfront and Petco Park are probably the next best choices considering how close they are to the convention center. The Ace Parking presale for 2013 will be on Friday, April 19th.
Outside the Ace Parking presale, you'll be leaving it up to luck if you want to get parking on the day of the con. Plan to arrive very early before the non-Ace lots fill up. Also plan to pay about $30 for anything close to the convention center. The farther away you park, the cheaper it will be. Luckily some of these lots are close to the free SDCC Shuttle buses. It will take you a little longer but might spend less money and have to walk less. The downside is not having your car close by to drop off loot.
If you want to drive, don't want to pay for parking (or miss out on the presale) and are only attending at night or on Sunday, you're in luck! Parking at all regular meters is free after 6 PM every day and all day on Sunday. If you plan to take advantage of this, be aware most of the spots are taken the closer you get to the con. On Sunday, you need to be there pretty early in order to get a good spot.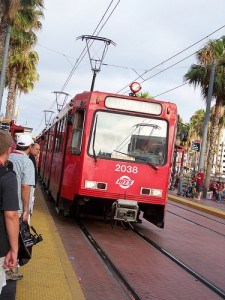 Even though this is a parking article, lets go over the next best options. If you're attending the entire con then your best bet is the trolley. San Diego has a very good trolley system. The benefits to coming in on the trolley are cheaper rates than parking ($5 for an all day pass) and no driving stress. The main problems are the limited schedule, the other SDCC attendees and regular San Diego commuters who are using the trolley, and you have nowhere to store anything you buy or pick up at the con. If you can't carry it you're out of luck unless you want to pay for bag check at the con. There are multiple large lots around San Diego County that you can park and hop on the trolley. Make sure you find out any parking restrictions as the lots in or near malls will tow your car if you park in the wrong spot.
The other public transportation option is the bus. Considering just how crowded it is downtown during the con, you won't be able to get close in a reasonable amount of time. Plan to get off the bus and walk at least five blocks or you'll be waiting a long time going nowhere. This is probably the last thing you want to consider. As always though, you can take the bus to one of the outer con hotels and ride free shuttle as long as you have your badge.
One last thing to mention. Try and get some friends together to carpool if you're buying presale parking. If a few of you tend to come and go from the con at the same time, why not save gas and parking expenses so another nerd can get his geek on in their own comfy parking spot at the con?
Actually, we're "Returning the King"-ing this article- the actual last thing to remember is that all parking, unless clearly stated, is for that day only. No overnight parking is allowed.