[UPDATE 3] As of Monday April 22 at 1:20PM PT – The parking sales site is live again!
[UPDATE 2] The parking sales site is stating sales are temporarily disabled.
[UPDATE 1] Parking link is live, but the servers are having problems handling the heavy load. Keep trying the link!
Since our last post we started to receive more information, via our readers and through Ace Parking, about the upcoming SDCC Parking Presale. We thought our readers would be better served by us compiling one standalone post with all of the details specific to this year's sale. If you went looking for information in our previous post and found it missing, you'll find it below.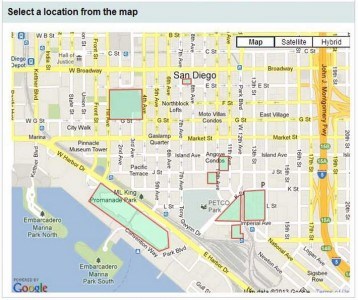 Saying that, here's what you need to know for the 2013 SDCC Ace Parking Presale:
Parking passes will go on sale to the general public on Friday, April 19 at 9AM PT.
The sale is online only. The link to the sale will be made available at 9AM PT via the Comic-Con website, as well as Ace Parking's website, Facebook page and Twitter account.
Ace Parking has confirmed via Facebook, all lots and garages that participated in last year's sale will be included this year as well. [

Thanks

@DKelly40]
Prices will not be made available prior to the sale date/time.
Parking lots will be open from 5AM to 2AM, with no overnight parking allowed. [Thanks @saxon1014]
There are no 'in and out' privileges. Each afternoon, they start opening up the spaces to the public. Meaning, if you used your pass earlier in the day and left, you can still have a chance to buy a space if you want to come back later and it's open. [Thanks @saxon1014]
Hard copies of parking passes are required – they won't be able to scan passes digitally (i.e., from your smartphone). [Thanks @saxon1014]
Parking lots will not be oversold. If you buy a parking pass, you will have a space. [Thanks @saxon1014]
The number of spaces available for each lot will not be made available during the sale, and there will be no indicator on the site showing 

remaining

 

spaces when you buy. [Thanks @saxon1014]
No refunds on purchased parking passes will be given. [Thanks @saxon1014, @mikestockton]
Read our previous post on what to expect with parking, and how to pick the lot that's right for you.
Did we miss any information? Please let us know in the comments.