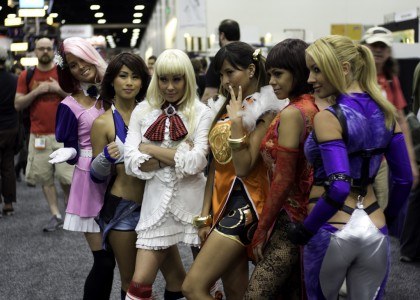 Cosplayers, take note. CCI has updated its website this morning with its Costume Weapons Policy for San Diego Comic-Con 2013.
Here's the updated policy as stated on the Cosplay page:
COMIC-CON INTERNATIONAL 2013 COSTUME WEAPONS POLICY
No functional weapons are allowed at Comic-Con

Simulated or costume weapons are allowed as a part of your costume, subject to prior approval by security and compliance with the following:

All costume weapons must be inspected at the Weapons Check Desk in Lobby E.
All costume weapons must conform to state and federal law.
Projectile costume weapons must be rendered inoperable.
Costume swords must be tied to your costume in such a way that they can't be drawn.
After each person's costume weapon has been checked, it will be tagged by security, and you will be given a wristband to wear to designate that your weapons have been checked.

Security will escort you to the security station for inspection if your costume weapon is not tagged.

If you do not want to have your costume weapons inspected or tagged, or if you are not willing to comply with these policies, please do not bring your costume weapons to Comic-Con.
Cosplayers – how is this different from last year? How does this new policy affect your costume plans? Let us know in the comments.