Earlier today, Super7 lifted the curtain on their ReAction line of lost vintage Alien action figures, including some exclusives which would only be made available at San Diego Comic-Con. We had heard about these for some time, but now we're happy to see an official announcement. And yes, you'll probably be seeing us standing in line for these beauties.
First, the bad news. The five individual Alien ReAction action figures won't be available at SDCC, but Super7 will be taking pre-orders for the complete set at their booth, #5245, and the figures are slated to ship in Q4 2013. Now that's out of the way, it's all good news from here on out.
If you pre-order the set of five action figures at the booth, you'll instantly receive an Early Bird Package, which includes an Alien figure cardboard display stage, Space Club membership card and a sheet of Alien stickers. The pre-order price for the set is $100 and includes shipping.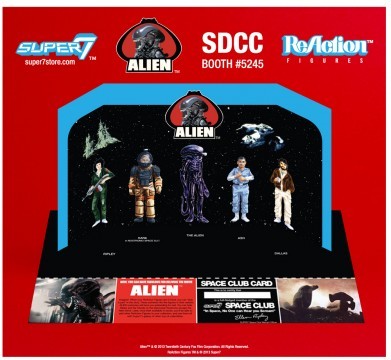 The next exclusive is the "Discovered Sales Samples" Big Chap and Kane Two-Pack, which mimics 3 3/4″ sample figures in blue plastic, with "cancelled" sample packaging and documentation, and will be the first opportunity for attendees to own the ReAction figures before the final figures are shipped later this year. The figures will have five points of articulation, extendable inner jaws, removable clear dome, and removable clear space helmet and will sell for $40.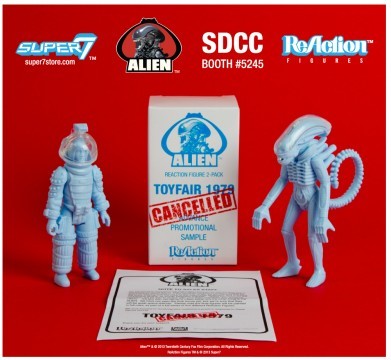 The third exclusive is the Alien ReAction figure base, in the shape of the Alien ReAction logo with foot peg, and is available free for attendees who sign up for the Super7 mailing list. Free is good!
The fourth and last exclusive from the Alien ReAction line is the Alien ReAction Figure Catalog, an accurate reproduction of the classic 3 3/4 action figure brochures of the '70s and '80s (like this Star Wars beauty).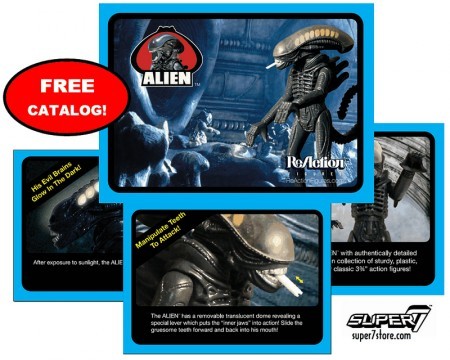 These catalogs will be available in limited quantity at the Super7 booth for free.
For more images and complete description of the Alien ReAction line, check out the post on the Super7 website.
Are these a Day One purchase for you at the show? Let us know in the comments.