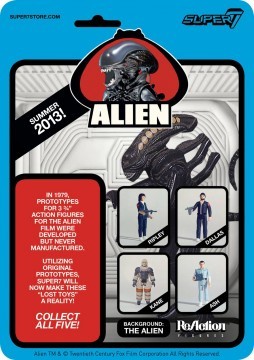 Since our last report on SDCC exclusives, there have been more reveals and more excitement  We have many more confirmations on the exclusive scene now than we did a month ago. That being said, if you're in love with rumors and innuendo we have a little of that as well. We are continuing to make efforts this year to be an aggregation of all the best that will make its way into those lovely WB bags you'll be carrying this July  So, here is what we have found since last time:
Super7 Alien Exclusive: At WonderCon we had the opportunity to catch-up with the awesome team at Super 7 and pestered them about their SDCC plans. With the beautiful prototypes of the Retro-Action Alien line being one of the hits of last year's SDCC, we wondered if there might be an exclusive version available at this year's con. Director of Licensing Frank Supiot said he can't tease or give us anything too specific, but he did confirm there will be an Alien exclusive of some sort. So, what could that exclusive be? Speculate away, but seeing the vintage goodness they've put together so far, we know the Super7 line will be around the block with whatever they release. Will it be a toy? We'd even love to see more in their vintage line of Alien glasses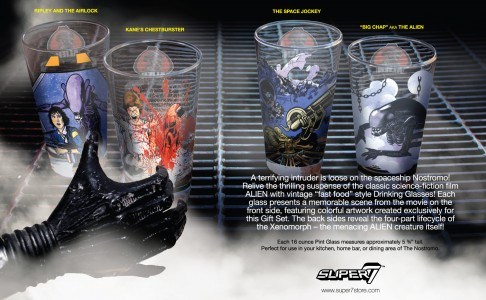 Hallmark Man of Steel, Star Trek and Star Wars Ornaments: Always one of the longest lines at SDCC, Hallmark has assured that this trend will continue in 2013 with some big announcements. As usual, Hallmark will have ornaments related to DC Comics, Star Trek and Star Wars. Pictures have yet to be released, but here is a rundown of what to expect:
Wrath of the Rancor™ – Created especially for event sales, this ornament captures Luke Skywalker's struggle with the savage creature dwelling below Jabba the Hutt's palace as seen in Star Wars: Return of the Jedi™.
U.S.S. Kelvin™ – As featured in the 2009 Star Trek movie, this Federation starship exclusive is a "battle-scarred" variant of the same Keepsake Ornament available starting in July in Hallmark Gold Crown® stores.
Man of Steel – Inspired by this summer's big-screen adventure of the same name, Superman is the subject of this event-exclusive Keepsake Ornament. Details and images of this ornament will be announced later this year.
Chew Chog Vinyl Toy: Last month we reported on rumors of John Layman and Rob Guillory bringing a variant version of their Chog toy to SDCC. Although a regular version of the toy has still not been released, the item has been reported as imminent by Layman, himself. The new Chog shirt was prominently displayed at WonderCon at both Layman's table in Artist Alley and at the Graphitti Design booth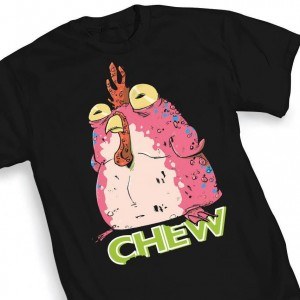 If you remember, last month we had pictures of this Chog prototype that we came across at January's Amazing Arizona Comic-Con: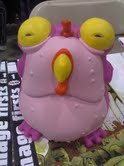 Recently, a loyal reader of SDCC Blog sent us an anonymous tip on the SDCC version of the Chog. In the tip, he states that Layman told him privately at WonderCon that the SDCC exclusve version Chog will be an all white version of this classic Chew creature. This claim is just an anonymous tip, so take it for what you will. That being said, we know the exclusive Chog will be sold out fast, regardless of color choice.
Hasbro G.I. Joe Exclusive: As with the rest of the G.I. Joe community, we were shocked when Hasbro opted to not show any new product at this past weekend's JoeCon.  All signs pointed to an SDCC reveal during their panel at the show, but there were no definite details given. That being said, there was some discussion from Hasbro executives, Derryl DePriest and John Warden on SDCC and hints were given. We're grateful to GeneralsJoes.com for being on-hand and reporting on the SDCC talk:
People asked about the ComicCon exclusive reveal as well, and the Hasbro guys did speak on that a bit. They said the set would be large and would "fill a hole" that has been created by some of the previous sets. John also said we might be surprised by the number of 3 3/4″ figures included in the set. From conversation it sounded like they wouldn't be doing a single-pack carded exclusive this year, but it also sounds like we might be looking at another G.I. Joe/Transformers cross over set. A question came up about accessibility for these ComicCon exclusives, and Brian Savage said the Club is talking to HasbroToyShop about once again being an outlet for these for collectors to have easier access to the exclusive product.
These words have led to a flurry of speculation on what items will be present, but what we do know is that the announcement can't be far off at this point and it would seem that they will be releasing the information in some larger media blitz where all of the exclusives are revealed at once, rather than in smaller pieces as once thought.
With a little over 3 months to go until Preview Night, the exclusive information is going to be continuing to come rapidly. Make sure to keep checking back here as we try to bring you all of the news on the SDCC exclusives scene.
What exclusives are you most excited about so far? Let us know in the comments.