We've started a new, quasi-regular column on the Blog titled "Under The Tents". The title is symbolic, as it's representative of the times we all line up under the tents waiting for those big moments to happen inside Hall H or Ballroom 20.
Here's the stuff you might have missed for today:
Mondo, the company behind its much sought-after, limited poster art, has tweeted that it will indeed be back at Comic-Con this year. Earlier it was reported the company's status at SDCC this year was unknown, so now collectors can all breathe a sigh of relief.
Also, the answer is a giant YES! We are excited to say that we will be back for this year's San Diego Comic Con. Very excited about this.

— MONDO (@MondoNews) June 12, 2013
Oh yeah, and make sure you follow them throughout the convention so you know exactly when and which of its limited posters will be available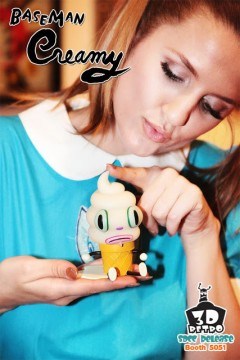 Gary Basement himself will also be at the 3DRetro booth, #5051, to sign for collectors (date unannounced).
Next is the Bob Dob's Mouseketeer Army "Wil" Figure. The "last hope to preserve the Magic Kingdom", this 6-inch figure, limited to 250 pieces, comes in a window box and goes for $70.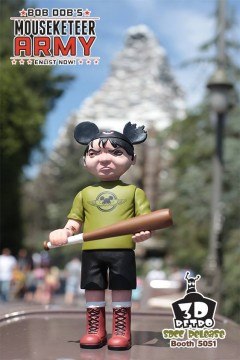 Artist Bob Dob will also be on hand to sign autographs at the booth, on Wednesday night (Preview Night) only.
Action Figure Xpress announced its exclusives for this year, which include a Masters of the Universe Filmation He-Man Bust Paperweight for $60, a Masters of the Universe Faker Power Sword Letter Opener for $20, and our favorite, the ThunderCats Series 4 Minimates 5-Pack for $22. Check out all of the exclusives available at its booth, #3345. They're also all available now for pre-order, both for attendees and non-attendees.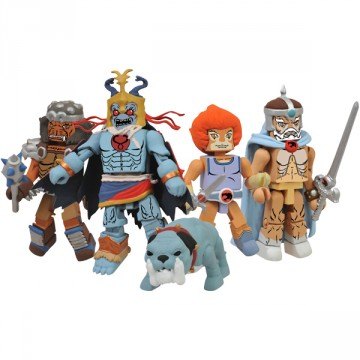 Animation legend Paul Dini is going to have a pretty busy slate at Comic-Con this year.  Four panels, two autograph sessions, and a partridge in a pear tree.
Looks like I've set my SD Comic Con schedule, 4 panels and 2 autograph sessions. Waiting for final confirmation before I say what they are.

— Paul_Dini (@Paul_Dini) June 13, 2013
The Originals fan site, based on the upcoming spin-off series to The Vampire Diaries, tweeted the new series is confirmed for Comic-Con this year, although it had no specifics on dates or panel guests.
The Originals are confirmed for SDCC and as soon as more details are released we will let you know. #BeOriginal

— The Originals (@OriginalsFandom) June 12, 2013
Adobe has been teasing attendees about its presence at this year's SDCC for weeks. Member of the Adobe Photoshop team Daniel Presedo tweeted out the company's "photo booth" and told attendees to come in costime.
https://twitter.com/dramenon/status/344869457732173824
Cinemax's Banshee will be at SDCC on Friday July 19, says showrunner Greg Yaitanes via Twitter.
https://twitter.com/GregYaitanes/status/345298630560858112
Comedian Paul Scheer, star of NTSF:SD:SUV and host of the podcast How Did This Get Made? tweeted that he will be back at Comic-Con for the aforementioned Adult Swim show, as well as a possible appearance at Nerd HQ.
https://twitter.com/paulscheer/status/345262370957967360
Hey Zac, when are you going to let us know more about Nerd HQ this year, anyway?
The fundraising rewards for the Nerdist/Lucasfilm charity event Course of the Force have been announced. Tenth place will get you a personal voice mail message recorded by Chris Hardwick, Matt Mira or Jonah Ray. That kinda sounds like the Grand Prize to us.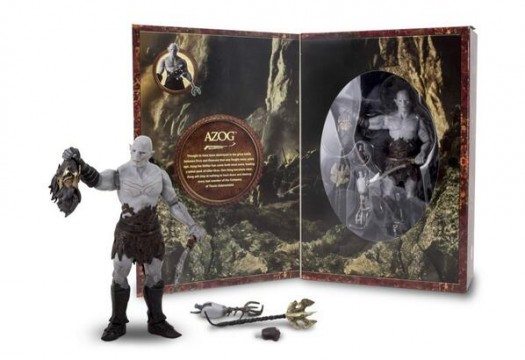 Azog comes with interchangeable hands that switch between holding weapons and the severed head of the dwarf King Thror. What a charming Mother's Day gift! You can get it at The Bridge Direct / Weta Booth, #3513B.
Vinyl Pulse has pictures of the gold-and-black painted Mr. Pumfrey and his Astounding Mechanized Perambulator figure from Doktor A.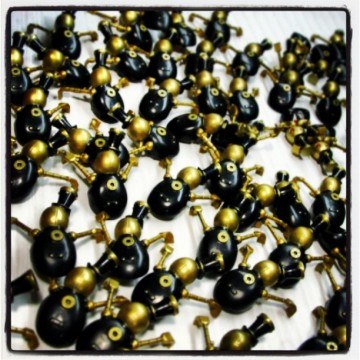 TOYSREVIL has the scoop on this limited SDCC-exclusive Zombie Bacon 11-inch from from "Mr Toast" creator Dan Goodsell.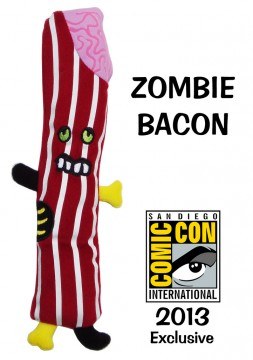 This one is limited to 1000 "strips" and will go for $10 each at the Mr. Toast booth.
Lastly, our friend Anne Kirn, author of The Art of War: SDCC Edition, has released version two of the essential Con survival tome. All new graphics and 33 additional pages of content, Anne is selling the digital version on her Etsy site.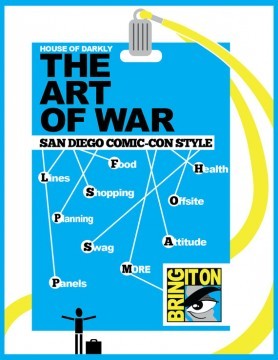 We were huge fans of the first version, and version two looks to have added tons of great information. We recommend it highly, for new and seasoned fans alike.
Anything we missed? Let us know in the comments, drop us a line or tweet us at @SD_Comic_Con.