We've started a new, quasi-regular column on the Blog titled "Under The Tents". The title is symbolic, as it's representative of the times we all line up under the tents waiting for those big moments to happen inside Hall H or Ballroom 20.
Here's the stuff you might have missed for today:
Actor and comedian Ralph Garman revealed via Twitter that he will be moderating the Dexter panel this year – and thus that Dexter will be back to promote their final season.
Yes and yes! RT @Tardispilot Are you going to moderate another #Dexter panel at #SDCC this year? Is there even going to be a Dexter panel?

— ralphgarman (@RalphGarman) June 25, 2013
USA is bringing Psych back this year, with an even bigger presence than usual. The panel, which takes place on Thursday, will be hosted by fan favorite Cary Elwes. Deadline has the scoop on the panel, as well as a very special offsite screening on Wednesday night:
Panelists at the July 18 Comic-Con event include Roday, Dulé Hill, Corbin Bernsen, Lawson and Timothy Omundson, along with Kirsten Nelson. Also joining the panel are creator and executive producer Steve Franks, and executive producers Chris Henze and Kelly Kulchak. The night before, the show will hold an exclusive midnight screening of the upcoming Psych: The Musical two-hour episode airing this winter on USA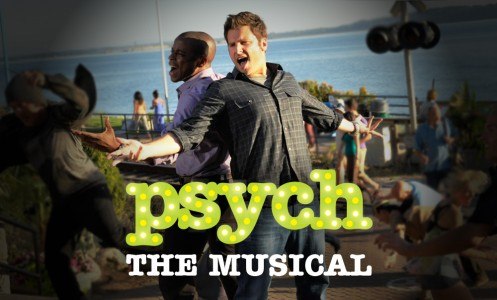 And Psych's official site has the details on the screening! It will be held at Reading Cinema, and doors will open at 10PM on Wednesday. The event will be first come/first serve, so show up early to secure your spot.
If you're a cosplayer who loves Adult Swim, now is your chance to show off your skills for a chance to win $100 and a trip to Williams Street, the Adult Swim studios in Atlanta. While the costume contest is to promote Adult Swim's presence at SDCC this year, anyone can enter. Simply snap a photo of yourself dressed as your favorite Adult Swim character, share it on social media with the hashtag #adultswimcontest or submit it to the official contest page before July 28th. You can also find more information on Adult Swim's blog.

They also promise that "if you get seven friends to sign up, you'll have a chance to win an even cooler secret prize".
HISTORY has announced details on its Vikings panel. The panel will be on Friday July 19 from 6-7PM in Room 6A. Panel guests include Travis Fimmel (Ragnar Lothbrok), Katheryn Winnick (Lagertha Lothbrok), Clive Standen (Rollo), George Blagden (Athelstan), Gustaf Skarsgard (Floki), and Jessalyn Gilsig (Siggy Haraldson), with Michael Hirst (Writer/Creator), and Dirk Hoogstra (Executive Vice President, General Manager of HISTORY).
The hat maker, Goorin Brothers, have partnered with Sony to produce the Heisenberg hat from Breaking Bad. The hat will be released during the convention at the Goorin Bros. hat shop in downtown San Diego (631 5th Ave.). They will be having a private release party, but the hat will also be available in their store during regular business hours.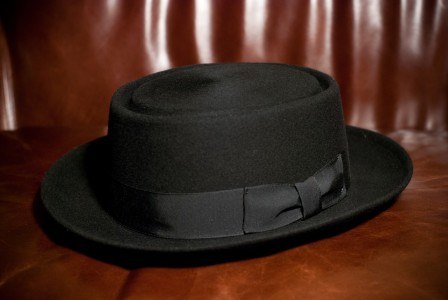 Acme Archives tweeted a sneak peak of artist Amy Mebberson's SDCC-exclusive Disney lithograph. Wonder what it could be?
Here's another peek at @amymebberson's #SDCC @Comic_Con exclusive lithograph…this one will blow your mind. #disney pic.twitter.com/Dl8J6RqgND

— Acme Archives Ltd. (@AcmeArchives) June 25, 2013
The band The Unstable Molecules will be selling its official concert tour merchandise at SDCC, like this shirt from artist David Mack, posted on clothing manufacturer Gawakoto's Facebook page.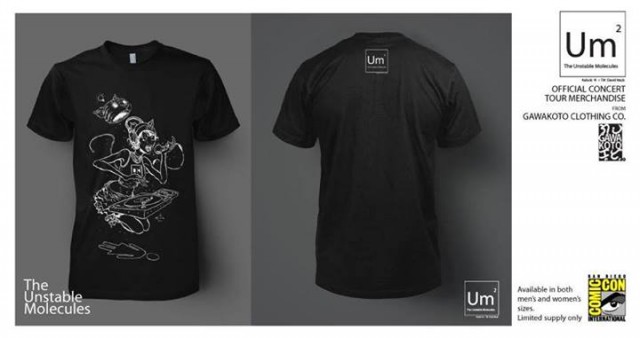 Super7 has unveiled its first vinyl SDCC exclusive, the CRYSTAL MECHA.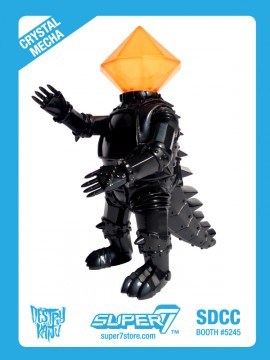 CRYSTAL-MECHA is designer Brian Flynn's first entry into the DESTROY ALL KAIJU! line of standard-sized (approximately 9" tall) vintage-inspired vinyl figures. Generously articulated at the neck, shoulders, legs, and wrists, and cast in glossy black Japanese vinyl with a translucent orange crystal head.
The toy will sell for $95 at the Super7 booth, #5245.
Anything we missed? Let us know in the comments, drop us a line or tweet us at @SD_Comic_Con.