We've started a new, quasi-regular column on the Blog titled "Under The Tents". The title is symbolic, as it's representative of the times we all line up under the tents waiting for those big moments to happen inside Hall H or Ballroom 20.
Here's the stuff you might have missed for today:
Fans of the hit Syfy series Defiance, get ready for season two by picking up the Defiance MMO game. It's 50% off this weekend at Green Man Gaming UK. Take an additional 20% off with code GMG20-JLKSA-7A8HA.
Actress Bitsie Tulloch, who plays Juliette Silverton on NBC's Grimm, tweeted the show will indeed be back at Comic-Con this year, its third year in a row appearing at the convention.
#Grimmsters who is joining @NBCGrimm this year at Comic Con? Please come, it's our third time and we want to see your beautiful faces! #SDCC

— Elizabeth Tulloch (@BitsieTulloch) June 6, 2013
Mark Millar continues to tease Kick-Ass 2 fans, saying the movie will have a "massive, exciting presence" at SDCC this year.
Kick-Ass 2 has a massive, exciting presence at SDCC but I'm not sure I'll be able to make it sadly. Will be with you all in spirit!

— Millarworld (@mrmarkmillar) June 7, 2013
WeLoveFine.com will be setting up a Pop-Up Shop across the street from the Convention Center where fans can purchase their licensed tees, meet some of the designers and get autographs and photos. The Pop-Up Shop will be at the Hilton Gaslamp throughout the weekend. A schedule of guests will be announced at a later date.
The 501st Legion, the international volunteer and charity group of Imperial officers, has confirmed via Facebook its annual Droid Hunt will return to SDCC this year, and Hasbro has sponsored the hunt with 25 boxes of figurines as prizes.
We've heard Syfy's Haven would be returning to Comic-Con this year in some capacity, and now it's been confirmed via its distributor Entertainment One with this tweet:
If it's Friday, then it must be time for #Haven #SDCC planning meetings! pic.twitter.com/WRaR5u8fdr

— Entertainment One (@eOneHomeVideo) June 7, 2013
Today's RIPT Apparel t-shirt is a classic mash-up between the Justice League and Super Mario Bros. Take a look at The Mushroom League. It's available only until midnight tonight, then it's gone forever.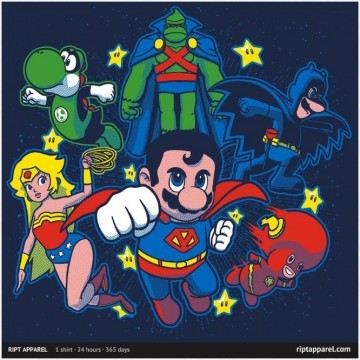 Anything we missed? Let us know in the comments, drop us a line or tweet us at @SD_Comic_Con