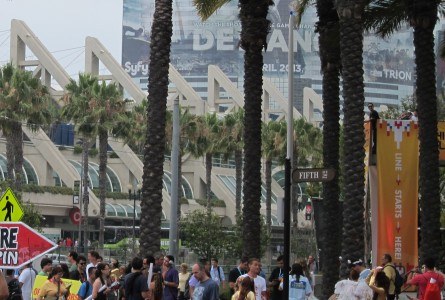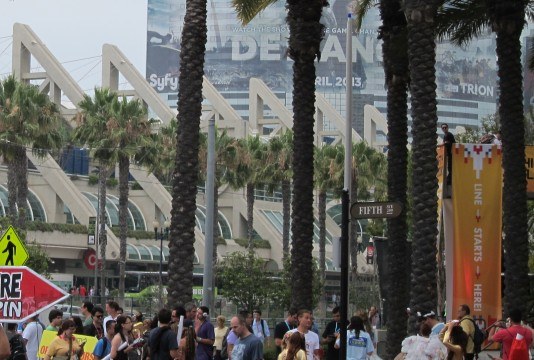 Now that the details regarding badge resales have been announced, it's time for you to make some hard decisions. If you can pick just one day (and we're waiting to confirm you will be able to pick more than one day if you are selected in the drawing), what day should that be?
That's a difficult question. There's so much going on at once, so it all depends on what you would like to do. We've broken it down for you to help you decide.
Panels
The Hall H and Ballroom 20 panels get the most attention at Comic-Con, and rightfully so. Those two rooms play host to the biggest blockbuster movies and most popular television shows, and get attendees lining up for miles to get a glimpse at some exclusive footage or big reveals. If this is what you're coming to SDCC for, we have some information that might help you make your decision.
Thursday we're hearing, unconfirmed, that Lionsgate/Summit will kick off the con the same way they did for Twilight in years past. Now that the Twilight franchise is complete, however, the studio will need some new films to show off at Comic-Con. And they do have quite a slate – Red 2, Ender's Game, and Hunger Games: Catching Fire. We expect these films to appear. Again, this is unconfirmed, but has been supported by multiple independent sources.
Friday is looking like the day for the Sony Hall H panel. We had heard previously Amazing Spider-Man 2 would be on Friday, and another Sony movie, City of Bones: The Mortal Instruments was hinted at a Friday panel by its author, making both likely inclusions into the studio's annual Hall H panel. But what else could Sony include? Aside from the expected surprise or two, both Robocop and Elysium are two good candidates to appear.
Saturday is already shaping up to be THE day in Hall H, with the speculated Marvel Hall H panel and the confirmed Warner Bros. Pictures studio panel that day. The Hobbit, Godzilla, Gravity, and the future of the DC cinematic universe are expected to be trotted out for the latter, while we expect to hear some Marvel Phase II and possibly III news from the former.
Sunday is generally reserved for television, and for the last couple of years we've seen Doctor Who and Supernatural in Hall H on that day. Whovians especially, if Sunday is the day (and we've not heard anything to make this more than speculation), you'll want to be in the audience to see what's in store for the 50th anniversary and possibly who the new Doctor will be.
There are a couple of wild cards we still haven't heard much about. Fox should be bringing The Wolverine and X-Men: Days of Future Past, and Universal will be heavily promoting Kick-Ass 2, but we just don't know which day yet (Friday sounds right to us, but that's just speculation on our part). In addition, Friday and Saturday have been big television days in the past with Game of Thrones, True Blood and The Walking Dead, and Agents of S.H.I.E.L.D. is going to fit in there somewhere, too. We think this illustrates the point that with so much going on, you're really going to have a good day no matter which one you choose.
Exhibit Floor
If you're going to check out the booths in the Exhibit Hall and pick up some merchandise, earlier in the week is better. It's less crowded on Thursday and Friday, and the chances of that exclusive merchandise being still being available are greater then as well. Just remember you can't be in two places at once, so you'll also have to juggle that with any panels you want to attend for that day (see above).
Offsites and Nerd HQ
Don't forget about everything going on outside of the convention center. There are plenty of installations in the neighboring businesses and hotels that don't require a badge, and honestly you could spend all day doing these and never feel like you're missing something going on inside the Convention Center. So if you can only get one badge, or if you aren't selected for the drawing, you'll still have a great time in San Diego.
And then there's Nerd HQ, which we've been waiting (impatiently) for weeks for more information. They've done a great service for attendees in years past by having similar "Conversations for a Cause" panels as what Comic-Con was offering inside the convention center. This allowed attendees to have the same experiences as the folks in Hall H or Ballroom 20, albeit in a more intimate setting, in the event they were unable to get a badge or due to a conflict with their panel schedule. We would expect to see more great panels at Nerd HQ again this year for folks who weren't able to get a SDCC badge.
We hope this helps inform your decision, should you get selected in the badge resale drawing. The moral of this story: There's so much to enjoy during SDCC, it doesn't matter which day you get!
Now get going and make sure you put your member ID in the drawing, as you only have until June 12 at 10:59:59AM PT! Good luck!