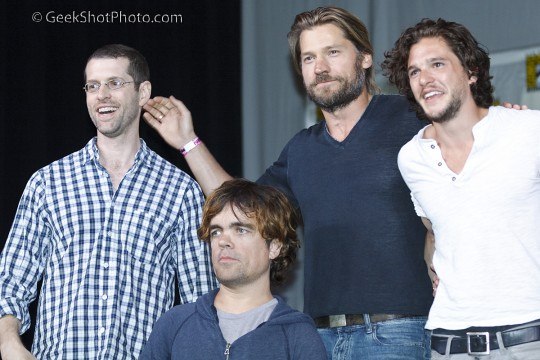 No need to see red, Game of Thrones fans, as we have some good news for you!
Although actor Kit Harrington's presence on the "Entertainment Weekly's Brave New Warriors" panel pretty much confirmed that Game of Thrones would be part of San Diego Comic Con this year, we now have confirmation from George R.R. Martin – as well as several details.
The panel, set for Friday from 2:50-3:45, will take place in Hall H again this year. While Martin doesn't list any panelists besides himself and executive producers David Benioff and D.B. Weiss, we can assume Harrington (who portrays Jon Snow) will definitely be in attendance.
There will also be an autograph signing at the WB Booth following the panel, as well as another signing for Martin on Saturday in the autograph area for Bantam. There are likely to be more signings – Martin mentions both one for Avatar Comics and one with Gary Gianni, though details are still pending.
Here's the full announcement, from Martin's Livejournal:
The next convention on my calendar is the San Diego Comicon.

My dance card is already almost full. Yes, there will be a GAME OF THRONES panel, and I'll be on it. It is scheduled for Friday, July 19, 2:50 to 3:45, in Hall H To be followed by an autographing at the WB booth. Of course, I'll be joined on the panel by half a dozen cast members (no, don't know which ones yet) and David and Dan.

I will also be doing a signing on Saturday, July 20, from 11:00am to noon, in the official autograph area. That one is for Bantam.

Working on two more signings: one for Avatar Comics, which will be launching their new comic of THE SKIN TRADE (based on my novella, scripted by Daniel Abraham) at the con, and one with the marvelous Gary Gianni, the artist for the 2014 ICE & FIRE calendar, which will debut in San Diego. Details on those when I have 'em.

I am not on any panels besides the one for GAME OF THRONES, nor will I be doing any readings (come to worldcon for that), but there should be plenty of chances for anyone who wants me to deface their books, maps, games, videotapes, or body parts with my illegible scrawl. But PLEASE, if you want my autograph, come to one of these four signings. Don't stop me in the hotel lobby or on the street or in a restaurant when I am trying to have dinner.
Image courtesy of GeekShotPhoto.com