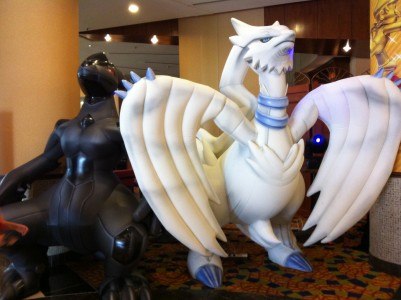 Nintendo has released its booth and lounge events for Comic-Con 2013.
The company will be back in the Marriott Marquis and Marina Ballroom with the Nintendo Gaming Lounge – no badge required – with the latest Wii U and 3DS games, giveaways and prizes, and a Pokemon-themed area to promote the upcoming Pokemon X and Y titles.
In addition, Nintendo will have a presence on the show floor at booth #235 with a playable version of its upcoming Wii U title Pikmin 3.
The entire press release is below.
Nintendo Charges Into Comic-Con With a Super-Powered Collection of Fun Games

New Entries in the Mario, Zelda, Pikmin and Donkey Kong Series Will Be Playable

Comic-Con 2013

REDMOND, Wash.–(BUSINESS WIRE

)– Walking into Comic-Con, it's not uncommon to be surrounded by people dressed as Mario, Link and other Nintendo video game legends. These iconic characters, and the games they star in, are beloved by generations of video game fans. This year, Nintendo is giving Comic-Con visitors and Southern California residents the chance to play a giant assortment of upcoming games starring these celebrated characters. People will be able to enjoy hands-on time with games like Super Mario 3D World, Pikmin 3 andDonkey Kong Country: Tropical Freeze for Wii U, as well as Mario & Luigi: Dream Team and The Legend of Zelda: A Link Between Worlds for Nintendo 3DS. In addition, Nintendo is hosting a variety of fun activities, including giveaways for The Wonderful 101 and one-of-a-kind experiences celebrating the Year of Luigi (available while supplies last).

"Comic-Con gives us a chance to interact with thousands of current and future Nintendo fans," said Scott Moffitt, Nintendo of America's executive vice president of Sales & Marketing. "We have fun games and activities for everyone, and Comic-Con will be the first time for many people to see how these games play in person."

Nintendo will have a presence in two locations during Comic-Con. The first is on the show floor in the San Diego Convention Center, where the focus will be on Pikmin 3 for Wii U, with game-play kiosks and unique photo opportunities.

Visitors who do not have a Comic-Con badge can still join in the Nintendo fun by visiting the huge Nintendo Gaming Lounge at the adjacent San Diego Marriott Marquis & Marina hotel. The list of playable games scheduled to appear includes:

Wii U

The Legend of Zelda: The Wind Waker HD from Nintendo
Donkey Kong Country: Tropical Freeze from Nintendo
Super Mario 3D World from Nintendo
Pikmin 3 from Nintendo
New Super Luigi U from Nintendo
Mario & Sonic at the Sochi 2014 Olympic Winter Games from Nintendo
Rayman Legends from Ubisoft
Skylanders SWAP Force from Activision
Disney Infinity from Disney Interactive
Sonic Lost World from SEGA
The Wonderful 101 from Platinum Games
Bayonetta 2 from Platinum Games
Just Dance 2014 from Ubisoft

Nintendo 3DS

Yoshi's New Island from Nintendo
The Legend of Zelda: A Link Between Worlds from Nintendo
Mario & Luigi: Dream Team from Nintendo
Donkey Kong Country Returns 3D from Nintendo
Sonic Lost World from SEGA
Shin Megami Tensei IV from ATLUS (Index Digital Media, Inc.)
Batman: Arkham Origins Blackgate from Warner Bros. Interactive Entertainment

In addition to all of these games, visitors to the Nintendo booth and Gaming Lounge will encounter a host of fun activities. Attendees that stop by both the Nintendo booth at the convention center and the Nintendo Gaming Lounge at the Marriott Marquis & Marina hotel will receive a mask (while supplies last) designed to resemble the masks worn by the heroes of The Wonderful 101. Fans who dress up like the characters from The Wonderful 101will be have a chance to win a Wii U system and copy of the game when it launches on Sept. 15. And at 2 p.m. on Sunday, July 21, Nintendo invites everyone who is dressed up or wearing a mask to gather for a group photo.

To get all those Pokémon trainers-in-the-making ready for the upcoming releases of Pokémon X and Pokémon Yfor Nintendo 3DS, a Pokémon-themed area will be set up in the Nintendo Gaming Lounge to allow visitors to relax, take photos with the Pikachu costumed character and participate in giveaways.

The yearlong celebration of the Year of Luigi will also continue at the show. Not only will visitors be able to playNew Super Luigi U for Wii U and Mario & Luigi: Dream Team for Nintendo 3DS, but the Luigi costumed character also will be available to take memorable photos with visitors. Visitors will also be able to collect fun items such asMario & Luigi: Dream Team pillow cases, Luigi hats and Year of Luigi coins (while supplies last), as well as sign the giant Luigi yearbook, a memento chronicling Luigi's 30 years in video games.

The Nintendo booth (No. 235) is located at the San Diego Convention Center at 111 W. Harbor Drive, San Diego, CA, 92101. The Nintendo Gaming Lounge is located on the first floor of the Marriott Marquis & Marina hotel at 333 W. Harbor Drive, San Diego, CA, 92101.

Mario & Sonic at the Sochi 2014 Olympic Winter Games TM IOC/SOCHI2014/USOC 36USC220506. Copyright © 2013 International Olympic Committee ("IOC"). All rights reserved. This video game is the property of the IOC and may not be copied, republished, stored in a retrieval system or otherwise reproduced or transmitted, in whole or in part, in any form or by any means whatsoever without the prior written consent of the IOC.

All other trademarks and copyrights are properties of their respective owners.

About Nintendo: The worldwide pioneer in the creation of interactive entertainment, Nintendo Co., Ltd., of Kyoto, Japan, manufactures and markets hardware and software for its Wii U™ and Wii™ home consoles, and Nintendo 3DS™ and Nintendo DS™ families of portable systems. Since 1983, when it launched the Nintendo Entertainment System™, Nintendo has sold more than 4.1 billion video games and more than 654 million hardware units globally, including the current-generation Wii U, Nintendo 3DS and Nintendo 3DS XL, as well as the Game Boy™, Game Boy Advance, Nintendo DS, Nintendo DSi™ and Nintendo DSi XL™, Super NES™, Nintendo 64™, Nintendo GameCube™ and Wii systems. It has also created industry icons that have become well-known, household names such as Mario™, Donkey Kong™, Metroid™, Zelda™ and Pokémon™. A wholly owned subsidiary, Nintendo of America Inc., based in Redmond, Wash., serves as headquarters for Nintendo's operations in the Western Hemisphere. For more information about Nintendo, please visit the company's website at http://www.nintendo.com