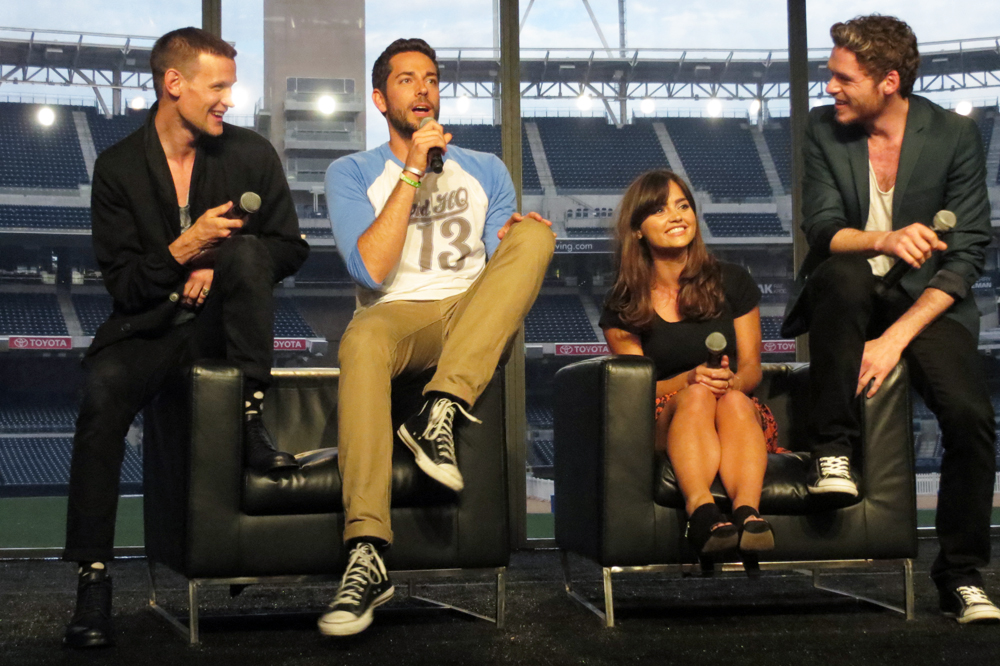 Nerd HQ moved to Petco Park this year for their third year, and despite a few snafus and strange choices (like never really announcing their hours, only releasing a map of where exactly in the stadium they'd be on Wednesday afternoon, and highly erratic ticketing sales), the offsite proved to be one of the most entertaining and highly-sought after places to be all SDCC.
With the move to Petco Park, it seems as though Nerd HQ may have finally found a space large enough to hold the amount of people wanting to get in. A huge concourse offered food and drinks, official merchandise for The Nerd Machine, video games, and cool things to look at – including an Iron Man suit and free photo booths.
The best thing about the new location, though, was the availability of seating. In years past at both Jolt 'N Joe's and Block No. 16, finding a spot to sit was always a challenge, but this year Nerd HQ had several leather sofas along one side of the concourse, and if those were full, offered plenty of spaces on the ground to sit down and plug in to recharge your electronics with their provided charging stations.
From their YouTube channel, here's a video detailing some of what Nerd HQ had to offer:
While Nerd HQ was often just a great place to sit down and unwind outside the hectic pace of the convention center, most people attending were there for one reason: the panels.
As in years past, Conversations for a Cause were held throughout the week in an an intimate room with only 250 seats and a stage (with the world's deepest seats for guests, which made for great entertainment watching panelists try to figure out how to sit in them). Assigned seats for each panel were $22 each, up from last year's $20, but all proceeds benefit Operation Smile.
Although it seems like just a smaller version of the panels going on across the street, there's a level of spontaneity at Nerd HQ it's hard to imagine happening in a San Diego Comic-Con panel.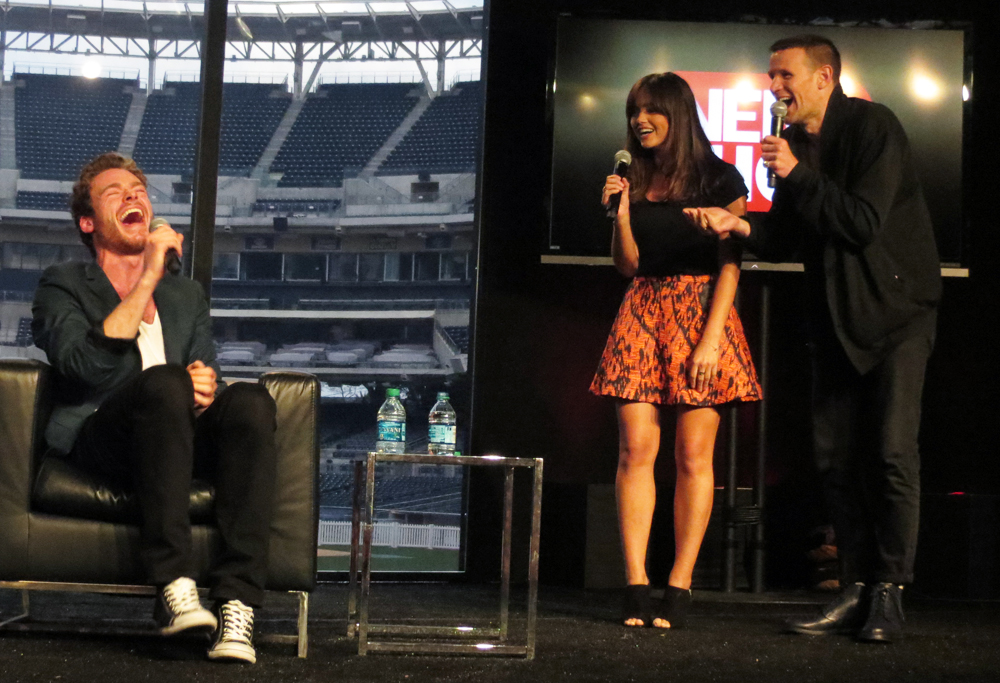 We can't picture Tom Hiddleston getting up to do an impression of a Jurassic Park velociraptor in the middle of a Hall H panel question, or anywhere else where Matt Smith and Jenna Louise-Coleman would surprise even moderator Zac Levi by bursting in on the middle of a discussion with Game of Thrones' Richard Madden.
It was also a great place to have a guaranteed seat for some of the mostly highly anticipated smaller SDCC panels, including Hannibal and Haven. It was also a place to see many properties that weren't even at San Diego Comic Con, like The Maze Runner, Yahoo! webseries Tiny Commando, and lots of intimate one-on-one conversations with Levi, Evangeline Lilly, Jim Lee, Joss Whedon, Joe Manganiello, Nathan Fillion, and Supernatural's Jared Padalecki and Jensen Ackles.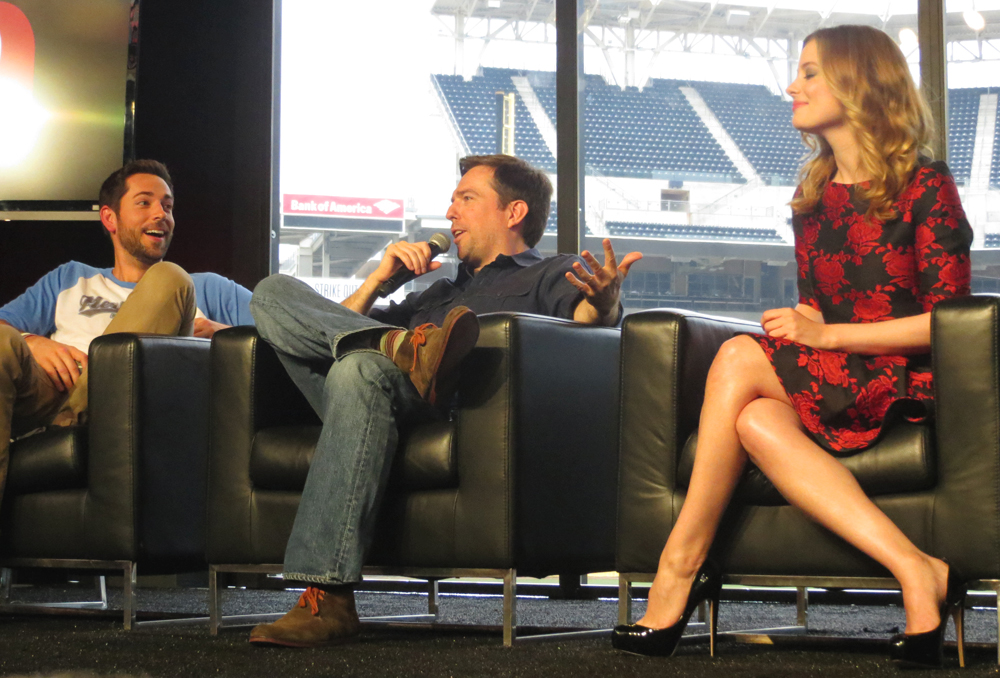 The highlight panel of the week though, for us, was Orphan Black. The three stars (Tatiana Maslany, Jordan Gavaris, and Dylan Bruce) started their Comic-Con weekend off with a conversation at Nerd HQ, which quickly escalated into one of the most entertaining panels all weekend thanks to some unplanned music. Star Gavaris sang Taylor Swift's "We Are Never, Ever Getting Back Together" (while Maslany beat-boxed along) when asked why he loved her music so much, and across the park, The Walking Dead Escape's thundering score could be heard in the panel room, giving an unexpected, dramatic overture to fan questions.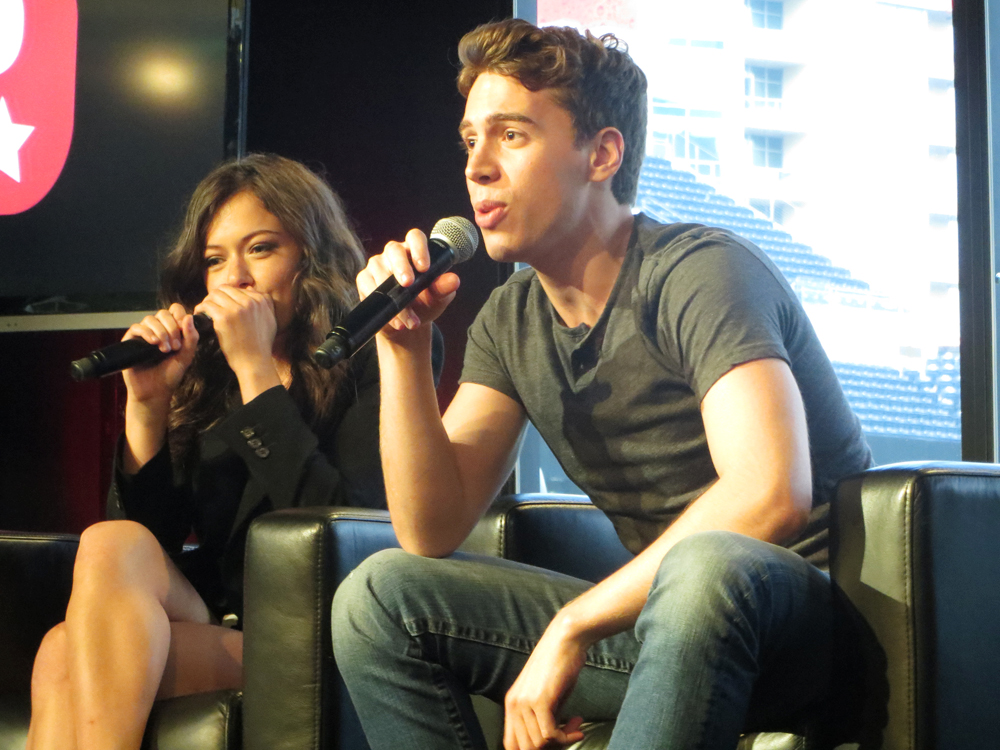 Also helping to make this the best year so far for Nerd HQ were assistant hosts Alan Tudyk and Nathan Fillion, filling in for Levi on Friday and Saturday respectively, to help save Levi's voice for the Broadway show First Date. Their presence helped keep things fresh even for attendees who went to multiple panels, and Fillion in particular kept conversation rolling if there was a lull. Volunteers and staff were also much more well-versed and helpful this year, and once panels for the day started, things moved like clockwork — operating on-time and in an orderly fashion.
You can view all of Nerd HQ's Conversations for a Cause on their YouTube channel.
How was your experience at Nerd HQ this year? What did or didn't you like? Let us know in the comments.