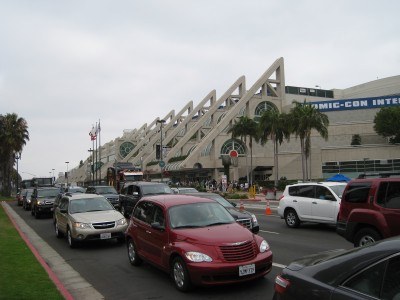 Every year post-SDCC we select our "Top Moments of Comic-Con", but this year we're doing things a little differently. And we're inviting our readers, listeners and viewers to join us.
We want to hear from YOU! Do you have a favorite moment Comic-Con? How about a biggest disappointment or regret? Let us know by leaving a comment below. Or, tell us in your own voice! Click on the "Call Me" button below and leaving us a voice message with your most memorable moments of SDCC. [UPDATE] Sorry, the lines are now closed.
Next week, the hosts of the SDConcast – Jeremy, James, Kerry, Shawn and Kim – will each bring their favorite moments from this year's show to the table in a live SDConCast broadcast. And of those, the team will select the Top Five Moments of San Diego Comic-Con 2013. Many moments will be discussed, but only five will be left standing for the annual distinction of being the best of the year. We'll also be playing back your voicemails during the broadcast.
You'll be able watch along and chat with us live during the broadcast. Keep watching for the exact date and time – we'll announce a day or two ahead of the broadcast. And we'll embed the live feed in this post just prior to the broadcast, as well as post the link on Twitter and Facebook.
We want to hear from YOU! Do you have a favorite moment of Comic-Con? Let us know!