[UPDATE] We found this tweet from the account @TheGoldenMileCC which indicates there will be some sort of scavenger hunt during Comic-Con where attendees can win a seat at a screening for The World's End:
Follow @TheGoldenMileCC to get the location of all 12 limited Golden Mile trading cards dispersed throughout #SDCC including #TheWorldsEnd.

— TheGoldenMileCC (@TheGoldenMileCC) July 1, 2013
So it appears there will be a screening during Comic-Con for some lucky attendees. Stay tuned for more details.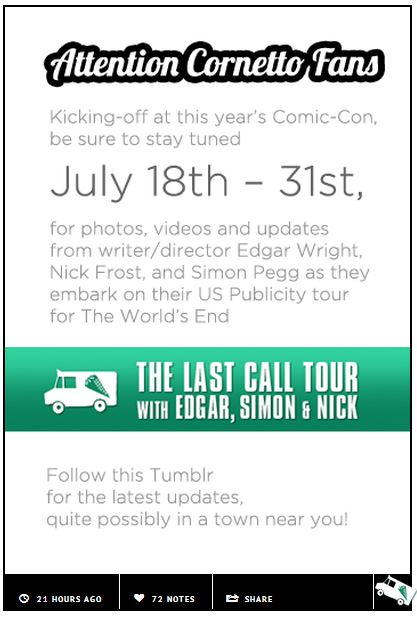 [ORIGINAL POST] Edgar Wright, director of the upcoming final chapter of The Cornetto Trilogy, has been dropping hints about a possible Comic-Con appearance for weeks. We've even heard a possible date for a Hall H panel. But now we know, The World's End is nigh.
An update on the official Tumblr site for The Cornetto Trilogy states that promotion for Wright's upcoming film will be "kicking off at this year's Comic-Con" starting July 18, says to look out for "photos, videos and updates" from Wright, along with stars Simon Pegg and Nick Frost during their "Last Call" US Publicity tour, seemingly guaranteeing the three will be appearing at SDCC.
There are no details yet on what the tour or their full presence at Comic Con will include, but we expect a panel and more. Edgar Wright is known for going all out with SDCC, having previously screened the world premiere of Scott Pilgrim there and hosting cool offsite events that year (like t-shirt screening with the cast).
The World's End is one of the films we've been asked about most, so this news should make many happy attendees this year. We should be hearing more specific panel information very, very soon.