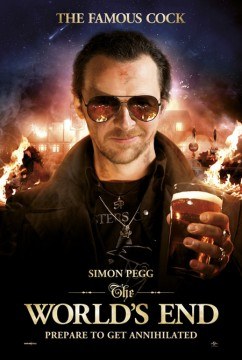 We have some information on two big Universal Pictures releases, thanks again to our astute readers.
First we have news on, Riddick, the upcoming entry in the Vin Diesel-powered (like that?) franchise. We had speculated Comic-Con would be a perfect venue to show off the film, which will be released in the U.S. this fall. News on its production has been conspicuously quiet, aside from a teaser trailer released last month.
Well, Comic-Con attendees may indeed have the first extended peak of this sci-fi actioner, as Riddick and Battlestar Galactica star Katee Sackhoff confirmed via Twitter she will be appearing to promote the film:
Nope! But I Will Be for #Riddick!!!! RT @gumballgary: @kateesackhoff Will you be at Comic Con in SD next month for #longmire?

— Katee Sackhoff (@kateesackhoff) June 12, 2013
The other big Universal release is one that SDConCast guest and Slashfilm.com writer Germain Lussier said on our podcast was his most anticipated film of the year, Edgar Wright's The World's End. Well, we now have two reports which confirm the movie will have a panel and/or an event at SDCC this year.
First, Director Edgar Wright himself did confirm via Twitter that he would be at SDCC this year:
@jazzical @simonpegg @nickjfrost We will be at SDCC too.

— edgarwright (@edgarwright) June 13, 2013
What's interesting and corroborates with another report we received from one of our readers, is that Wright lists Simon Pegg and Nick Frost in his reply, and the "We" in his statement indicates that both of his longtime leads will be joining him at SDCC.
Now about that other report. Although it's unconfirmed by the studio, our reader claimed his information came from a Universal Pictures "press source" and states that indeed Wright, Pegg and Frost will be presenting The World's End in Hall H on Friday, July 19, but also joined by Martin Freeman as well.
@SD_Comic_Con The World's End panel will be at Hall H on friday (press source Universal). With Pegg, Frost, Freeman, Wright.

— Peter Breuls (@Breuls) June 13, 2013
Now it wouldn't be a stretch that Freeman would also be at SDCC, because he's also expected to be a panel guest during The Hobbit: The Desolation of Smaug at the Warner Bros. Pictures panel on July 20.
Lastly, Universal has a pretty big slate of geek-friendly films it's bringing to Comic-Con this year: The aforementioned Riddick and The World's End, and the previously-confirmed Kick-Ass 2. So perhaps all three would be under a Universal Pictures panel on Friday, July 19, or they could have their own separate panels or events. We'll see soon, when the programming schedule is announced by CCI, if not sooner by the studio itself.
Excited to see this slate of films in Hall H? Let us know in the comments.
Thanks to readers kerrydixon and breuls for the information.