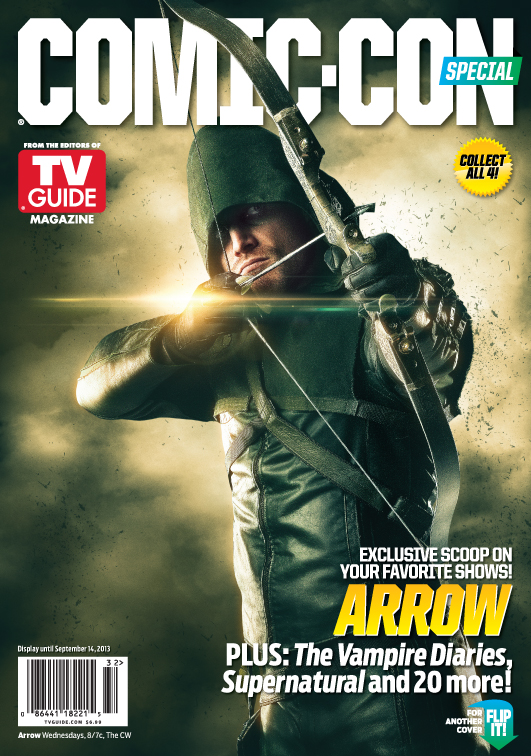 The covers for the annual TV Guide Magazine Comic Con special edition have been revealed!
TV Guide Magazine is once again re-teaming with Warner Bros. Television for one of fans' favorite swag items during the con. This year there will be four sets of collectible "flip" covers to choose from (or treat them like Pokemon, and catch 'em all!).
The covers will feature Arrow's Stephen Amell, Supernatural's Jared Padalecki and Jensen Ackles, The Vampire Diaries' Nina Dobrev, Paul Wesley, Ian Somerhalder and The Originals' Joseph Morgan and Charles Michael Davis, as well as a special Superman 75th anniversary and Batman cover.
Distribution will be through the Warner Bros. booth (#4545) throughout Comic-Con beginning on Preview Night. For those unable to snag the 80-page free collector's item at the WB Booth, newstands and digital playforms will begin carrying all four sets of collectible flip covers starting July 17.
You can view all eight covers on their site, or below.
Here's the full press release:
BURBANK, Calif. (July 10, 2013) — TV's super alliance continues as Warner Bros. Television (WBTV) and TV Guide Magazine join forces once again to deliver fans the ultimate Comic-Con swag item for the fourth consecutive year: a Warner Bros.–themed Comic-Con special edition of the magazine, with insider scoop and behind-the scenes action from the Studio's series as well as four sets of collectible "flip" covers featuring Arrow star Stephen Amell; Supernatural stars Jared Padalecki and Jensen Ackles; The Vampire Diaries stars Nina Dobrev, Paul Wesley and Ian Somerhalder; and The Originals stars Joseph Morgan and Charles Michael Davis; in addition to a set dedicated to the 75th anniversary of Superman, with Batman on the flip cover.

For a sneak peek at the four sets of flip covers and to download all eight cover designs, click here: http://bit.ly/18LY702

Comic-Con Distribution at the Warner Bros. Booth: The Warner Bros. TV Guide Magazine special issues will be distributed to fans for free at the Warner Bros. booth — #4545 on the convention floor — throughout Comic-Con, beginning on preview night, Wednesday, July 17, and continuing through Sunday, July 21.

Newsstand and Digital Platforms: For those unable to attend Comic-Con in person, all four sets of collectible flip covers will be on sale from July 17 at newsstands wherever TV Guide Magazine is sold. The special issue will also be available digitally on iPad, Nook, Kindle Fire, Zinio and Google platforms.

The 88-page special issue is packed with features and photos dedicated to the following programs:

Previews of WBTV's highly anticipated new series Almost Human, from J.J. Abrams' Bad Robot Productions and Fringe's J.H. Wyman, starring Karl Urban (Star Trek films) and Michael Ealy (Underworld: Awakening); The Tomorrow People, from executive producers Greg Berlanti (Arrow), Julie Plec (The Vampire Diaries), Danny Cannon (Nikita) and Phil Klemmer (Chuck), and based on the original UK series; The Vampire Diaries spinoff series The Originals, from Julie Plec; The 100, in which 100 juvenile delinquents are sent to Earth years after a nuclear apocalypse to see if the planet is habitable; and more…

And there's more! Including:

An exclusive Arrow comic created by DC Comics and penned by TV series executive producer Marc Guggenheim

A sneak peek inside the upcoming DC Universe Original Animated Movie Justice League: The Flashpoint Paradox, from Warner Bros. Home Entertainment, Warner Bros. Animation and DC Entertainment

An in-depth look at the television history of the man of steel — Superman — in honor of the character's 75th anniversary

Behind-the-scenes photos from the TV Guide Magazine yacht and Warner Bros. Television media cocktail event at Comic-Con 2012

A look back at pop-culture costumes seen on The Big Bang Theory

Burning questions answered about fans' favorite shows, including the final season of Nikita

For continuing info on the Studio's plans at Comic-Con, please follow us on Twitter @TheWBdotcom (hashtag #WBSDCC) and visit www.thewb.com/comiccon. And follow TV Guide Magazine on Facebook at www.facebook.com/TVGuideMagazine and on Twitter @TVGuideMagazine.
Which version in on your "Must Have" list this year? Let us know in the comments!