Today's "Under The Tents" has news from Assassin's Creed IV, Bryan Cranston, Dan Harmon, a Legendary Entertainment SDCC swag giveaway, the possibility of streaming panels online, fake geeks, Nerdist, Stephen Hawking at The Big Bang Theory panel, FOX, WB TV, Vikings, Bates Motel, Godzilla and more.
Here's the news you might have missed:
If you were on the Jackdaw pirate ship docked behind the Convention Center during SDCC, you might have caught a glimpse of this video on board. If not, treat your eyes to the awesomeness of real-life Assassin's Creed Parkour at San Diego Comic-Con:
There is also a making-of video, which quite frankly is just as interesting to see how they pulled this off. [via Destructoid]
We don't know what's more impressive: Breaking Bad's Bryan Cranston hiding behind some Walter White cosplay on the Exhibit Floor, or that it got David Letterman to talk about San Diego Comic-Con. Either way, check out this video on how Cranston pulled it off. [via Zap2it]
http://youtu.be/uL2clPCQ2cY
We wonder how many of our readers actually had a close encounter with Cranston during SDCC and didn't even know it?
Did you see Dan Harmon's Iron Man cosplay entrance at the Community panel? Well, now you can own a little bit of Comic-Con history. The costume Harmon wore is now up for auction on Ebay. Currently bids are above $500, and the auction ends August 4 at 4:56PM PT. [via Dan Harmon Sucks]
Do you feel like you need a little more swag from Comic-Con? Legendary is giving away a pretty sweet prize pack, which includes a complete set of autographed post cards from its booth signings for Godzilla, Warcraft, 300: Rise of an Empire, Seventh Son and Shadow Walk; SDCC exclusive Pacific Rim t-shirts and more.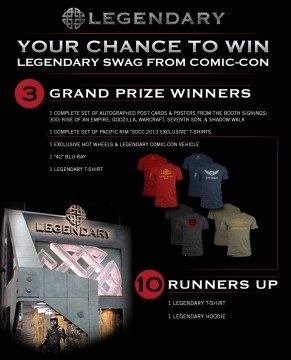 "But streaming is something we've thought about," he acknowledged. "One of the things we have to take into consideration, too, is how many people want streaming and how many people don't. A lot of people come to Comic-Con because they want to be the very first people to see a movie, the first to see a preview, the first to be able to tweet or Facebook any news that comes out of there. I think when you start to make that streaming live, the uniqueness of those panels ends up being less so. But it's something we're looking at."
Not able to make it to the Live Nerdist show with special guest Matt Smith during Comic-Con? Well, you're in luck, because now you can enjoy it via the comforts of your own space. Check it out here.
Comic-Con International's Toucan Blog posted daily diaries from Maggie Thompson throughout the convention. If you want to relive SDCC through the eyes of comic book royalty, you can read them all here:
Comic-Con is full of surprises. Did you know Stephen Hawking introduced The Big Bang Theory panel at Comic-Con? If you missed it, you can see the video introduction below.
You can also check out many of the video presentations during the WB panels, including The Vampire Diaries, The Originals, Arrow, Revolution and more on the official WB TV YouTube channel.
Another network which had a big showing at Comic-Con, Fox, has videos and pictures from its many panels and events during the week on its Fox Fanfare Comic-Con 2013 website. Check them out, including video from the Cosmos, Family Guy and Bones panels, the Sleepy Hollow tumblr event, and more. Here's a clip of the table read from the Bones panel:
http://youtu.be/dYc6ycyKV2M
Freddie Highmore from A&E's Bates Motel took a trip to the original Psycho house in an exclusive Comic-Con video, which you can now watch below.
The New York Times gave the "WTF" award to TV Land for bringing out Roseanne Barr and a non-Captain Kirk William Shatner during its Comedy Legends of TV Land panel.
Mr. Shatner is Comic-Con royalty for "Star Trek," but he quickly made it clear that Captain Kirk would not appear. "I'm here for TV Land, TV Land, TV Land," he said. He then repeated, "TV Land, TV Land, TV Land."
Missed the panel for HISTORY's Vikings at SDCC? Then you missed the sneak peak for season two they showed exclusively at the panel. No worries, because we have the video, below:
Here's the first film clip for the upcoming Ender's Game starring Harrison Ford that was shown at the Ender's Game Fan Experience offsite activation:
Anything we missed? Let us know in the comments, drop us a line or tweet us at @SD_Comic_Con.