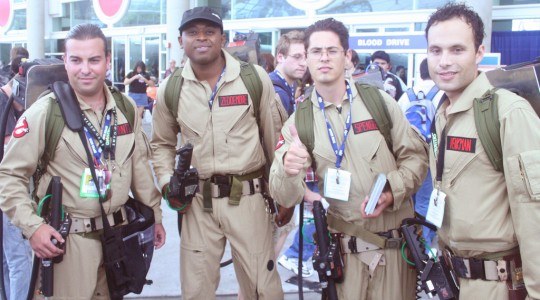 Just before the holidays, news of a big Ghostbusters 30th Anniversary celebration was announced by the film's studio, Sony Pictures, which sounds like it will have several ties with this year's San Diego Comic-Con.
First up is a traveling art show in partnership with popular Los Angeles art gallery Gallery 1988, which will begin this year and conclude at SDCC in San Diego this July. Available as part of the show, which will "feature top artists' interpretations of Ghostbusters over the last 30 years", will be "limited edition screen prints and posters". Sounds to us like an offsite event. And yes, we all know how much SDCC attendees love limited edition merchandise, which has us doubly excited.
What we might also deduce from the announcement is the possibility of additional Ghostbusters exclusive merchandise for this year's convention, as many stalwart SDCC exhibitors such as Mattel, IDW Publishing, Factory Entertainment, Diamond Select, Funko and Ubisoft were all mentioned as licencees participating in the film's anniversary celebration.
Here's the complete announcement (via /Slashfilm):
Sony Pictures is getting ready for the 30th anniversary of Ghostbusters next year by lining up a raft of licensees for apparel, toys, collectibles and publishing. The all-new program will target the classic film's core fan base with products and events.

Licensees signed on to support the anniversary include Mattel, IDW Publishing, World Tech Toys, Quantum Mechanics, Factory Entertainment, Diamond Select and Medicom Toys, Mad Engine, Titan Figures, Uniqlo, Kaientai, BCI, Funko and Underground Toys. Additionally, gaming partners such as Beeline, Ubisoft, GSN, Path, XMG and IGT will create interactive, gaming and slot machines items, and MDI is planning a series of state lottery programs.

Sony has also partnered with the pop culture art gallery Gallery 1988 to create a traveling art show that will feature top artists' interpretations of Ghostbusters over the last 30 years. Limited edition screen prints and posters will be available during each stop of the tour, which will conclude in July at Comic-Con International in San Diego, Calif., in July.

"This franchise is very important to the studio, and we wanted to give fans new and exciting ways to participate," says Greg Economos, senior vice president, global consumer products, Sony Pictures Entertainment. "Ghostbusters continues to gain fans and recognition year after year, and we are thrilled to extend the brand through products and events to celebrate this milestone event."
How cool would this be if Sony decided to announce
Ghostbusters 3
at SDCC to go along with the anniversary celebration? One can dream…
Excited to take part in a Ghostbusters 30th Anniversary at SDCC this year? Let us know in the comments.