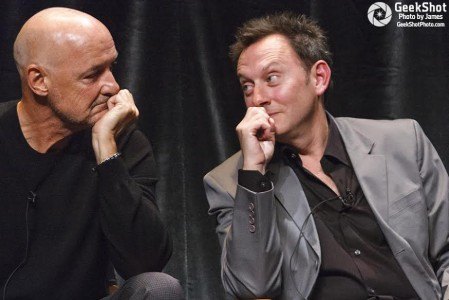 Much of the U.S. is frozen solid from the polar vortex, but that isn't stopping us from a brand-spanking new 'Under The Tents', our first for 2014, hints on NECA's exclusive merchandise for this year, a potential for a big TV reunion panel, Eisner submissions, and studio and small press confirmations.
Here's the stuff you might have missed:
The Small Press booth information must be going out, because RoboChuck Comics has announced on Twitter that they'll be in the Small Press area this year, in booth N-13. Small Press applications were due back in October, unlike normal exhibitor space, which is still being filled – though it's possible those who have turned in their application and payment already know their position. Either way, we're one step closer to finding out more about how SDCC 2014's Exhibitor space is going to shake out.
For those of you that love your #SDCC news 6 months early. @robochuckcomic will be in booth N-13 in the small press area. So excited!

— Chris Callahan (@rgb_alpha) January 7, 2014
Also confirming their attendance via Twitter is Full Moon Features, the horror studio that has created properties like Puppet Master and Subspecies.
Yes! We attend @Comic_Con in San Diego every year. #SDCC RT @ALexLiLLi09 Are you attending the Comic-Con in San Diego this year?

— Full Moon Features (@fullmoonhorror) January 6, 2014
Fan favorite exhibitor NECA is out in front of Toy Fair teasing some exclusives we might be seeing at SDCC this year. The popular manufacturer of licensed collectibles was asked by a fan via twitter when we might be seeing upcoming Alien Vs. Predator products.
"@I_Am_Flash: @NECA_TOYS Likely June SDCC then? Please? :D" July SDCC for sure

— NECA (@NECA_TOYS) January 8, 2014
Here's some news that might have some potential for this year's SDCC. Remember when Lost star Michael Emerson mentioned the show might have a 10-year reunion at Comic-Con this year? Well, it was announced that it will indeed have a 10-year reunion panel…at PaleyFest, according to this tweet from TV Guide's Rob Moynihan:
https://twitter.com/robmoynihan/status/420959345300340736
What does this mean for SDCC 2014? Since Emerson mentioned he wasn't sure the reunion would take place at Comic-Con, we think it does not remove the possibility for a second stop at San Diego in July, given many of the cast and crew would be there for other projects. We'll be keeping a close eye on this one.
The Eisner Awards, the annual awards show celebrating the best in comics, is now accepting submissions for nominations, per CCI's Toucan Blog. Here's the info straight from CCI's 2014 Eisner Awards page:
The tentative categories include best short story, best single issue, best continuing comic book series (at least two issues must have been published in 2013), best limited series (at least half of the series must have been published in 2013), best new series, best publication for kids, best publication for teens, best humor publication, best anthology, best digital comic, best graphic album–new material, best graphic album–reprint, best reality-based work, best archival collection, best U.S. edition of foreign material, best writer, best writer/artist, best penciler/inker (individual or team), best painter (interior art), best lettering, best coloring, best comics-related book, best scholarly/academic work, best comics journalism periodical or website, and best publication design. The judges may add, delete, or combine categories at their discretion. The cover letter should include both a mailing address and an e-mail address.

Publishers may submit a maximum of five nominees for any one category, and the same item or person can be submitted in more than one category. Each imprint, line, or subsidiary of a publisher may submit its own set of entries. Only one copy of each title need be submitted, even it if is being nominated in multiple categories. There are no entry fees.

Creators can submit materials for consideration if their publisher is either no longer in business or is unlikely to participate in the nomination process.
The award nominees will be announced in April, and the winners will be named at the 2014 Will Eisner Comics Industry Awards event on Friday July 25 at San Diego Comic-Con. Check out the official page for complete details on the submission process.
Anything we missed? Let us know in the comments, drop us a line or tweet us at @SD_Comic_Con.
Photo courtesy of GeekShot Photography.