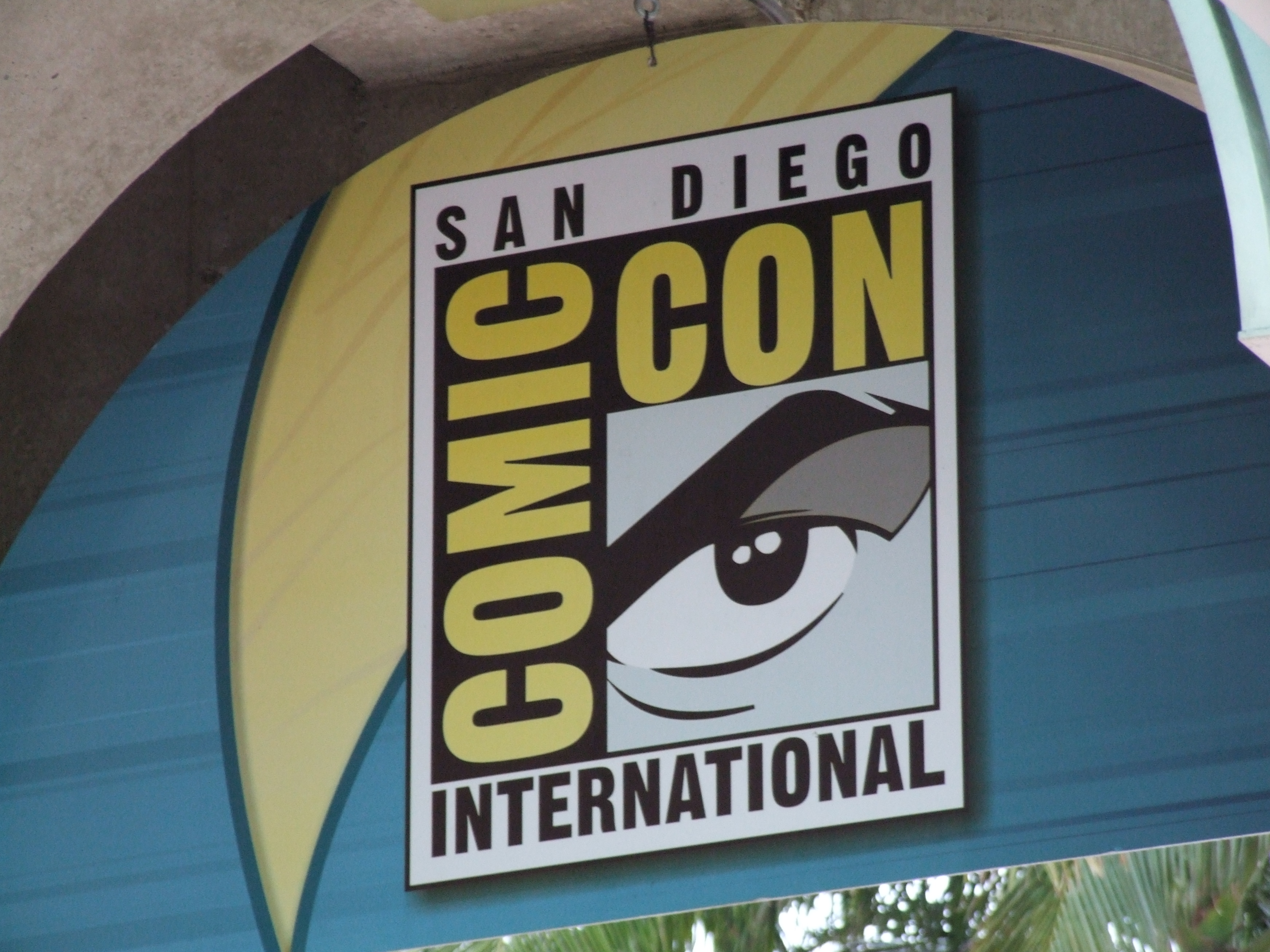 Ready your battle stations and check your e-mail, because Comic-Con International has finally announced a date for Preregistration badge sales: this Saturday, February 8th.
The sale will begin "shortly after 9:00 AM Pacific Time", though as previously reported, you'll be able to enter the EPIC Registration landing page starting at 7 AM. You'll need your registration code, which will be e-mailed at least 24 hours prior to the sale — which in this case, means by Friday morning at the latest. If you don't receive this code, you'll still be able to access it from the Member ID page.
Shortly after that 9AM start time, you'll be randomly sorted into a place in line. This means that unlike in earlier years, there is no advantage to being the first one into the waiting room — but there is still a disadvantage to arriving later than that 9AM start time, as you'll then be placed in the back of the line.
This year's sale is taking place months later than ever before, and it's a change many attendees don't seem happy about. Through 2011, attendees could simply preregister on-site at SDCC for the next year's con, but starting in 2012, CCI shifted all preregistration to online sales, done through a third party vendor — EPIC Registration. That process has been iffy at best, and at worst, plagued by glitches, frozen screens, and a lot of broken hearts.
Even in the most recent test of EPIC's system, the Professional Registration, there were issues. As a result, CCI delayed the sale this year to tweak some functions that weren't working in the process, and improve upon some functions — though attendee's mileage on whether or not CCI has accomplished that goal is to be determined in the weeks ahead.
In many ways, this has led to a revamp of the entire registration process for 2014. For example, only single day badges will be sold, and it is the first year me CCI has eliminated the multi-day badge. To help stop servers from overloading, CCI has announced that each attendee will be given a unique preregistration code, that will be e-mailed out within 24 hours of the sale.
Once you reach the final check-out page, though, things will still look a little different, as only single badges are being sold this year. Attendees who purchase all four days, or all four days plus Preview Night, will still have the option of consolidating them into a single badge. Here's the previous announcement from Comic-Con International:
New for 2014! Only single day badges will be sold. The Preview Night badge option may only be purchased only if you buy a Thursday, Friday, Saturday, and Sunday badge. Preview Night is not a stand alone badge option. As in 2013, anyone who purchases a Thursday, Friday, Saturday, and Sunday badge will have the option of consolidating them into one 4-Day badge onsite.
However, unlike in previous years, there's no need to hurry through process once you reach the purchase badge. All of the current inventory will be shown when you reach that step, and you'll have 15 minutes in which that inventory will be held for you to complete check-out. It can't sell out once you've reached the purchase page.
As previously announced, badge prices have increased over last year. A Thursday, Friday, or Saturday badge for an adult will cost $45 each, a Sunday badge will cost $30, and if you're able to purchase all four days and want to add a Preview Night badge, you can do so for an additional $35.

Starting this year, attendees will be able to add badges to a Shopping Cart, where their inventory will be saved until they check out, which can mean the precious seconds between being able to score a four-day badge and losing out.
Even with all of these changes, thousands of attendees have been waiting impatiently for the sale. Nerves seem to be running high, with many worried about how this will affect their travel plans if they can't get a badge in this first sale. For the past two years, badges sold out in 90 minutes — it's entirely possible this year will be even less time.
Attendees have a few days to prepare, and we recommend checking out our Preregistration Tips to help ensure you walk away from the badge sale victorious.
Here is the e-mail that CCI has sent attendees about the Preregistration sale:
The wait is over, preregistration is coming! Comic-Con International 2014 badge preregistration will begin shortly after 9:00 AM Pacific Time (PT) on Saturday, February 8.

The EPIC Registration landing page will open at 7:00 AM PT for you to enter your personal registration code and authorize your device to enter the waiting room. Your personal registration code and link to the landing page will be sent to you via email at least 24 hours prior to the start of the sale. You can also access your registration code by logging in to your Member ID account and clicking the "Registration Info" tab. We suggest you add do-not-reply@comic-con.org as an approved/authorized sender to your email account.

Are you wondering what a registration code is? Confused about why there are two different opening times? For answers to these and other important questions, we strongly encourage you to read the Comic-Con 2014 preregistration instructions at:  http://www.comic-con.org/cci/2014-cci-badge-preregistration

There you will find complete instructions on how to participate in badge preregistration as well as a step-by-step tutorial video that will take you through the entire registration process. You can also find valuable registration information on Toucan, the Official Blog of Comic-Con International, WonderCon, and APE.

Please keep in mind that not all eligible attendees will be able to purchase a badge. During preregistration, there are more eligible attendees than badges available. You can increase your chances of obtaining a badge by reading all of the instructions carefully and having your personal information ready on the day of the sale. If you are unable to obtain a badge during preregistration, an additional sale to the general public will be held at a later date.

Comic-Con would like to thank all of you for your patience during this very delayed preregistration sale. Good luck and we look forward to seeing you in July!
[UPDATE 1] CCI has released an instructional video showing how the Preregistration process will work this weekend:
http://www.youtube.com/watch?v=07z59DUl5sk
[UPDATE 2] E-mails containing the link to the EPIC Registration waiting room and each attendee's personalized, unique registration code have begun going out, so make sure to keep an eye on your inbox. The link is currently active, but it's not live. Starting at 7AM PT on the day of the sale, users will be able to enter their code to access the waiting room. Until then, this screen will appear: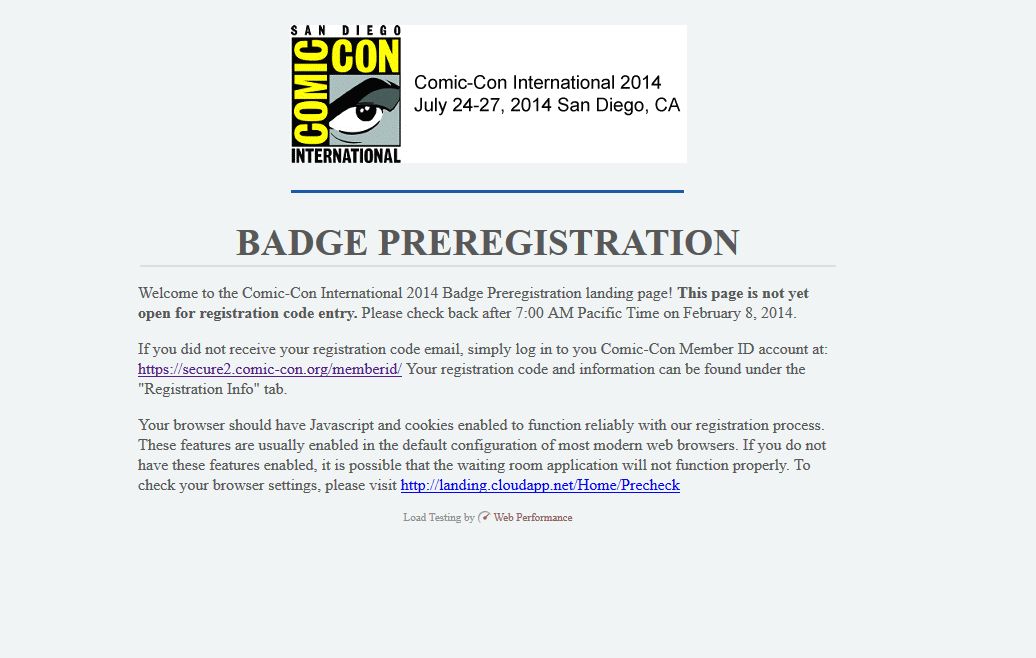 To test that your browser is ready and can support the required functions of the waiting room so that there is no surprise on Saturday morning, there is also a link to a "Precheck" page. If your browser passes, clicking the link will give you this screen: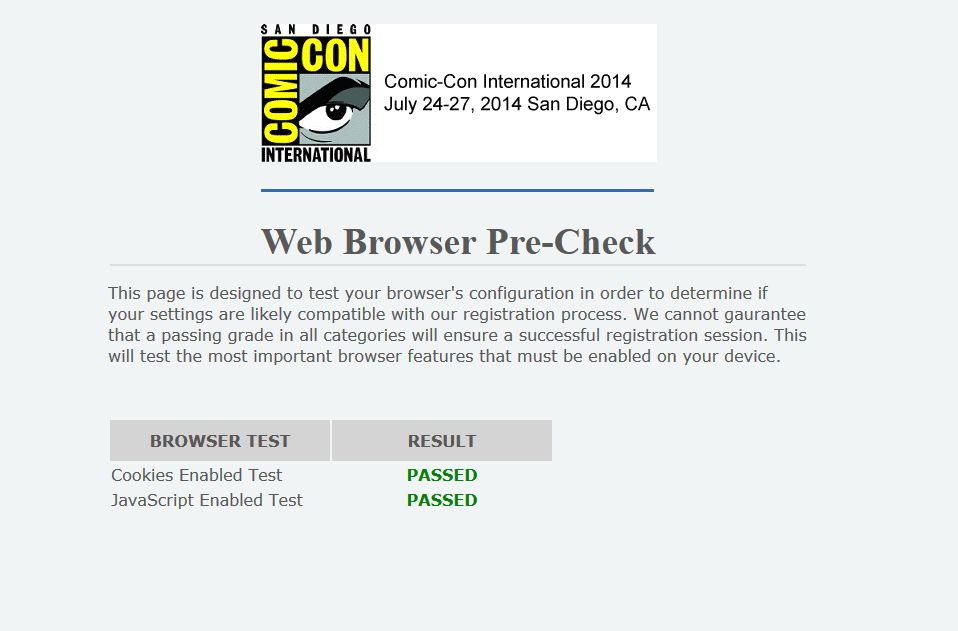 Also, according to the e-mail CCI is sending out, they recommend that attendees arrive no later than 5-10 minutes prior to the 9AM kickoff on Saturday:
Please click the link…to log in to the EPIC waiting room anytime between 7:00 AM and 9:00 AM (PT). Although there is no advantage in arriving to the waiting room early, we suggest that you log in at least 5 to 10 minutes before 9:00 AM (PT). Remember, there is no need to rush to the landing page at 7:00 AM! Eligible attendees will have two full hours to enter their registration codes and access the waiting room.

Remember, you must have your personal registration code above to access the waiting room. Your registration code can also be found by logging in to your Member ID account and selecting the "Registration Info" tab.
Are you nervous? Excited? Ready for this sale to just be over? Let us know in the comments.