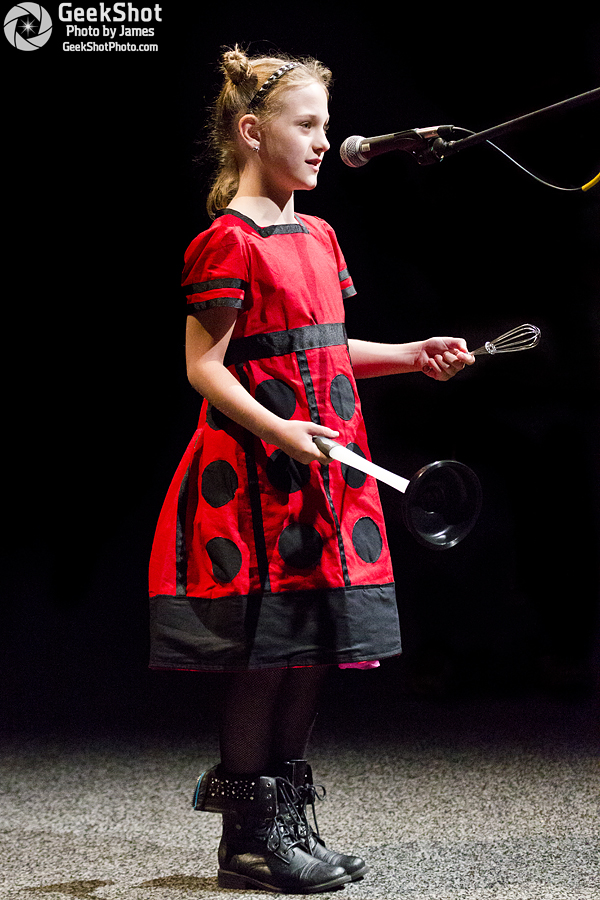 Welcome to the first post in the GeekShot Photo Exclusive Series. This will be a weekly post featuring cool, interesting, or just plain awesome moments we have captured during San Diego Comic-Con. Each week we'll post a photo by Beth or James of GeekShot Photography. We may include a short story about the photo, but sometimes we'll just let the photo speak for itself.
About This Photo
This premiere photo has an interesting story behind it. It was supposed to be the cover photo for Linoleum Magazine's 2nd issue, which would feature their 2012 SDCC coverage. Unfortunately the creator/editor of the magazine got a cool job with a particular Geek Youtube channel and had to shelve the magazine.
I've been sitting on this photo ever since, waiting for the perfect time and place to release it – and this, the first photo in this new series on SDCCBlog.com, is the time and place.
But I said there was an interesting story behind the photo, and it's not that it was destined as a cover for a magazine. What's special about this photo is how I got the photo at all, and how I got clearance to post it.
So what happened? First off, this photo of the adorable Dalek girl was taken during the Q&A portion of the Doctor Who panel in Hall H at Comic-Con in 2012. My seat was in the front section over on the stage left side, and since that wasn't a great seat for photos, and I was there as press, I would get up during each panel and head over to stage right. Press were allowed to stand along the wall, then for a few seconds could head up to the front and grab a few shots. On this particular trip from one side of Hall H to the other I had to stop and wait while the camera was on the girl asking a question.
Luckily, while I'm slow on the uptake sometimes, I'm not too slow. I had knelt down so I wouldn't obstruct other people's view and watched the girl start to ask her question. Then, duh! I quickly took a test shot, adjusted the settings, and then fired off a few shots. She finished her question and I moved on to the press area and got some shots of the panel. I knew I had a cool photo of Dalek girl, but without proper releases there wasn't much I could do except put it on flickr.
After I was done in Hall H for the day, a couple of hours before the con ended for another year, was when one of those magical SDCC moments happened. I was headed for the restroom when I spotted the Dalek girl outside Hall E. She was with her mom and siblings. I stopped and made sure it was her mother and then asked them to fill out a release for the photo I'd taken in the panel. When I showed it to them they were so happy because they didn't manage to get a photo of her while she was asking her question.
The moral of the story? Right time and place is all you need to get the shot. But sometimes it needs to happen twice in order to use it.