Cartoon network series Adventure Time will once again be setting its sights on San Diego Comic-Con this summer. Aactor Jeremy Shada (who voices Finn on the series) confirmed to a fan in the comments on his Facebook that the show will be returning to SDCC once again in 2014.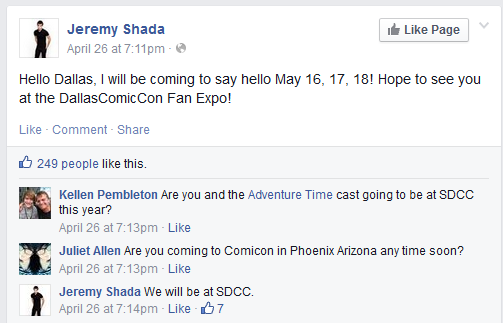 Last summer, Cartoon Network brought the series and stars Shada, John DiMaggio (Jake), Tom Kenny (Ice King), Olivia Olson (Marcelina), and creator Pendleton Ward (Lumpy Space Princess) for a panel and signing. There's no word yet on which cast members besides Shada will be in attendance, but Cartoon Network is known for pulling out all the stops for their series at Comic-Con, so expect most of the stars to attend.
Adventure Time has long been a staple in Cartoon Network's SDCC offerings and is always one of the convention's most anticipated TV panels. In 2013, the network featured the series in its booth design on the exhibit floor, transforming the space into a giant Ice King – could 2014 see the return of the booth design as well?
Are you excited for Adventure Time? Let us know in the comments.
Thanks to Kellen Pemberton for the heads up.