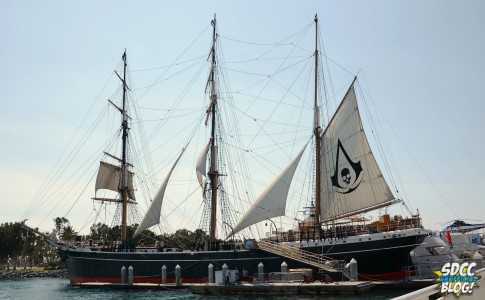 Dead men tell no tales, but we do. 
Prepare to set sail with a live broadcast event during the Marked Men Party aboard the HMS Surprise, revealed earlier today in a Facebook post on the Combat Radio page.
We know the event will take place on Friday, July 25, but other details about where and how attendees will be able to take part have not yet been made available on the Combat Radio website.
[UPDATE] Tickets for the event are now on sale. Those who purchase before May 31 can receive an Early Bird discount, with regular 'Stander' tickets available for $50 (or $75 after May 31). VIP tickets are also available, and include access to the 'Captain Quarters', which features movie props from Pirates of the Caribbean and other swashbuckling films, a private bar, catered food, and a fortune teller. VIP tickets are available for $100 before May 31, or for $125 after.
The party includes a sword fight, a pirate-themed store, live music, and more.
Excited to party aboard the HMS Surprise at SDCC? Let us know in the comments.