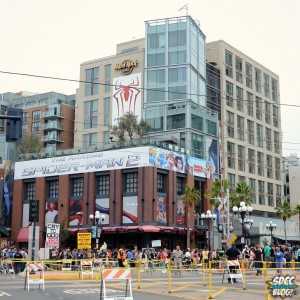 If today's Hotelpocalypse was a film trilogy, it would be the middle film. Dark, downbeat, ominous and threatening to the heroes of the story. It would be the Two Towers, Back To The Future Part II, or even The Empire Strikes Back of the Hotelpocalypse saga.
Last year's hotel sales were the just the beginning. Many attendees were caught off guard by the increased competitiveness of it all, and were left scrambling for a bed during San Diego Comic-Con. It took just two minutes for downtown hotels to be sold out last year before attendees got waitlisted – or even sent away empty-handed.
But this year, many hoped they cracked the code, rehearsing each screen and keystroke of the reservation system and training their form-filling skills for weeks in preparation. We thought we were all ready. We had hopes.
We were all so, so wrong.
It was like Gollum leading us into a trap, or finding out Biff killed our dad and married our mom, or landing on Cloud City to find out that Lando had sold us out and led us right to Vader.
It was the day we found out there really was no hope.
Watching the tweets go by from those left behind, SDCC-style, we tried to gather the data on just how fast one needed to be to get a hotel reservation. The difficulty this year was that there were so many variables. More people got their submissions in quick and early. Everyone's system clocks on their PCs, tablets and phones were off by seconds.
And in this race, seconds are the difference between a bed, and no bed at all.
How I felt when I got the @Comic_Con rejection about not getting the hotels I requested http://t.co/wGRwcptA8Y

— LRM Online (Latino Review Media) (@LRM_Exclusive) April 10, 2014
@SD_Comic_Con submitted at 9:03 and didn't get a room – again!

— Lori Devine (@ljdevine) April 10, 2014
NOOOOOOooooooooooooo #SDCC D: #HotelLottery #FAIL pic.twitter.com/6L58IgvnrH

— Black Lives Matter #BLM (@guiltyx) April 10, 2014
@SD_Comic_Con So please explain how my application, sent by 9:03, "could not be processed" because it was too late in the queue?

— Christine Valada supports the Constitution (@mcvalada) April 10, 2014
Didn't get any of my comic con hotel selections. Got the email just now. 🙁

— Umberto Gonzalez (@elmayimbe) April 10, 2014
So apparently EVERY SINGLE #SDCC hotel was booked before 9:05am. Ridiculous. Looks like I won't be staying downtown after all now.

— Nerderific (@Nerderific) April 10, 2014
So what was the cutoff time then? Looks like @fernborrego said it best:
@sd_comic_con I've been asking people submit times. > 3 Min = BAD; <2-3> = Possible; <2 ok-good <1 great

— fern (@fernborrego) April 10, 2014
That two to three minutes claim? We've found that if you selected the Hilton Bayfront, Marriott Marquis and Marina, or the Hard Rock — the top three hotels in the area — you'd be out of luck. Any of the other hotels which are less sought-after, and you'd have a sliver of a chance.
But it wasn't a downbeat for everyone. After all, someone had to fill those hotel rooms, right?
http://twitter.com/nerdcoregirl/status/454312041415573504
#sdcc hotels onto Es now, got our top choice at Embassy Suites, submit time 9:01. Good luck!

— Shawn Matsumoto (@shawnmatsumoto) April 10, 2014
@SD_Comic_Con FYI, got my #1 choice, my registration time was 1min 22sec. Thanks – you guys are a great resource for con-goers.

— Milton Lawson (@citizenmilton) April 10, 2014
http://twitter.com/bediddleby/status/454333291307728897
I got my #SDCC hotel request in in under a minute and got my 3rd choice, the Omni. #sdcchotels #SDCCHotelMadness @SD_Comic_Con @Comic_Con

— Germain Lussier (@GermainLussier) April 10, 2014
@SD_Comic_Con What is their actual system to hand out rooms? I got it in under 2 and half minutes and got the dreaded rejection letter.

— Joel Clifton (@hypnopomp) April 10, 2014
@SD_Comic_Con GOT FIRST CHOICE SD MARRIOTT MARQUIS AND MARINA!!!! Finished SDCC hotel request between 9:01:45 and 9:02:00!!!

— Cody Lawrence (@cody___lawrence) April 10, 2014
@SD_Comic_Con Got my #2 choice, SD Marriott Marquis & Marina. Submitted at 9:01 :-))))))) #SDCC

— M (@martmar68) April 10, 2014
The real question here is, will the final film in the Hotelpocalypse trilogy end with the heroes triumphant? Or will it be all downhill from here? There are slivers of hope. The Comic-Con community has banded together again to help those who are looking for reservations, with this exchange thread on the comiccon subreddit. And although April 30 is the last date to cancel and receive a full refund of the two-night deposit, the link on the Travel Planners website has the following message, indicating there will be more rooms available before then:
"Housing will re-open on Wednesday, April 23, 2014, at 9:00am Pacific Time. Please come back at that time."
The convention center expansion, although not slated to complete until 2018 at the earliest, will add 500 more rooms onto the Hilton Bayfront. And like badge registration, there's always an option of retooling the system, although we feel that option won't please everyone.
What do you think of this year's hotel reservation sale? Did you end up getting what you wanted or leave empty-handed? Let us know in the comments.