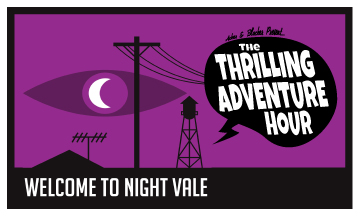 Fans of old time radio should adjust the dial and prepare for a swinging good time at SDCC. The Thrilling Adventure Hour will be returning to San Diego Comic-Con this summer with at least one performance, and it's bringing along the atmospheric, creepy podcast show Welcome to Night Vale. The Thrilling Adventure Hour, done in the style of old time radio with non-serialized segments, announced on Twitter that on Saturday, July 26, it will be returning to the convention with a special crossover event:
Announced today @c2e2: the Great TAH/@NightValeRadio Crossover returns: @Comic_Con, 7/26! Check our website in coming wks for details!

— Thrilling Adventure Hour (@ThrillingAdv) April 27, 2014
The two shows had previously joined forces at Emerald City Comic-Con, though this will mark the first time they'll have combined shows at SDCC (and also the first time that Welcome to Night Vale will make an appearance at the convention). There's no word yet on whether The Thrilling Adventure Hour or Night Vale will be bringing more shows to the convention, though last year saw TAH hosting four shows (two a night on July 19 and 20) at the Horton Grand Theatre.
The regular troupe of players for Thrilling Adventure Hour includes Comic-Con regulars Marc Evan Jackson, James Urbaniak, and John DiMaggio, as well as Paget Brewster, Paul F. Tompkins, Autumn Reeser, and many others. TAH occurs monthly in Los Angeles, and since its inception in 2005, has attracted a wide range of celebrity guest stars. Previous guests have included Nathan Fillion, Zachary Levi, Misha Collins, and many others – meaning that with as many celebrities as SDCC has, you can never be too sure who might stop by.
Welcome to Night Vale has attracted a similar roster of guest stars, including Urbaniak, Molly Quinn, Mara Wilson, and others.
Once we have more information about the show, including ticket prices and times, we'll be sure to let our readers know.
Will you be attending the show? Let us know in the comments.