Now that WonderCon is behind us, it's full steam ahead towards San Diego Comic-Con. This week we have announcements on guests like Lucky Yates (which is good news for those hoping for an Archer panel!), signings, vinyl exclusive news, and more.
Here's some news you may have missed:
Archer actor Lucky Yates revealed in a reddit AMA that yes, he will be attending Comic-Con this summer, and yes, he will be on a panel at the convention – presumably for Archer, which he's attended for the last several years.
@LaZurch Hey! No, to BEA, yes to SDCC. It'll be my first. 🙂

— Natalie C. Parker (@nataliecparker) April 22, 2014
Actor (The Originals, Supernatural) and writer Todd Stashwick's comic, Devil Inside, will be giving fans at SDCC a first-chance at Chapter 3 of the series. Stashwick announced on Twitter that the comic will be available online after Comic-Con as well.
@CiaraCobb We will be selling Chapter 3 TBP for Devil Inside for SDCC 2014 then online after and yes, all three will be for sale.

— Todd Stashwick (@ToddStashwick) April 16, 2014
Could we get a look at even more of NECA's exclusives as early as next week? The toy company announced on Twitter that they will likely begin unveiling their exclusives in May.
@Xen0 not sure and we will start to reveal the SDCC exclusives in May most likely

— NECA (@NECA_TOYS) April 22, 2014
Fans of Axe Cop have something to look forward to at Comic-Con this summer: the comic responded to a fan on Twitter to announce that it will have its own booth at this year's SDCC.
@Reverendscoot I'll have my own booth at SDCC!

— Ethan Nicolle (@AXECOP) April 24, 2014
Urban Vinyl Daily is reporting that we've got our first look at the Luke Chueh, Pretty in Plastic, and Munky King collaboration for this year's convention will look like. They posted an unpainted version of the piece, based on Chueh's "Bitch" painting.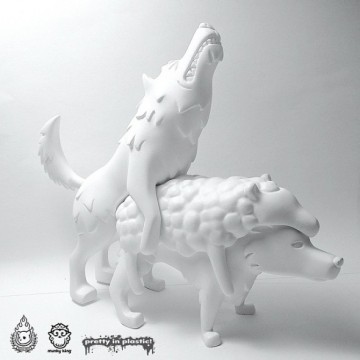 Artist and toy designer Casey Hirai announced via Twitter that she will be exhibiting at SDCC for the first time ever.
Going to be at SDCC? Me too! I'll be exhibiting there for the first time ever!! More details to come 🙂 #SDCC2014… http://t.co/39Rg1FYgVc

— Casey Hirai (@CaseyHirai) April 26, 2014
Tamashii Nations, home of Bandai's collectables brand, told a fan on Twitter that it will begin unveiling its exclusives 'soon', in about a month.
@LegionofSand Soon. (BTW soon is like a month)

— TamashiiNations (@TamashiiNations) April 26, 2014
Anything we missed? Let us know in the comments.