NECA has always been known among San Diego Comic-Con attendees for its high-quality collectibles, and 2013 was no exception, with its 8-bit Jason and Albino Predator figures. After getting a sneak peek at its line-up of licensed figures at this year's Toy Fair, NECA is finally taking the curtains off its exclusives for SDCC 2014.
Over the next several weeks, NECA will be unveiling all of its SDCC exclusives for 2014, and we'll update as soon as new exclusive items are announced.
With that said, let's see what NECA has in store for SDCC attendees this year:
[UPDATE MAY 30] NECA's fourth, and final, Comic-Con exclusive is really out of this world. The company unveiled its latest SDCC exclusive, a 7″ Fire and Stone Ahab Predator action figure that features over 25 points of articulation and comes equipped with a removable backpack, removable mask, and a spear staff accessory. Attendees can snag the figure, limited to 5,000 pieces worldwide, for $30.
'Fire and Stone' Ahab Predator Action Figure: As seen in the Dark Horse Comics series Fire and Stone, beginning October 2014! In his prime, Ahab took deadly trophies from countless worlds, his scars a proud record of glorious battle. Now an elder of his tribe, he leaves small game to the next generation as he looks to his final hunt. Following a lifelong obsession, Ahab searches for a creature more formidable than any Predator has ever faced before.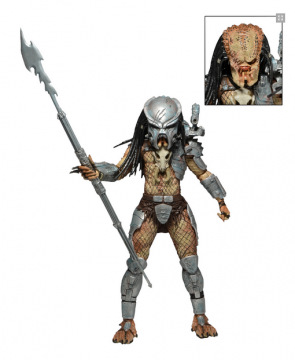 Visit NECA's blog post for more photos and additional information.
[UPDATE MAY 23] It's Friday (Friday, Gotta get down on Friday) and the third NECA SDCC exclusive has been announced by the company: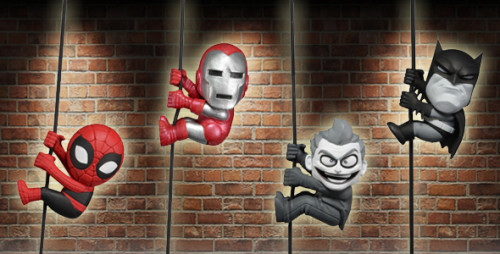 Two Scalers 2-Packs featuring Marvel and DC characters will be available at the convention, with a limited quantity online for those not making the trip to San Diego this July. Here are the details from NECA's blog post:
Marvel Scalers 2-Pack – Silver Centurion Iron Man and "Marvels" Spider-Man: The Marvel SDCC Scalers 2-Pack includes Silver Centurion Iron Man and "Marvels" Spider-Man. Premiered in issue #200 of Iron Man, the Silver Centurion armor marked Tony Stark's big comeback as Iron Man (a position which Rhodey had been filling while Tony was mainly drunk). Spider-Man's black and red suit appeared in the 1994 Marvels mini-series written by Kurt Busiek with illustrations by Alex Ross.

DC Comics Scalers 2-Pack – Black and White Batman and Joker: The DC Comics SDCC Scalers 2-Pack includes black and white versions of the comic series Batman and his arch-nemesis, the Joker. These collectible, 2″ mini figures grip headphone cords, cables and more, and feature an amazing level of detail!
Both will be available at the NECA booth and online (details to be announced at a later date) for $10 each. Visit the NECA blog post for more detailed photos of the individual Scalers.

[UPDATE MAY 16] The second of NECA's exclusives has been revealed, and it's a triple-threat Pacific Rim set. Just like with Super Freddy Retro, this set is limited to 5,000 pieces, and will be available for $60.
Pacific Rim "End Titles" Jaeger Action Figure 3-Pack: This special edition 3-pack is a deluxe recreation of the end credits for the hit film Pacific Rim! It contains black-colored, high-gloss-finish action figures of Gipsy Danger, Crimson Typhoon, and Striker Eureka, packaged and positioned in the same formation seen in the credits. The 7″ Jaegers also have glow-in-the-dark paint effects on their "visors" (or conn-pod windows).
The background insert and printing on the acetate window utilize the same graphics created by Imaginary Forces in rendering this scene for the film. The window box is covered with a protective slipcover featuring an embossed foil-printed insignia of the Pan Pacific Defense Corps.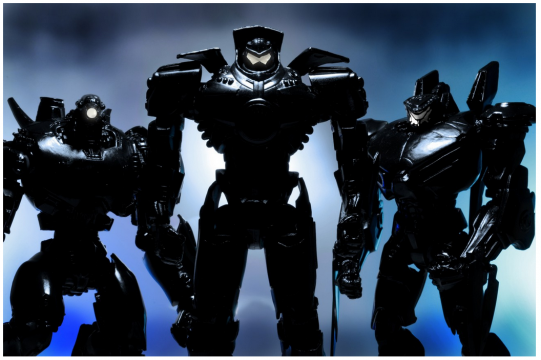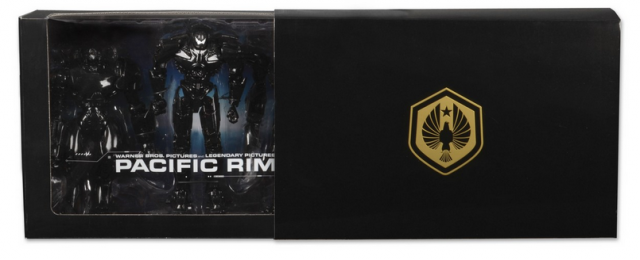 You can view more photos on NECA's site.
[UPDAY MAY 9] NECA revealed a closer look at the Super Freddy Retro 8″ action figure, that will be available at Comic-Con and then in limited quantities "both inside and outside the US". The figure will be limited to 5000 pieces worldwide and priced at $40 – which, considering this is the first time Super Freddy has been made as an action figure, seems like a good deal. His clothes are made of fabric, and the packaging features a custom illustration from A Nightmare on Elm Street Part 5: The Dream Child.
Super Freddy Retro 8″ Clothed Action Figure: This is the first time Super Freddy (from A Nightmare on Elm Street Part 5: The Dream Child) has been made by anyone as an action figure! He was first revealed at Action Figure Insider, and now we're back with up-close photos and a first-ever look at the packaging! The backer card is custom illustrated by Christopher Ott and Geoffrey Trapp.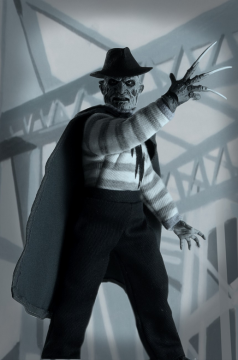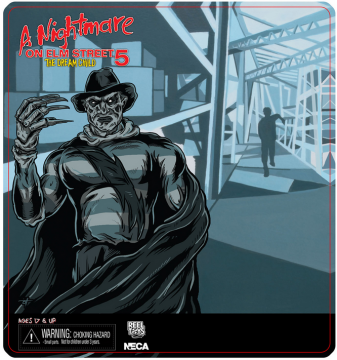 You can view more photos on NECA's site.
[UPDATE April 25] As part of Action Figure Insider's "Scoop Week", NECA unveiled the "SDCC Super Freddy Retro Style Figural Doll", which features tailored clothing and is based on the dream sequence from Nightmare On Elm Street Part 5: The Dream Child comic book.
Here's a look at Super Freddy, from AFI's "Scoop Week" Day 5 reveal: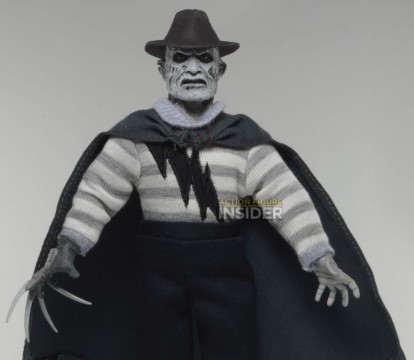 "Super Freddy" will be limited to 5000 pieces, and NECA stated via Twitter that they will save allocations for each day of the convention, with a limited quantity available for online sales for those unable to attend the convention:
@HaroldBurgher @AFInsider limited qty online during sdcc which is what we did last year. Allocations each day, retail is around $30

— NECA (@NECA_TOYS) April 25, 2014
With that, they also stated the price will be "around $30".
As with last year's 8-bit Jason figure, the packaging was just as cool as the figure itself, so we're eager to get a peek as to what's in store for Super Freddy. All that we have at this point is that it will be "blister card packaging with removable protective clamshell and custom illustrated artwork", according to the AFI post. As soon as we get more details or media on the packaging, we'll be sure to share.
Keep watching this post for more NECA SDCC 2014 exclusives as they are announced.
Are you putting these NECA exclusives on your shopping list for 2014? Let us know in the comments.