We're now less than 55 days away from the biggest of all pop culture conventions, San Diego Comic-Con, and if that doesn't get you excited, we don't know what will. We have updates on Star Wars and other exclusives, the offsite Thrilling Adventure Hour's plans, your chance to own an artwork piece from Lee Bermejo, the Cartoon Art Museum's Sketch-A-Thon, and much more.
Here's some of the news you might have missed:
According to Bleeding Cool, a poster by artist Sal Velluto to promote the six issue mini-series for Lee Falk's The Phantom, will be released at San Diego Comic-Con.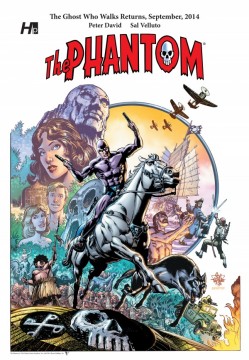 Scott Chitwood and his indie comic company, Red 5, told the Houston Press that they'll be attending SDCC this July.
Submissions are now opoen for this year's Your Face Global Jam. International animators can create their own interpretation of Bill Plympton's 1987 Oscar-Nominated short film, Your Face, with winners to be announced at Comic-Con. Submission is free, and applications are accepted through June 8. You can find more information on the contest's site.
AAA Anime will be exhibiting at the convention, it announced on its site, and can be found at Booth #4319.
Illustrator James Silvani posted a sneak preview of his new sketchbook on Twitter, to be available at Comic-Con.
Workin' on the cover to my new sketchbook. On sale at @Comic_Con pic.twitter.com/iwNoB0Smsp

— James Silvani (@SilvaniArt) May 25, 2014
According to a response from NECA on Twitter to a fan, attendees should expect to get a look at the long-awaited 1966 Classic Robin figure at SDCC.
"@Psycho_50501: @NECA_TOYS Any news on when we will be seeing pics of 66' Robin?" Sdcc

— NECA (@NECA_TOYS) May 28, 2014
Actress Molly Quinn revealed on Twitter that in addition to the Thrilling Adventure Hour and Welcome to Night Vale crossover show, TAH is planning some special treats "off campus" that will be open to anyone in the area, with more to come.
https://twitter.com/MollyQuinn93/status/471400436415492096
Happy #MemorialDay! Thanks to our Brave Men & Women who have served, & are currently serving in the U.S. #ArmedForces pic.twitter.com/58o60r2dMu

— Bobby Alcid Rubio (@Bobby_Rubio) May 26, 2014
"@travis_graham: @Bobby_Rubio Can I buy a print of that somewhere?" I will print a limited amount for the #SDCC For anyone that's interested

— Bobby Alcid Rubio (@Bobby_Rubio) May 26, 2014
The computer-generated traditional cartoon mash-up, Robochuck, will be at San Diego Comic-Con this July according to a press release, and will have "print copies and other merchandise" available at Booth N13.
TV writer and producer Amy Berg announced on Twitter that she will be at Comic-Con for both signings and as a panelist. No word yet on what panel(s) she will be on, but we'll update when we hear more.
So far my schedule is only allowing for two conventions this year… I'm a GOH at #CONvergence and I'll be signing and paneling at SDCC.

— Amy Berg (@bergopolis) May 27, 2014
Artist Gary Kezele announced on Twitter that will be exhibiting his artwork at SDCC, with booth number and "other details" to follow later.
Well, it's official; I will be attending and displaying at #SDCC this year. I will have booth number and other details later!

— Gary Kezele (@GaryKezeleArt) May 28, 2014
Lee Bermejo, the artist of Batman: Noel, The Joker Graphic Novel, Lex Luthor: Man of Steel, and other works, is offering a commission piece to be picked up at SDCC. The auction is currently priced at time of publication at $3050 on Ebay, and ends on Saturday, May 31. The winning bidder will be awarded a hand-drawn commission of one character with detailed backgrounds on a piece of 11 x 17″ comic art board.
Are you a sketch artist? Are you attending Comic-Con? Then now is your opportunity to take place in the Cartoon Art Museum's annual sketch-a-thon fundraiser. The museum asked for interested artists on Twitter, and you can contact them for more information.
The San Diego Comic-Con is nigh! Any attending artists want to take part in the Cartoon Art Museum's annual sketch-a-thon fundraiser?

— Cartoon Art Museum (@cartoonart) May 30, 2014
My Cool Car Stuff revealed on Instagram a set of Star Wars keychains that will be launching at Comic-Con. Fans will be able to grab the set from the My Cool Car Stuff booth.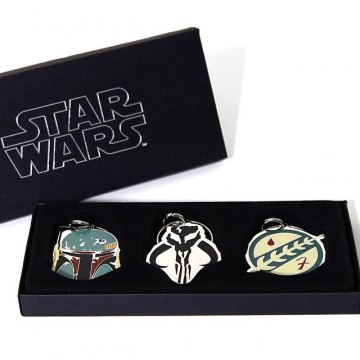 Anything we missed? Let us know in the comments, drop us a line or tweet us at @SD_Comic_Con.