We're now in the time of year when if you look away for a minute, you might miss out on some exciting updates for July's San Diego Comic-Con. Don't worry though, we have you covered with a fresh "Under The Tents" full of news on panels from the Comics Arts Conference films, and Gravity Falls, as well as more exclusives, artist appearances, a novel making its debut at SDCC, and much more.
Here's the stuff you might have missed for today:
Artist Jerry Vanderstelt announced on Facebook that he is currently in the process of designing a Smaug-centric portrait, to debut at San Diego Comic-Con. The piece will be available at booth #4719, and attendees can purchase canvas and print giclees. Vanderstelt will also be doing a live demo for the piece, reproducing it at a 4'x6′ scale during the convention at his booth.
Evil Ink Comics founder Adrian Lopez revealed on Twitter that Evil Inks will have a booth at this year's SDCC – and it will be located next to professional cosplayer Phecda Suicide.
@ericafett Just checked the exhibitor list yesterday. We're neighbors again this year! #SDCC

— Adrian Lopez (@Krownz) May 1, 2014
The upcoming film Fallen will be at San Diego Comic-Con, according to the author of the book series the film is based on, Lauren Kate.  During a recent Google Hangout with Penguin Random House's Mexican division, Kate told a reporter (around the 58:39 mark in this video):
There is a big program planned for the Fallen movie at Comic-Con. I don't know exactly which members of the cast yet, but the movie will be represented at Comic-Con. I will hopefully be there myself, if I can talk my baby into letting me go.
In a press release, VIZ Media announced and Gecco unveiled an upcoming Comic-Con exclusive: Naruto Shippuden. The Naruto figure is a "1/6 scale masterpiece of the world's most popular ninja, clad in 4th Hokage coat version", and will be sold at the VIZ Media booth (#2813) at SDCC. The figure will be priced at $150.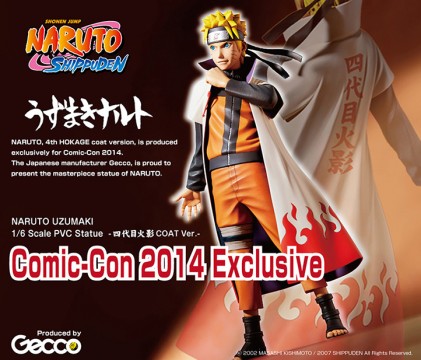 Artist Robert Wilson is currently taking commission pre-orders for SDCC. You can request a commission, which range from $25-$50 for a single character, by clicking here.
Committed Comics will be holding an all day portfolio review/talent search at Comic-Con, looking for "the next wave of comic superstars." Those interested in attending the Friday, July 25, session should head to Committed Comic's site for all the details.
Fans of Mad Magazine cartoonist Tom Richmond can find him in two places at this year's convention: The National Cartoonists Society booth, as well as the DC Booth. Richmond announced his full convention schedule on his site, including Comic-Con details.
A large part of Comic-Con's panel presence is the Comics Arts Conference — and at lease some of those confirmations have gone out. Academic researcher Keegan Lannon and marketer Ford Dent will be presenting Comics and Form on Friday from 10:30AM-12:00PM in Room 26, Keegan announced on Twitter.
https://twitter.com/KeeganLannon/status/462272644381827072
https://twitter.com/KeeganLannon/status/462571446141599745
Heading out — thanks for braving the heat and sun to help make this #FreeComicBookDay a standout! If you missed me here, see you at SDCC!

— Paul Horn™/Cool Jerk™ (@CoolJerk) May 3, 2014
Comics author Neo Edmund announced on Twitter that he will be heading to Comic-Con to host some panels, though no word yet on what those panels are.
https://twitter.com/NeoEdmund1/status/462791123962826752
The Realmwalker Chronicles, a four novel epic fantasy series written by Lee Aarons, announced on its site that it will debut on Wednesday, July 23, at Comic-Con. You can read a four chapter preview of the first book, The first novel in the series, The Pillars of Natura, by clicking here.
Gravity Falls will be returning to San Diego Comic-Con for a panel, according to creator Alex Hirsch on Twitter. If you have an idea for how to make it "the best ComicCon panel ever", you can tweet Hirsh @_AlexHirsch.
Hey GF fans! I'm trying to plan the best ComicCon panel ever. What would y'all like to see?

— Alex Hirsch (@_AlexHirsch) May 5, 2014
Anything we missed? Let us know in the comments, drop us a line or tweet us at @SD_Comic_Con.