Although Mattel is well-known for having a busy booth at SDCC, their pre-order system is something pretty awesome that differentiates them from the rest of the competition (and once we have more information on that, we'll be sharing). That being said, outside of the juggernaut that is Monster High there are very few Matty exclusives that hold their value after SDCC. This means attendees can really look at the Mattel booth in a much different way than other vendors. Regardless of whether you go pre-order on June 24 (which we recommend), stand in line, or pay a few extra dollars on the secondary market it is certain that there are a few items that will be must buys for many con-goers.
Over the next several weeks, Mattel will be unveiling all of its SDCC exclusives for 2014, and we'll update as soon as new exclusive items are announced.
[UPDATE – June 11] USA Today has exclusively unveiled photos of the several of Mattel's San Diego Comic-Con 2014 exclusives, including a closer look at the Darth Vader die-cast car ($40), the unveiling of a Masters of the Universe Goat Man ($27) which comes equipped with a "spiffy hammer", a Turbo Charged Max Steel ($20) and his sword Steel, and a DC Classic TV Series Batman Utility Belt ($125) modeled after Adam West's 1960's uniform. From USA Today, here's a look at the new figures – and you can find more photos at USA Today's site.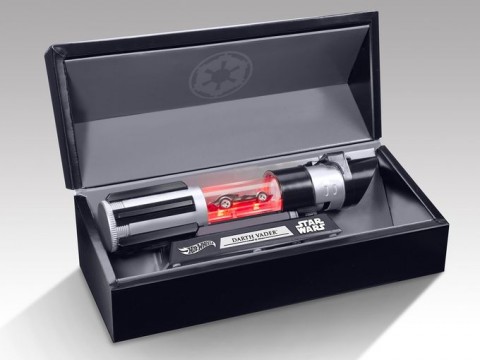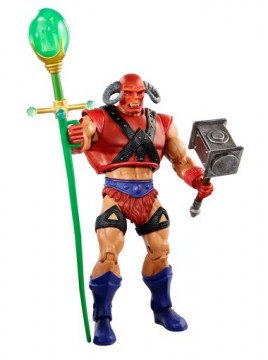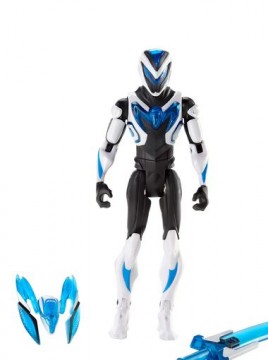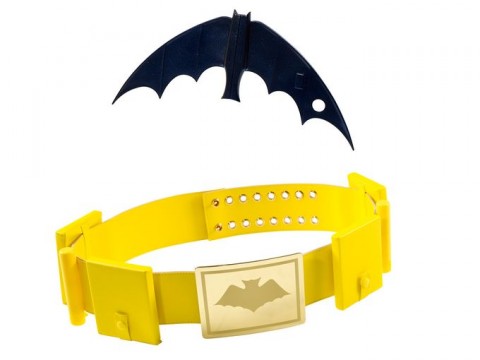 More photos can be found on USA Today's site, where they also confirm that Cerise Wolf will be priced at $30.
[UPDATE 2 – June 5] After we got a sneak peak of the upcoming Hot Wheels and Star Wars collaboration, the digital version of Road & Track magazine now has the details on exactly what the upcoming Comic-Con exclusive will look like, after getting their hands on Star Wars Insider #150 (which will be available on newsstands on June 10).
According to Road & Track, the Mattel exclusive will be a Darth Vader vehicle, the first of an all-new line of character-inspired original Star Wars vehicles, die-casts,  and traditional cars wearing Star Wars decos to be unveiled at SDCC.  The photo unveiled in the magazine is actually a life-size version of the figure (that will go to one lucky winner), and attendees will be able to purchase the toy-sized version at Comic-Con, that comes in a special display case in the shape of Darth Vader's lightsaber.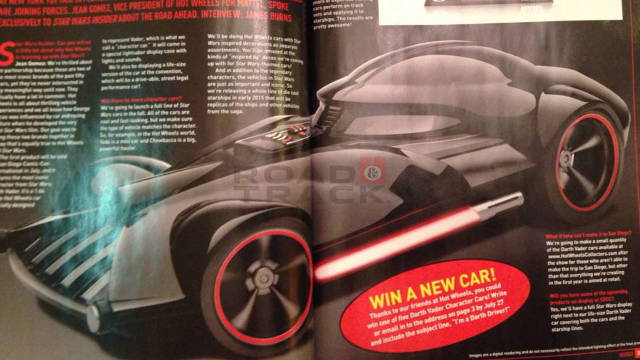 Road & Track has other photos of the exclusive, as well as additional details. The article did not mention price, but it did say that a "select" number of exclusives would be available after Comic-Con on HotWheelsCollectors.com.
[UPDATE 1 – June 5] We're only a few days away from the date Star Wars Insider #150 hits newsstands, but we've been given another hint at what to expect thanks to this tweet from Hot Wheels themselves:
Guess what's inside this Star Wars & Hot Wheels #SDCC package! All will be revealed in Star Wars Insider #150 on 6/10 pic.twitter.com/O6sT4uyltj

— Hot Wheels (@Hot_Wheels) June 5, 2014
That's some nice packaging, and the Darth Vader image on the top jives with the sneak peek we posted earlier in the week from Yakface.com.
And soon after, MattyCollector updated its site with the following information:
Yes, the rumors are true: Hot Wheels has joined forces with Star Wars! And we are thrilled that the VERY FIRST Hot Wheels Star Wars product under this historic collaboration will be available for the first time at SDCC. Details are still under wraps but it's a doozy. Be sure to check out Star Wars Insider #150 on June 10th for an exclusive reveal then come back here on June 12th for more details on how you can get one for your own!
We'll continue to follow this, and will update as soon as we get our hands on new information.
[UPDATE June 4] Just as we speculated, the Ever After High Cerise Wolf doll is indeed a San Diego Comic-Con exclusive! Mattel unveiled a full look on its blog of the figure that will be available during SDCC, but attendees can ensure they get their hands on the doll by participating in the Voucher Sale (Club Eternia subscribers can access on 6/23, and the sale will open to everyone on 6/24). No word yet on price or quantity, but we'll update once we have more information.

Ever After High™ Cerise Wolf™: According to the fairytale, Red Riding Hood is a wide-eyed, carefree girl. Yet there's something different about her daughter, Cerise. Ever the mysterious lone wolf, Cerise wondered, "What if I didn't have to follow in my mother's footsteps? What if I could let the world know my family secret? What if….
[UPDATE June 3] Could we have the box packaging for the Cerise Wolf Ever After High figure that was teased yesterday? The Mexican Facebook page for Ever After High debuted a photo today of the box for Cerise along with the tag "Cerise Wolf, daughter of the big bad wolf #SDCC2014 #CeriseWolf" posted in Spanish. There's no official word from the US social media accounts yet, but we'll update once we have more information.
[UPDATE 2] The official US Ever After High Facebook has also posted the same photo, with the tag, "It's time for me to follow my heart! I need to to rewrite my own story! No more riding in the shadows! #EverAfterHigh #CeriseWolf #SDCC2014", so all signs point to this being a San Diego Comic-Con exclusive.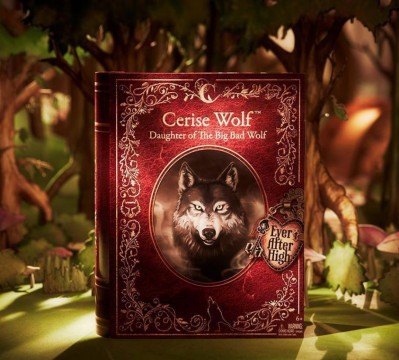 [UPDATE June 2] For the first time ever, Ever After High, Mattel's companion piece to the popular Monster High, will be coming to San Diego Comic-Con. The company showed a glimpse of the upcoming exclusive figure on its Instagram, with most fans assuming from the sneak peek and the wording about "big bad #shoes", that the upcoming figure will be Cerise Wolf.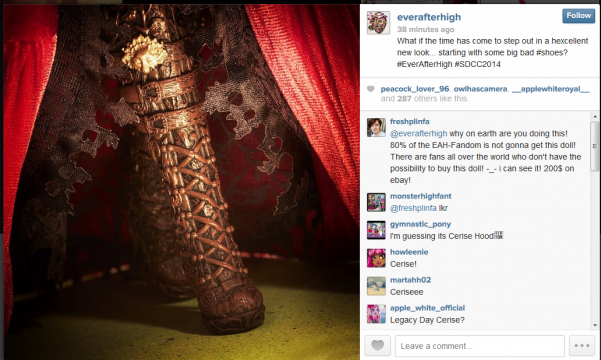 Once we have more details, we'll let fans know.
[UPDATE June 1] Want to get a sneak peek of the Star Wars Hot Wheels crossover? Star Wars fansite Yakface.com got an early copy of Star Wars Insider magazine #150 and posted a tease of what fans will be able to see for themselves in about a week.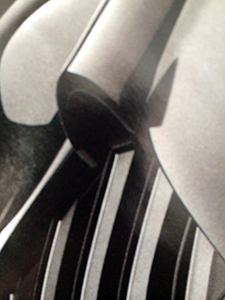 Any guesses as to what it might be? We sure do have our own theories…
The author of the post, Jayson Krebsbach, goes on to say that "the magazine reveals the entire car, the SDCC exclusive version and more details about the line". We can't wait to see more.
[UPDATE 2 – May 30] And Matty's ears must have been ringing, because we asked on last night's podcast, where were the last two exclusives promised to us a couple of weeks ago? Now we know, as Matty has updated for the second time today with two Hot Wheels exclusives. These are not the Star Wars exclusives hinted at yesterday, but they are cool nonetheless. Let's have a look:
Hot Wheels® The Homer ($30): Hot Wheels® proudly presents The Homer from everyone's favorite cartoon show "The Simpsons." This vehicle is a faithful reproduction in awesome collectible packaging of the Homer Simpson-designed car "that's everything the average man ever dreamed of!"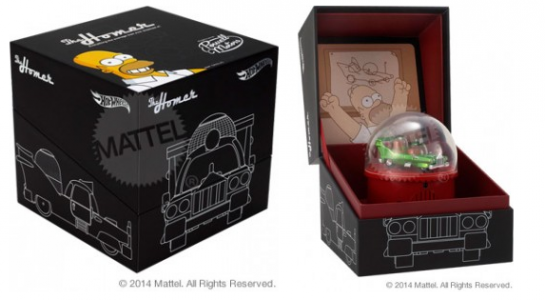 Hot Wheels® Aston Martin DB5 ($20): It's the movie car that became almost as famous as 007 himself! This detailed Hot Wheels® version of James Bond's Aston Martin DB5 comes with a special spy-catching deco and a Comic-Con package that you won't want to miss.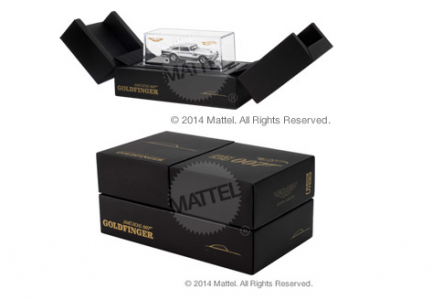 Both of these will be available during the pre-order and at the MattyCollector booth during San Diego Comic-Con. They will also be available online at HotWheelsCollector.com after the covention.
[UPDATE 1- May 30] Mattel has released a video on its YouTube channel, giving folks a detailed look at the DCU Classics Doomsday figure and its awesome packaging. Packaging, which you can watch in the embed below:
[UPDATE May 29] Ever since the first MattyCollector reveal nearly a month ago, we've been waiting to see what other surprises they might have in store leading up to San Diego Comic-Con. After all, they did say they would save "a reveal or two" leading up to the convention. And we're still waiting for our two exclusives you said would be part of the May 15 announcement, Matty…
But today we got a hint of what they might have in store for the convention, with a tweet from the Official Hot Wheels Twitter account of a cross-over with a galaxy far, far away…
We're stoked to announce our new collab w/ @StarWars! Check out Star Wars Insider #150 on 6/10 for the reveal! #SDCC pic.twitter.com/mBYBECmeu9

— Hot Wheels (@Hot_Wheels) May 29, 2014
Mattel and Hot Wheels gave us diecast vehicles based on The A-Team, Battlestar Galactica and Atari coin-ops last year. But with the promise of a Star Wars cross-over for SDCC, we're all excited-like to get our "pew! pew!" on.
The tweet states the reveal will be included in issue #150 of the "Star Wars Insider" magazine, due to hit newsstands on June 10. We'll be watching and will update as soon as more info is made available.
[UPDATE May 27] Mattel has announced that the June 24th presale for its SDCC exclusives will take place from 9AM PT on June 24, though 11:59PM PT on June 30th. In addition, Matty subscribers will have access to the sale a day early, on June 23, at 8AM PT.
With that said, let's see what Mattel has in store for SDCC attendees this year:
[UPDATE May 15] Only a couple of days later than expected, the last of Matty's scheduled May SDCC reveals have been…revealed.
Batman™ Arkham Knight Batmobile ($85): In the video game, Batman™ battles all-new threats in Gotham City with the help of an arsenal-equipped vehicle. This Batman™: Arkham Knight Batmobilefeatures premium, highly-detailed deco and authentic sounds straight from the game, and much more!
The tires can do a complete 360-degree spin, allowing the vehicle to turn on a dime… very handy for pursuing villains. When the top of the vehicle is pressed downward the firepower is revealed: on the left side, a riot suppressor rubber bullet gun, and on the right side, a high-powered Gatling gun, both with sounds and light effects – straight from the game! Hold the activation button longer than three seconds to create a red glow, simulating heat transferring, and press the rear button to turn on the headlights and play the game's iconic Bat-swarm sound effect. There are also controls to rev the engine, to see the exhaust light up, and for the sound of the cannon. The vehicle comes with an articulated DC Comics™ Multiverse Arkham City Batman™ figure with a fabric cape allowing Batman™ to sit in the driver's seat!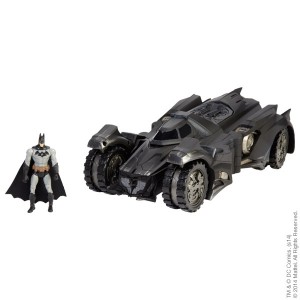 The Batman Arkham Knight Batmobile will be available as part of the June 24 pre-sale, as well as at the convention.
DC Comics™ Total Heroes™ Ultra Cyborg ($25): Tech-equipped Cyborg joins the Total Heroes™ lineup! As homage to the Super Powers Cyborgfigure, this figure has silver VUM deco, and arrives with two interchangeable heads, his classic look and an updated stylized version, as well as three sets of hands. This hybrid of man and machine brings with him a tool and gear for just about any job he might encounter, including a Mega Blade, a Concussion Cannon and a Sonic Scrambler (all  of which fit onto his arms), and a Jetpack with Airfoil Wings so he can take to the air!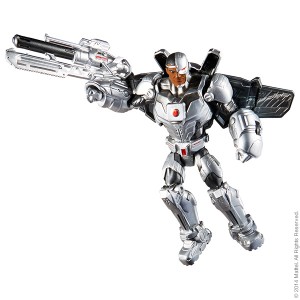 DC Total Heroes Ultra Cyborg will be available as part of the June 24 pre-sale, as well as at the convention. It will be offered online via MattyCollector.com on August 5.
Disney•Pixar Cars 2014 Special Edition Neon Racers Gift Pack ($50): Welcome to Japan! Shu Todoroki is hosting an endurance night race from Mt. Fuji to Tokyo's colorful Ginza District. Get ready to experience the exciting world of neon racing!
In Japan, the presentation of a gift is as important as the gift itself. You can experience this Japanese tradition with the 2014 Special Edition Neon Racers Gift Pack. The specially designed furoshiki, Japanese wrapping cloth, features comic book-style illustrations of the Neon Racers story. Open the wrap and you'll find a racing diorama with die-cast characters Lightning McQueen and Shu Todoroki illuminating the streets of Tokyo in their amazing customized lighting and neon deco.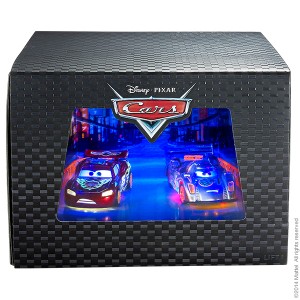 The Disney•Pixar Cars 2014 Special Edition Neon Racers Gift Pack will be available as part of the June 24 pre-sale, as well as at the convention.
MattyCollector mentioned they are saving "a reveal or two" for closer to the convention, so if these don't make you want to rush the booth on Preview Night, hang tight. We'll bring you the updates as soon as they are announced.
[UPDATE MAY 6] As promised, MattyCollector.com has unveiled the next in their line of San Diego Comic-Con exclusives.
Monster High® Manny Taur & Iris Clops 2-Pack™ ($40): Bull in china shop seeks gentle ghoul with the stars in her eye to help navigate the confusing maze of high school love.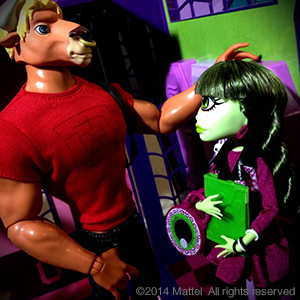 Just like last week's reveals, this 2-pack will be available for pre-order at MattyCollector.com on June 24, 2014, and can then be picked up at San Diego Comic-Con. For those who can't make the trek out to SDCC, you'll be able to pick up the figures online starting August 5, 2014.
[UPDATE APRIL 30] MattyCollector.com has officially announced the pre-sale voucher date and the first two of its 2014 SDCC exclusives.
In regards to the annual pre-sale voucher sale, no details were made available other than the date – June 24. We'll update everyone as soon as more information on the sale is announced.
Now on to the exclusives. The first two can be found below. The next MattyCollector exclusive will be announced next Tuesday, May 6; and five more exclusives will be unveiled the following Tuesday, May 13. They also said to expect "a reveal or two for when it gets closer to SDCC" in addition to the reveal schedule above.
Here are this week's exclusives:
Masters of the Universe® Classics Hordak® with Imp: Celebrate the 30th anniversary of She-Ra® and Princess of Power® with the first-ever Filmation-style Hordak® figure! Inspired by his '80s animated appearance, complete with blue skin and interchangeable cannon/"human" arms, this figure includes a snap-on claw hand for his cannon arm and a Horde magic staff. Joining Hordak® is his sarcastic sidekick from the series, Imp, in his first appearance as a Classics figure.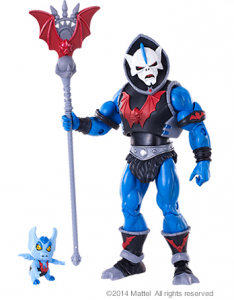 And as a bonus, SDCC attendees who purchase the Hordak figure will receive a special "Imp as a Treasure Chest" figure, as seen below. This bonus Imp figure will not be available outside of the convention.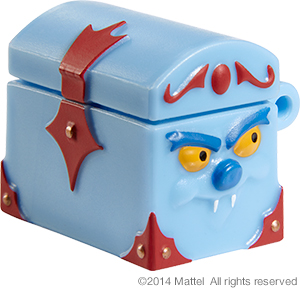 Hordak will be available as part of the June 24 pre-sale, as well as at the convention. It will be offered online via MattyCollector.com after the convention, but without the bonus Imp Treasure Chest figure.
After today's unveiling, MattyCollector's Scott "Toy Guru" Neitlich posted on the official forums that Hordak would be priced at $30.
DCU Classics Doomsday: One of the most demanded figures in the DCU Classics Signature Series finally arrives! This massive maniac had the ultimate face-off with Superman™ in the best-selling issue #75, and now, in his first-ever appearance as "prison suit" Doomsday, he joins our DC Universe Classics line. Standing at over 9" tall with 16 points of articulation (16!), the Kryptoniankiller arrives in his prisoner suit. (How in the world did he fit all of his spikes and bones inside that suit? Some mysteries may never be solved.) Doomsday comes in a custom window box that pays homage to the cover of DC Comics Superman: The Man of Steel #18 (November, 1992), the issue where he made his first full appearance.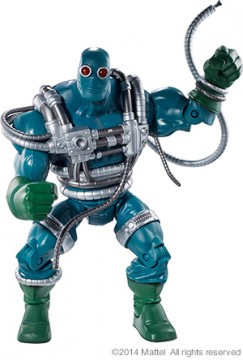 Doomsday will be available as part of the June 24 pre-sale, as well as at the convention. It will be offered online via MattyCollector.com after the convention.
If you live or will be in Southern California this weekend, you can get an advanced peek at these two exclusives on Free Comic Book Day at The Comic Bug in Manhattan Beach. You can find details on the event here.
Since posting this originally, MattyCollector's Scott "Toy Guru" Neitlich posted on the official forums that Doomsday will be priced at $35.
[UPDATE APRIL 26] As part of Action Figure Insider's "Scoop Week", Mattel unveiled the "DC Universe Classics/DC Signature Collection DOOMSDAY" figure, which is fairly oversized compared to other similar figures in the line. The outer mailer packaging for the figure includes a red "Death of Superman" logo with Doomsday's biography on the back, while the inner packaging features a cool cracked plastic effect, as though Doomsday is trying to break out of the box.
Here's a look at Doomsday, from AFI's "Scoop Week" Day 6 Reveal: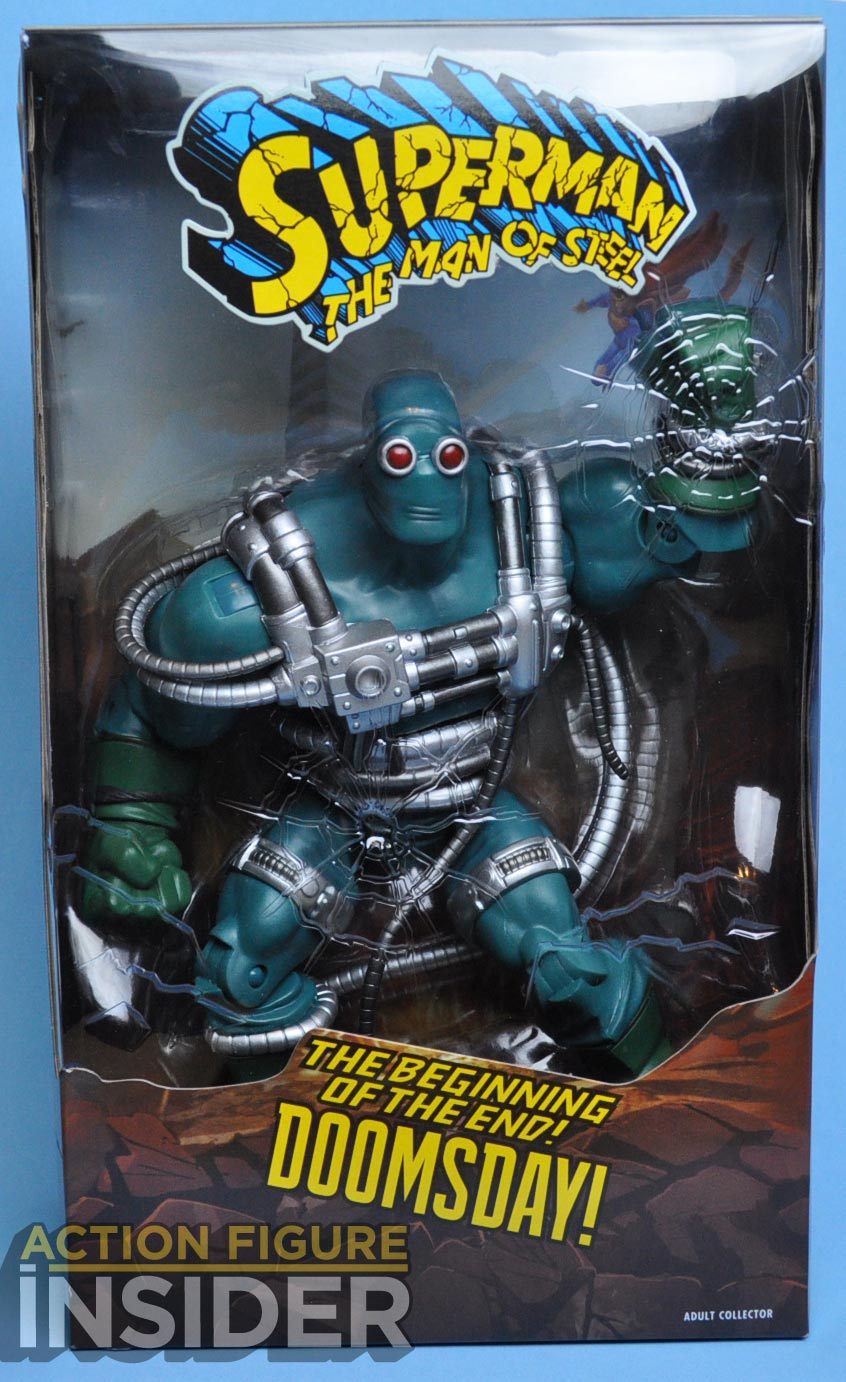 AFI offers a much more in-depth look at the figure (including some scale pictures, to see just how large Doomsday really is), as well as a lot more information. There's no word yet on how many pieces will be made or price, but AFI does state that Doomsday will also later be available on MattyCollector.com.
What items have you the most excited at the Matty booth? Is Monster High going to take you to school or are you more of a He-Man type of customer? Let us know in the comments below.