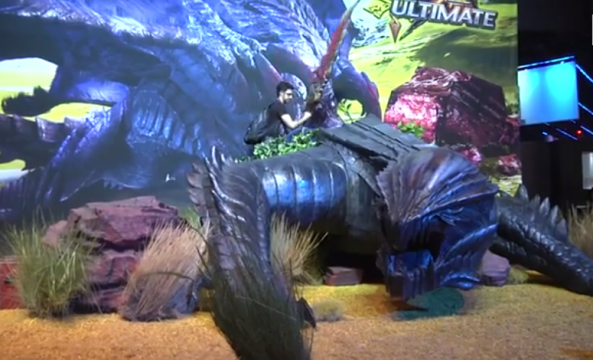 Attendees of San Diego Comic-Con are used to early-looks of their favorite movies and television properties. Well, add video games to that list, because Capcom is rolling out the big guns, quite literally, at this year's convention.
Per a video from Tested, it was revealed the huge dragon made for Capcom's E3 booth in support of the upcoming 3DS game Monster Hunter 4 Ultimate will be making its way down to San Diego next month. Specifically, it's the Gore Magala monster from the game, built life-size and to appear as if it is bursting out of a huge 20 foot backdrop. Attendees will be able to pose on top of the beast for a photo, preserving that moment when you've finally slayed the monster.
You can watch the making of this booth display, as well as videos of the final version at E3, via the Tested video below:
Monster Hunter 4 Ultimate is scheduled to be released in North America in early 2015, and as the game was playable at E3 we would expect the same for SDCC. We've reached out to Capcom representatives but did not hear back as of press time.
Excited about Capcom's booth at Comic-Con? Let us know in the comments.